Indonesia Beefs Up Its Natuna Island Patrols: Report
The move seeks to deter Chinese incursions, while preserving important areas of cooperation between Jakarta and Beijing.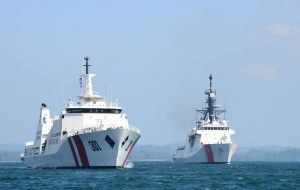 According to a report in the South China Morning Post, Indonesia has beefed up armed maritime force in order to deter foreign fishing vessels – particularly from China – from entering the Natuna seas.
The report claims that since the beginning of the year, civilian patrol vessels of the Indonesian Maritime Security Agency, or Bakamla, have been outfitted with 30mm remote-controlled Stabilized Naval Gun Systems.
The authorization for the arming of the boats was made by the Defense Ministry in June, Bakamla spokesperson Colonel Wisnu Pramandita told the Post, claiming that the weapons were intended for self-defense. "Permission was granted as we are an enforcement agency that has to face the risk of dealing with violators of the law who are very likely to be armed," Wisnu said.
While the move was described as an attempt to prevent illegal fishing, a serious problem around the Natuna islands, it is also intended as a deterrent against incursions by Chinese fishing vessels – an underhand Beijing uses to assert maritime sovereignty claims. China and Indonesia have a recent history of friction around the Natuna islands, where Indonesia's 200-nautical-mile Exclusive Economic Zone overlap with the southernmost arc of China's contentious "nine-dash line" maritime claim.
Under Susi Pudjiastuti, who served as Minister of Maritime Affairs and Fisheries during the first term of President Joko "Jokowi" Widodo, Indonesian authorities launched a crackdown on foreign fishing boats, some of which it seized and dramatically destroyed with explosives. In the course of seizing Chinese fishing vessels, Indonesian patrol boats on several occasions confronted Chinese Coast Guard ships dispatched to protect them.
In response to the Chinese incursions, Jokowi's government bolstered its military presence on Natuna Besar, the largest island in the area, and held military exercises in the surrounding waters.
Most recently, in September, a Chinese Coast Guard vessel spent two days in Indonesia's EEZ, prompting Indonesia's Foreign Ministry to lodge a protest with the Chinese government.
The quiet arming of its Bakamla ships encapsulates the delicate line that Indonesia has to walk in its relations with China, its most important trade partner. In 2019, bilateral trade reaching $79.4 billion, a tenfold increase since 2000, while Jokowi's government has sought to tap into the Belt and Road Initiative in order to support his plans to overhaul the country's vital infrastructure.
Indonesia has also partnered closely with China on COVID-19 vaccine. It has allowed the Chinese firm Sinovac Biotech to conduct trials in the city of Bandung, and this week became the first nation outside China to announce emergency authorization for Sinovac's CoronaVac inoculation, and the Chinese-made shots will play an important part in the nation's vaccination drive that aims to inoculate the bulk of Indonesia's 270 million people in the next 15 months. To kick off the vaccine roll-out, Jokowi received the first shot of CoronaVac on January 13.
The arming of the ships aims to do several things at once: to deal with Chinese maritime incursions and neutralizing, without jeopardizing growing bilateral ties with Beijing. As such, it encapsulates the increasingly delicate balance that many Southeast Asian nations have to strike in their relationships with China.