Indonesia's Ties With Bahrain Slowly Gather Steam
Ties remain modest, but both nations have a strong incentive to advance the bilateral relationship.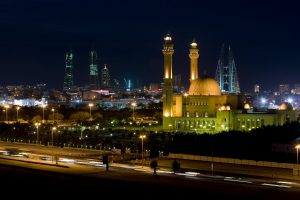 Over the past year, Indonesia's ties with the Arab Gulf states have been in the spotlight, from Abu Dhabi's recent naming of a street after Indonesian President Joko "Jokowi" Widodo to last month's discussions between Indonesian officials and their counterparts from Saudi Arabia and the United Arab Emirates about investment opportunities in Southeast Asia's most populous nation.
In reality, Indonesia's Gulf connections have been developing for years and are not only limited to the major regional countries. Bahrain, the small kingdom in the Persian Gulf, is no exception, even though the thickening of ties has only been felt recently compared to other Arab Gulf states.
Jakarta-Manama cooperation began with the opening of diplomatic relations in 1976, and have only grown slowly since. Nonetheless, efforts have certainly been made to develop more advanced cooperation between the two nations. In 2000, for instance, then Indonesian President Abdurrahman Wahid visited Manama to discuss efforts to develop bilateral ties.
Overall, the relationship has been dominated by economic cooperation. Since 2015, trade between the two countries has increased considerably. In 2016, bilateral trade volumes reached $101.4 million, a significant leap upward from $76.1 million the previous year. A further sharp increase was seen in 2017, when the total trade more than doubled to $206.3 million. This included Indonesian exports worth $47.3 million, mostly iron ore, as well as Indonesian-manufactured vehicles.
In addition to trade, investments are also on a gradual incline. One sector of particular importance is Islamic banking. In 2013, the Association of Indonesian Islamic Economists held a meeting with the CEO of Bahrain's Al Baraka Islamic Bank to discuss potential cooperation on Islamic banking and finance. This desire was conveyed again by Al Baraka Bank in 2018, when the bank announced its interests in acquiring several small banks in Indonesia.
Foreign Minister Retno Marsudi's working visit to Bahrain in 2019 marked another step in the strengthening partnership between the two countries. On that occasion, she and Bahrain's Foreign Minister Sheikh Khalid Al Khalifa discussed investment plans and ways to strengthen direct economic contact under a business-to-business scheme. In response to the visit, Bahrain sent a trade mission to Indonesia later the same year.
The ties between Indonesia and Bahrain have also encompassed political and security cooperation. Besides the continuous diplomatic visits from representatives of each country, both Jakarta and Bahrain have also sketched out plans to strengthen military cooperation. The Gulf state, for example, participated in the Defense Exhibition that was held in Jakarta in 2019.  

Moreover, Jakarta and Manama have exchanged information related to the fight against transnational crime, especially terrorism and human trafficking. The two countries have signed an MoU on the Crime of Trafficking in Persons to protect the growing number of Indonesian migrant workers living in Bahrain.
In the socio-cultural realm, there has been an increasing number of Bahraini tourists visiting Indonesia, alongside increasing numbers of cultural events, especially on the Indonesian side. The Indonesian Table Top, an event to promote Indonesian culture, was held in Bahrain in 2018. The Indonesian Embassy in Manama also carries out various annual cultural events and tourism promotional activities in Bahrain, including an Indonesian Cultural Night.
The Tazkia Bogor Institute of Islamic Economics and the Bahrain Institute of Banking and Finance have also signed a collaboration agreement to provide certification and training programs for students and professionals who focus on banking and financial institutions.
Although Indonesia-Bahrain ties have been relatively modest since the establishment of diplomat relations in 1976, there have been some signs of change recently, especially in the context of Indonesia's broader engagement with the Arab Gulf states. In fact, the two countries have plans for signing an MoU exempting visas for diplomatic passport holders and forming a joint Commission Meeting – a possible forerunner for a further expansion in the bilateral relationship.
Both nations stand to gain from improved bilateral relations. Bahrain could serve as Indonesia's gateway to the Gulf, helping it expand its relations with other nations in the region. Meanwhile, for Bahrain, Indonesia is a potentially lucrative market, one that could give it a foothold in the fast-growing Asian region.
The future relationship, however, is likely to encounter some stumbling blocks, in particular following the opening of diplomatic ties between Bahrain and Israel. Indonesia, which maintains its support for Palestinian independence, will therefore likely tread a cautious path in its relationship with the Arab states that have recently established formal ties with Tel Aviv.
Muhammad Zulfikar Rakhmat is currently a lecturer at the Universitas Islam Indonesia. His research and teaching focuses on the politics of international cooperation, with specific interest in China-Indonesia-Middle East relations.
Fuad Tingai is a student majoring in International Relations at Universitas Islam Indonesia.