Iran Toughens Rhetoric as Biden Looks to Salvage Nuclear Talks
The Biden administration will have to find a way to bring Iran back to the negotiating table. And Tehran knows that.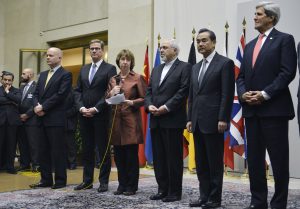 In the run up to what will certainly be renegotiation around its nuclear ambitions and sanctions with a new U.S. administration come January 20, Iran continues to play hardball. Reuters reported on January 9 that according to Ahmad Amirabadi Farahani, an Iranian member of parliament, the country will expel International Atomic Energy Agency inspectors if sanctions against it are not lifted by February 21, in accordance with a law passed by Iran's parliament in December.
The Trump administration, whose decision to walk out of the Joint Comprehensive Plan of Action (JCPOA) in 2018 has led to a reignition of Iran's nuclear ambitions and rise in Iran-U.S. tensions, reacted to this development according to predictable lines. A statement by Secretary of State Mike Pompeo on January 9 noted: "Iran's threat goes much further than violating the JCPOA. Iran has a legal treaty obligation to allow IAEA inspector access pursuant to Iran's NPT-required safeguards agreement. Violating those obligations would thus go beyond Iran's past actions inconsistent with its JCPOA nuclear commitments."
On January 4, Iran had resumed enrichment of uranium to 20 percent in its Fordow nuclear facility, a significant intermediate step toward obtaining weapons-grade uranium. Commenting on this development, Pompeo's January 9 statement exclaimed: "The world's top sponsor of terrorism should not be allowed to enrich uranium at any level."
Iran seized a South Korean tanker on January 4 on, ostensibly, environmental grounds. South Korea's Vice Foreign Minister Choi Jong-kun arrived in Iran on January 10 to secure its release. According to Iranian state television as quoted by the South China Morning Post, Iran's Deputy Foreign Minister Abbas Araqchi told Choi that South Korea "should refrain from politicising the issue and fruitless propaganda and allow the legal proceedings to proceed."
The acting U.S. Secretary of Defense Chris Miller announced on January 4 that the aircraft carrier USS Nimitz will continue to be deployed in the western Indian Ocean "due to the recent threats issued by Iranian leaders against President Trump and other U.S. government officials." The Nimitz was scheduled to return state side after a 10-month deployment in the area.
The incoming Biden administration is looking to reenter the JCPOA. According to Jake Sullivan, Biden's choice for the position of national security advisor, "if Iran is prepared to return to compliance with the Iran nuclear deal…then the United States is prepared to return to compliance with its obligations under the Iran nuclear deal…and then would work intensively on follow on agreements to address a range of different issues related to Iran's nuclear program, including timelines, and including other questions."
Sullivan and then-Deputy Secretary of State William Burns – who earlier today was nominated by Biden to serve as the director of Central Intelligence Agency – had served as a back channel in negotiations with Iran in the lead up to the JCPOA. In a March 2019 interview to Foreign Policy, Burns suggested that a new administration coming in this year will have to find a way to re-enter the JCPOA, albeit in a way that assuages criticism of the deal.
"If you had a circumstance where you had a new administration and you don't have any big escalation in the meantime, the comprehensive agreement is still hanging out there—supported to the extent they can by the Europeans and others—then the challenge would be to renew our participation in the agreement and then address some of the concerns people have had with the agreement," Burns said.