Lack of Transparency Marks Kyrgyzstan's Constitutional Reform Quest
Kyrgyzstan's new president wants to open a "new page in history" with constitutional reform, but what exactly will it look like?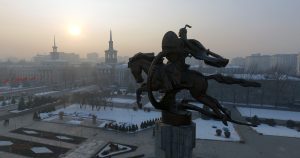 Sadyr Japarov, who was sworn in as Kyrgyzstan's sixth president on January 28, is inheriting a state apparatus that has been hollowed out by corruption, distrust, and the political vacuum sparked by October's parliamentary election. Japarov proudly said he was opening a "new page in history" during his inauguration ceremony, which is more than just rhetorical flourish. Japarov is pushing hard to revamp Kyrgyzstan's constitution, and what exactly this "new page" looks like (and how it may shape Kyrgyzstan's political trajectory) is slowly coming into focus. 
Back in November, lawmakers and civil society actors alike were frustrated with proposed amendments to the constitution (several of the 80 signatories told the media they had never read it and were not clear how their name was attached). The list of 61 proposed amendments included a bold restructuring of the balance of power between the president and parliament, among other problematic initiatives. Officials were forced to change course when they were challenged on the legitimacy of the process. As I detailed in a previous piece, legal scholars criticized the sixth parliament (which lost its mandate to govern on October 15) for overstepping by proposing a total rehaul instead of targeted amendments. 
Instead, Japarov pushed to put Kyrgyzstan's form of government up for a popular vote, with the electorate choosing between presidentialism or parliamentarism. Japarov framed the October political crisis as the result of the country's rushed shift to parliamentarism, ignoring Kyrgyzstan's long history with presidentialism and the nuance of the semi-presidential system enshrined in the 2010 constitution. This savvy (albeit suspect) framing drew on deep-seated frustration with the parliament, which nevertheless served more or less as a rubber stamp for Japarov.
With 80 percent of voters (or at least of the 39 percent of those who participated) backing presidentialism in the January 10 referendum, Japarov essentially gets a blank check to rewrite the rules of the game to benefit himself and his allies.
The work that went into the 61 amendments proposed back in November was not for naught, though the task of formalizing a new draft was passed off to an 89-member Constitutional Council convened by then-acting president Talant Mamytov. The Council, which was stacked with Japarov's ideological allies (and a couple of Manas experts), announced it was ready to submit the new constitution to parliament on January 27. Worryingly, media and civil society representatives have not been able to see it, arousing concern about the content of the new constitution. 
Constitutional Council chairman Bekbosun Borubashev's assurances that the Council tried "wherever possible" to strengthen democracy (citing the creation of a new representative body, the Kurultai) did little to assuage civil society's concerns. Borubashev also described the need to introduce "social" issues into the constitution, which he considers to be too political. Institutionalizing moral values into the constitution – a socio-legal formalizing of a broader pattern of re-traditionalization in Kyrgyzstan – is a slippery slope, according to legal scholar Saniya Toktogazieva. On January 13, she posted on Facebook, "Replacing the rule of law with a rule of moral values risks the future establishment of a 'punitive state' that will suppress all those who deviate from society's so-called moral values."
There are some hints about what those moral values look like based on the 61 amendments proposed in mid-November, but thanks to the Constitutional Council's utter lack of transparency, it is still unclear how problematic the content of the new constitution will be. 
Given that uncertainty, Toktogazieva and other lawyers have also taken to criticizing the process in which Kyrgyzstan's new constitution is being written and adopted. 
On top of all the procedural violations it took to get to a constitutional referendum in the first place, parliamentarians are pushing to steamroll over institutional checks and balances to shove this mysterious constitution into effect. On January 20, three members of the Council introduced a bill that would allow parliament to pass a referendum (yes, another one) in all three required readings in one go. This ensures brief critical discussion of the draft among parliamentarians, but more worrisome, also means there will be no public deliberation over the set of amendments they'll eventually vote on. 
Over time, researchers have come to see constitutions more as living documents that are reformed within a continuous political process than products of rare revolutionary events. It's normal and productive to reform constitutions, but it is important that this reform is not purely an elite affair. Research has shown that constitutional reform resulting from public participation and deliberation is more likely to lead to robust democratic institutions.
In both content and process, the picture for Kyrgyzstan's political trajectory looks quite bleak. 
Even so, citizens continue to protest every week in Bishkek, carrying signs that decry the "Khanstitution" and erosion of rule of law in Kyrgyzstan. Although the crowd is small – much smaller than the crowds that sparked regime change in October – social media coverage of the demonstrations and well-designed posts breaking down the issues at hand mean followers in far-away regions are also in the loop. 
At the moment, it seems doubtful that civil society or spontaneous people power can do much to stop Japarov's effort at building a power vertical. But it seems unlikely that this attempt to consolidate autocratic rule will last long, unless Japarov can deliver on economic demands from a population suffering through the COVID-19 pandemic. For better or for worse, it has become something of a norm in Kyrgyzstan for citizens to oust presidents who don't follow through on sweeping promises.