Pakistan Has Contributed Significantly to the Fight Against Terrorism
Its time the international community, especially the United States, acknowledge that.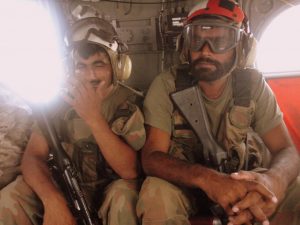 Pakistan's decision to join the global war on terrorism (GWOT) was the result of geostrategic imperatives and the international community's call. Although the international community has always calculated Pakistan's counterterrorism role through the Afghanistan angle, they have failed to recognize the deterioration of Pakistan's internal security and economic conditions due to the GWOT. Pakistan's interior security had begun to break down after 2001-02 together with the rise of Islamist assailants, which later stretched out their terrorist activities to all over Pakistan. Nevertheless, Pakistan's counterterrorism operations resulted in decrease in terrorism in the region. In this context, this article aims at listing Pakistan's counterterrorism efforts through the prism of latest U.S. Terrorism Report 2019. Instead of pushing Pakistan to "do more," it argues Pakistan's significant counterterrorism efforts need appreciation by the international community.
Pakistan's Counterterrorism Record
Drawing on the research presented in a Pak Institute for Peace Studies report, we can summarize Pakistan's counterterrorism efforts. In its first military operation, the Pakistani Army acted against a Wazir sub-clan from Darra Akakhel in North Waziristan, which was involved in an al-Qaida-led attack on a U.S. military camp in July 2003. The Pakistan military intensified its operation when the Zalikhel and Karrikhel clans of Waziristan refused to accept writ of the state and surrender Taliban and al-Qaida elements in October 2003. During an operation from October 12 to 18, 2003, 22 al-Qaida aggressors and seven tribesmen were killed while their properties were decimated. The Wana operation took place in March 2004, resulting in the death of 63 terrorists with origins in Chechnya and Uzbekistan. During the operation, 26 Pakistan army soldiers were killed by al-Qaida. The Shakai operation against the Mehsud clans started in April 2004. In September 2005 and on January 23, 2008, operations against terrorist elements in North Waziristan and South Waziristan also started.
Operation Sherdil (Lion Heart) aimed at recovering Bajaur Agency from Taliban's control and it lingered on from August 2008 to February 2, 2010. Operation Rah-e-Rast decimated Tehreek-i-Taliban (TTP) Pakistan Swat section and cleared the Malakand division resulting in the capture of the head of Tehrik-e-Nifaz-e-Shariat-e-Muhammadi (TNSM) Sufi Muhammad and TTP Swat spokesperson Muslim Khan. Starting on September 1, 2009, Operation Bia Darghalam mitigated terrorist attacks on NATO supply trucks. Operation Rah-e-Nijat (way of redemption), on September 16, 2009, cleared 90 percent terrorist elements from Dera Ismail Khan, Frontier Region Tank and Zhob.
In 2011, 144 operations were carried out, resulting in the execution of 1,016 terrorists. In 2012, the Pakistan military brought peace to North Waziristan. In 2013, Karachi and Balochistan got rid of terrorists due to Pakistan Rangers operations. Operation Zarb-e-Azb focused on North Waziristan, killing 2,100 terrorists in the area till December 28, 2014. The Khyber-I operation in Khyber Agency of FATA was against the TTP and its partner Lashkar-e-Islam. The Khyber-II operation was initiated in March 2015 with the intent to clear Tirah valley, which had transformed into a safe-haven of TTP, Lashkar-e-Islam, and Jamaatul Ahrar. In 2015, the National Action Plan (NAP) took the task of bringing peace back to Karachi. In 2016, Balochistan was in focus. Pakistani law enforcement acted against Lashkar-e-Jhangvi (LeJ) and and TTP-led Baloch extremist groups. In February 2017, Operation Raddul Fasaad (Counter Turmoil/Mayhem) eliminated remaining terrorist elements from Lahore, Sehwan Sharif, Khyber Pakhtunkhwa and the erstwhile FATA. Khyber-IV, mid-July 2017, helped in clearing Khyber Agency's Rajgal Valley and Shawal Valley. Operation Raddul Fasaad brought 59 per cent decline in terrorist activities in the country till 2018.
The 2019 U.S. Terrorism Report and Pakistan
The U.S. State Department's 2019 Country Report on Terrorism did not fully appreciate Pakistan's counterterrorism efforts. The foreign ministry of Pakistan rejected the U.S. stance presented in the report noting that: "On the contrary, it is Pakistan that faces the threat of terrorism from externally based and foreign sponsored groups, like the TTP [Tehrik-e-Taliban Pakistan], ISIS-K [Daesh/Islamic State-Khorasan Province] and others." The Pakistani government also played a constructive role in U.S.-Taliban talks in 2019. Regarding terrorism and extremism, an international organization, Institute for Economics and Peace (IEP), annually publishes a report, titled, "Global Terrorism Index (GTI)". As per GTI 2020 report, Pakistan's ranking has improved from fifth (2019) to seventh (2020). In 2019, Pakistan recorded its lowest number of terror-related deaths since 2006. The report also indicates that since 2007, there is a 90 percent decline in deaths related to terrorist incidents in Pakistan. Since 9/11, Pakistan has been a victim of terrorism, losing over 80,000 lives, incurring economic losses of around $ 102.5 billion along with serious damage to its cultural and religious ethos.
Pakistan has paid a huge price to eradicate the menace of terrorism from the region. More than 50,000 fatalities are the cost that is not usually discussed while talking about the expense of Pakistan's sacrifices in GWOT. In January 2018, outgoing U.S. President Donald Trump stated that Pakistan was given $ 33 billion for its help in GWOT. However, Pakistan's own expenses on GWOT, including on infrastructure, were in excess of$ 200 billion. A 2017 report by USAID vindicates this. As indicated by the report, out of the complete $ 33.4 billion provided by the U.S., $14.6 billion, or 44 percent of that amount, were for coordination and aeronautical help, while remaining the $18.8 billion covered citizen and security-related matters.
Bottomline
Pakistan opted to join as a U.S. ally in the GWOT after 9/11. Although Pakistan only agreed to providing logistics support and sharing intelligence with coalition forces, Pakistan ended up contributed much more than that. Pakistan decided to join the coalition in the larger global interest of defeating terrorism in the region. Pakistan remained the most affected of the fallout of the GWOT. Pakistan facilitated the Afghan peace process. Moreover, Pakistan has played a significant role in de-radicalization of its society; madrassa reforms, merger of Federally Administer Tribal Areas (FATA), mainstreaming less developed areas, education reforms, poverty elevation programs and constitutional steps like NAP are some examples of the steps Pakistan has taken to defeat terrorism. Therefore, it is clear Pakistan's contributions in the GWOT are unprecedented and the international community, particularly the United States, should acknowledge it and give due recognition to the contributions made by Pakistan to fight terrorism in the region.
Adeel Mukhtar Mirza is currently working as assistant research associate at the Islamabad Policy Research Institute. He holds an MPhil in strategic studies from the National Defence University, Islamabad. His area of expertise is in non-traditional security threats.