Revisiting the Obama-Hatoyama Relationship
A controversy stoked by Obama's recent memoir gives causes to look back at a troubled relationship – and what could have been.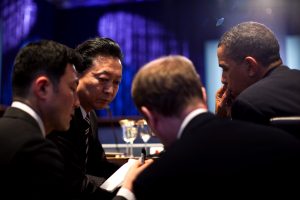 Former U.S. President Barack Obama's reference to former Japanese Prime Minister Yukio Hatoyama in his new book was grossly, and perhaps intentionally, misinterpreted in Japan. It was the latest in a series of unfair criticisms from U.S. and Japanese opponents who did not want Hatoyama to succeed while he was in office and who still seem determined to prevent a fair assessment of the man and what he hoped to accomplish.
In his latest memoir, "A Promised Land," Obama called Hatoyama a "pleasant if awkward fellow" and then went on to complain:
Hatoyama was Japan's fourth prime minister in less than three years and the second since I'd taken office—a symptom of the sclerotic, aimless politics that had plagued Japan for much of the decade.
Hatoyama's opponents are interpreting Obama's comment in a way that makes it seem that it was only Hatoyama's Democratic Party of Japan (DPJ) government that was sclerotic, and not the Liberal Democratic Party (LDP) governments that preceded him. The error could be chalked up to problems understanding Obama's language. But it is more likely an intentional slight against the first and only Japanese politician in the history of post-war Japan who resoundingly defeated the LDP at the polls.
Japan's Obama
This kind of petty political animus is not unusual in democracies. But Obama's failure to recognize that Hatoyama won his office in an election every bit as dramatic and groundbreaking as his own is stunning, and unfortunate. That one of the most well-read and intelligent U.S. presidents in modern history still lumps Hatoyama together with the LDP leaders who preceded him suggests a saddening lack of awareness of the significance of Hatoyama's victory.
I have often wondered why these two men with similar values did not get on better. If they had, East Asia might look very different today. Hatoyama was a peacemaker who wanted better relations with both Koreas and with China. He wanted a more independent but less pretentious Japan willing to unequivocally atone for the sins of World War II. And he sought a more equitable distribution of political power in a more tolerant, open and democratic Japanese society and culture.
Hatoyama's detractors described him as an "alien," but he was not an iconoclast or a rebel. His grandfather served as prime minster, his father served as foreign minister, and the Hatoyama family is one of the wealthiest in Japan. In that very narrow sense, he was a Roosevelt-like figure that some foreign commentators compared to John F. Kennedy. Had Obama seen him that way, instead of as just another "sclerotic" Japanese politician, perhaps they would have had a more fruitful relationship.
Because an opposition party had never held political power in a post-war Japan dominated by the LDP, DPJ officials had little experience governing. They also had no meaningful relationships with their counterparts in the United States. They were just learning the ropes when Obama and Hatoyama first met. Perhaps that's why Hatoyama seemed "awkward." It may also be because Obama's Asia advisers gave him an earful of disparaging assessments of the new prime minister and his government.
Official Antipathy
Hatoyama and the DPJ championed several issues that upset Jeffrey Bader, Obama's senior director for Asian affairs on the National Security Council. Hatoyama did not want to build a new U.S. military base in Okinawa that 70 percent of the island's population and a solid majority of Japanese voters still oppose, in part because the construction will destroy a coral reef that is home to a number of endangered species. Stopping the base was a signature issue in the election campaign.
Katsuya Okada, Hatoyama's foreign minister, wrote a letter in support of Obama's Nobel prize-winning Prague speech on nuclear disarmament in which the new foreign minister expressed his personal support for a U.S. declaration it would not use nuclear weapons first in a conflict. Okada also initiated an investigation into the LDP's secret support for U.S. nuclear weapons policies that violated Japan's Three Non-Nuclear Principles. Bader believed Okada's actions implied the Hatoyama's government "would have reversed decades of U.S. nuclear doctrine." Before Obama had a chance to meet the new Japanese prime minister, his senior director for Asia had already concluded Hatoyama was "strategically incoherent."
Not long after that first meeting, former Deputy Assistant Secretary of State for East Asia Richard Armitage spoke for many U.S.-Japan "alliance managers" when he publicly ridiculed Hatoyama's government before a large gathering of concerned officials and experts. He called a delegation of 140 Japanese legislators and 300 Japanese entrepreneurs who met with Chinese President Hu Jintao "the Japanese liberation army." He lamented that Hatoyama was attempting to make good on the campaign promises that swept him into office, promises the U.S. foreign policy elite apparently failed to take seriously.
Political Defeat
Japanese voters expected a politician with Hatoyama's pedigree to make good on his promises. Washington's intransigence on the new military base in Okinawa, and the well-publicized friction it created in U.S.-Japan relations, undermined public confidence in the political and diplomatic skills of their new prime minister. Under relentless U.S. pressure, Hatoyama capitulated to U.S. demands to keep the base, breaking the highest profile promise of his campaign. It severely damaged his credibility.
At the same time, Ichiro Ozawa, the DPJ Secretary General, became embroiled in a campaign finance scandal. Ozawa was eventually acquitted, but when the scandal broke Hatoyama withheld judgment of Ozawa, an important political ally. That decision further weakened Hatoyama's position both in his party and with the public. After only eight months in office, he chose to resign. He apologized to party leaders for "causing trouble" with the United States and to the public for failing to live up to his promise to reform Japanese politics.
Deep disappointment with the quick collapse of Hatoyama's government lingers to this day. So many were so hopeful when the LDP was defeated. Former supporters still can't forgive him for wasting a rare opportunity to end to Japan's one-party rule and the corrupt incompetence it engenders.
Hatoyama's political opponents called him a traitor in 2013, four years after he resigned, for visiting a war memorial in the Chinese city of Nanjing, where an estimated 300,000 people were massacred by the Japanese military in 1937. He invited more criticism for commemorating the 70th anniversary of World War II by kneeling and expressing remorse for Japanese colonialism during a visit to an imperial-era prison in South Korea.
Questionable Judgment
The former prime minister is no longer in the political arena and is unlikely to return. So, why did the current LDP leadership and their cheerleaders in the Japanese media jump on the opportunity to attack him again in such a brazenly dishonest manner over a single sentence in Obama's book?
Perhaps it's a prophylactic measure intended to help prevent a new coalition of opponents, chastened by Hatoyama's mistakes, from unseating the LDP a second time. Prime Minister Abe's resignation may have created an opening. Progressive Japanese legislators, inspired by their counterparts in the U.S. Congress, have formed a new caucus. Together with more moderate opposition leaders they are building new relationships with the United States that don't rely on the entrenched alliance managers who undercut Hatoyama.
If the Japanese opposition can break through again, historians – in contrast to Obama's description – may remember Hatoyama's government, as the fitful beginning of the end of sclerotic one-party rule in Japan.
Gregory Kulacki, Ph.D., is a senior analyst with the Global Security Program of the Union of Concerned Scientists.