Thailand Orders Restrictions as COVID-19 Cluster Spreads
Coming after months of successful containment, the outbreak in Thailand suggests the fragility of victories over COVID-19.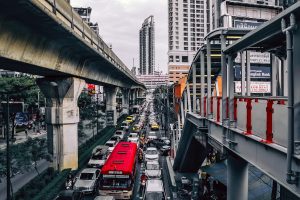 Thailand's prime minister has urged the public to stay at home to help contain an alarming coronavirus outbreak linked to a seafood market outside the capital Bangkok.
Prayut Chan-o-cha's administration has declared 28 provinces, including Bangkok, as high-risk zones and asked people to work from home and avoid gathering or travelling across provincial borders.
"We don't want to lock down the entire country because we know what the problems are, therefore can you all lock down yourselves?" Prayut told reporters. "If we don't want to get infected, just stay home for 14 to 15 days. If you think like this then things will be safe, easier for screening."
Prayut made his call on January 4, the same day as the country registered a daily record of 745 new COVID-19 infections. The tally brought Thailand's total to 8,439 coronavirus cases and 65 deaths overall.
By the standards of the United States, India, or the United Kingdom, all of which are recording daily infections in the five and six figures, these numbers might seem small. But they are a worrying prospect for a nation which, despite its proximity to the original outbreak in central China, has for the most part managed to contain the virus thanks to strict border and quarantine controls, although at considerable economic cost.
The new infections are all linked to an outbreak that was detected last month at the Klang Koong shrimp market in Samut Sakhon, a coastal province southwest of Bangkok that is home to many migrant workers. Of the 709 cases of local transmission recorded on January 4, 557 involved migrant workers.
If the present measures fail to contain the present outbreak, the Thai government has refused to rule out stronger measures including nighttime curfews and bans on travel across provincial borders.
The new quasi lockdown, and the potential of tighter restrictions to come, are set to worsen the economic impacts that COVID-19 has already had in Thailand, which is projected to experience the largest economic contraction of any Southeast Asian nation in 2020, partly due to the pandemic's impact on tourism. According to a World Bank economic outlook released in October, Thailand's economy was projected to contract by between 8.3 and 10.4 last year.
The economic pain is likely to feed the political tensions that have arisen over the past six months, during which time Thailand has seen the emergence of a student protest movement that has sought far-reaching political reforms, including sensitive calls for the reform of the monarchy.
Above all, Thailand's spike demonstrates the frailty and contingency involved in the fight against COVID-19. Until the distribution of proven vaccines and the onset of herd immunity, any successes will only be temporary.