The Worrying Geopolitical Implications of Australia's Antarctic Airport Plan
Beyond environmental questions, the project's long term and more troubling impact may be the altering of the political conditions on the frozen continent.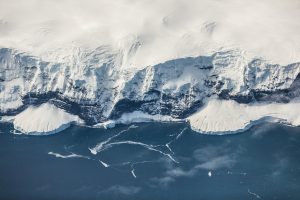 The Australian government has put a highly unusual project out for competitive tender. The proposed project would be the construction of a 2.7 kilometer paved runway — and associated infrastructure — at the Vestfold Hills in Princess Elizabeth Land, Antarctica, with the aim of servicing Australia's three permanent scientific research stations on the continent. The proposed runway would be designed to accommodate large aircraft capable of making the six hour flight from Australia, forming the central component to Canberra's 2016 Antarctic Strategy and 20 Year Action Plan. However, the project remains controversial due to both its potential environmental impact on the region, as well as major geopolitical concerns. 
Presently, flights from Australia to Antarctica are only able to take place at the beginning and end of summer due to inaccessible weather conditions the rest of the year. At those times aircraft land on a glacial runway near the Casey research station and smaller aircraft are then able to shuttle scientists to Davis and Mawson stations. All three of these stations are inaccessible by both air and ship in winter. Australia is seeking to change this equation by creating the infrastructure necessary to provide year-round access between the city of Hobart in Tasmania and Davis station. This would be a significant enhancement of Australia's capabilities in Antarctica. 
It would also be the largest infrastructure project on the continent, which has serious ramifications for the unique status of Antarctica. Australia claims about 8 million square kilometers of the continent, or roughly 42 percent of its land mass. However, its claims are only formally recognized by France, New Zealand, Norway, and the United Kingdom. Australia's claimed territory is host to permanent research stations from countries that do not recognize its claims: Russia (which has two stations), India, and China. 
While Australia's reasoning for requiring the proposed runaway is to better facilitate both its scientific research and emergency response capabilities, geostrategic calculations cannot be dismissed. China has been steadily increasing its presence in the Antarctic, and due to Beijing's ignoring of international norms in the South China Sea, Canberra may feel that the status quo in Antarctica is also threatened by its presence. 
There are international agreements designed to restrain any attempts to alter political conditions in Antarctica. The 1959 Antarctic Treaty designates the continent as a solely scientific reserve, banning any military activity, yet the ability of research stations to engage in satellite tracking as attempts are made to militarize space could bend these rules. The 1991 Madrid Protocol banned mining — including off-shore oil and gas drilling — in Antarctica; however, in a region rich in untapped mineral resources there is potential for this protocol to also come under increasing pressure. Russia's state-run geological surveyor, Rosgeologia, has made estimates of a possible 500 billion barrels of oil in Antarctic waters. 
With the scientists that the Australian government claims would most benefit from the runway project pushing back against it, it seems that these geostrategic calculations are the actual primary driver of the airport's construction. Those who actually spend their time at Australia's research stations would be well aware of the impact such a massive project would have on the delicate habitats and ecosystems in Antarctica.
If the project does go ahead — and the Australian government seems keen to ensure that it does — the inhospitable conditions and difficulty ferrying materials and workers to the continent will dictate that the runway and associated infrastructure will take at least a decade to complete. The need to house workers will mean that scientific research will actually be significantly disrupted as accommodation is incredibly limited at the Davis research station, currently only hosting 120 people each summer. 
But the project's more long term and troubling impact may be the altering of the political conditions on the continent. With the presence of such a powerful piece of infrastructure in Australian hands, states like Russia and China that are highly active on the continent, but do not currently have territorial claims there, may feel compelled to not only make claims, but begin to invest in major infrastructure projects in Antarctica themselves. This would not only escalate the environmental damage, but put the continent on a troubling pathway toward militarization. 
Both the Antarctic 20 Year Action Plan and 2016 Defense White Paper stress the need for Australia to prevent any militarization of Antarctica that could threaten Australia's claims of sovereignty over the Australian Antarctic Territory, and well as its sovereign rights within its offshore waters (something Australia continues to find itself in conflict with Japan over due to whaling). Yet by investing in such a provocative piece of infrastructure in an attempt to defend the status quo, Australia may actually be undermining it itself.