What Are Asian Governments Saying About the Storming of the US Capitol?
A collection of official statements from across the Asia-Pacific.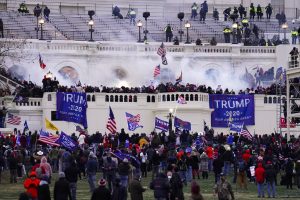 On January 6, a mob Trump supporters stormed the U.S. Capitol in an attempt to disrupt the formal certification of President-elect Joe Biden's victory – and thus President Donald Trump's loss. Trump had spread baseless conspiracy theories about electoral fraud, refused to concede the election, and on January 6 encouraged the protesters to march on the Capitol. The violence sparked horror around the world, with a number of government issuing swift condemnations.
Below, The Diplomat has collected official statements from governments in our coverage region on the incident. We will be updating this piece throughout the week as new statements are issued (last updated on Jan. 11).

To set the tone, a statement from U.S. Secretary of State Pompeo himself – a Trump appointee – on Twitter: "The storming of the U.S. Capitol today is unacceptable. Lawlessness and rioting — here or around the world — is always unacceptable. I have travelled to many countries and always support the right of every human being to protest peacefully for their beliefs and their causes. But violence, putting at risk the safety of others including those tasked with providing security for all of us, is intolerable both at home and abroad. Let us swiftly bring justice to the criminals who engaged in this rioting. America is better than what we saw today at a place where I served as a member of Congress and saw firsthand democracy at its best."
Australia
China
"We have noted what's now unfolding in the United States. We believe that people in the United States certainly hope for an early return of normal order.

You mentioned that four people were reportedly killed in this incident, and you also described some reactions from the Chinese netizens. I would also like to share some of my thoughts with you.

First, Chinese people have the right and freedom to make their opinions and comments online. I believe that for many people, seeing those scenes in the United States has brought back a sense of deja vu, though they brought out some quite different reactions from certain people in the United States, including from some media.

You mentioned the unrest in Hong Kong. On July 2019, radical and violent protesters in Hong Kong broke into the Legislative Council, ransacking the main chamber, smashing facilities, tossing toxic liquid and powder at police officers, and even biting off one police officer's finger and stabbing another. But the Hong Kong police showed maximum restraint and professionalism and no protester ended in death. You mentioned that there were already four deaths in Washington in what was less violent and destructive than the case in Hong Kong.

If you still remember how some U.S. officials, lawmakers and media described what's happened in Hong Kong, you can compare that with the words they've used to describe the scenes in Capitol Hill. I made a note of some words they used. They all condemned it as "a violent incident" and the people involved as "rioters", "extremists" and "thugs" who brought "disgrace". Now compare that with what the Hong Kong violent protesters were called, like "a beautiful sight" you brought up and "democratic heroes". They said that "American people stand with them".

What's the reason for such a stark difference in the choice of words? Everyone needs to seriously think about it and do some soul-searching on the reason.

We believe that the American people still cherish peace and safety, especially when they are still struggling with a difficult pandemic situation. We hope that they will have their peace, stability and safety back as soon as possible.

Besides, I noticed that the spokesperson of the bureau of international exchanges of the China Media Group issued a statement saying that many news outlets, including a Chinese one, were attacked by demonstrators at their usual live positions outside Capitol Hill in Washington, D.C. Our thoughts are with the reporters out there and we call on the U.S. side to take necessary measures to safeguard journalists' safety."
Japan
India
Nepal
New Zealand
Pakistan
South Korea
"The Korean government congratulates President-elect Biden and Vice President-elect Harris on the confirmation of the victory in the U.S. presidential election after the U.S. Congress' certification of the Electoral College results on January 7.

The Korean government looks forward to communicating and cooperating closely with the new Biden administration to further advance the strong Korea-U.S. alliance, achieve denuclearization and the establishment of permanent peace on the Korean Peninsula, and tackle global issues including health security and climate change."
Taiwan