Beyond Alliance Repair: Biden Must Do More in the Indo-Pacific
Washington must sharpen its focus on strengthening the regional order-defending agendas of its Indo-Pacific alliances.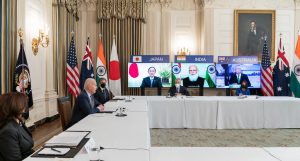 Defense and foreign ministers from Australia and the United States will be gathering this week for the annual Australia-U.S. Ministerial (AUSMIN) Dialogue, the first 2+2 meeting between the allies since U.S. President Joe Biden took office. After the mercurial alliance management of the Trump years, Australian officials could be forgiven for looking ahead to this occasion with a mixture of relief and high expectations.
The consultations will bring much-needed normalcy to the Australia-U.S. alliance. But they may also bring bold new commitments to increase collaboration on a range of global challenges: from climate change and human rights to governance reform and critical technology cooperation. This, after all, has been the Biden team's playbook so far in engagements with the United States' democratic allies and partners around the world.
Strengthening the international rules-based order is an important agenda. But to win today's contest with China in the Indo-Pacific, Biden's global focus won't be enough. As we argue in "Correcting the Course: How the Biden Administration Should Compete for Influence in the Indo-Pacific," the United States must invest in the regional order-defending functions of its Indo-Pacific alliances and partnerships if it is to succeed in improving its strategic position in the region. Biden's global order priorities, despite being broadly welcomed in the region, are not directly relevant to competing for present-day influence in the Indo-Pacific. Although alliance repair is an important part of the regional agenda, more is required to support and empower U.S. allies and partners to set them up for success in strategic competition.
Restoration and Global Order
The Biden administration deserves credit for moving fast to reinvigorate its Indo-Pacific alliances and partnerships after the tumult of Donald Trump's presidency. Early cabinet-level visits to Japan and South Korea in March saw the United States reaffirm its defense treaty commitments and secure host nation support agreements with both allies. Biden's team has also made it clear that it views U.S. allies and partners as indispensable "force multipliers" for strengthening the liberal international order and addressing a long list of global concerns. Given the Trump administration's narrow prioritization of regional security issues and the Biden team's restorationist agenda, this is as welcome as it is unsurprising.
Operationalizing this agenda has seen the Biden administration reopen the global aperture of the United States' Indo-Pacific alliances and partnerships in ways reminiscent of the Obama years. Leaders' summits with Japanese and South Korean counterparts produced ambitious agendas for global cooperation, including new bilateral climate, health, and technology mechanisms. The same approach has been applied to the India-U.S. partnership, with officials emphasizing cooperation on climate change, health, supply chain security, and technology issues, and flagging expanded coordination in the Indo-Pacific, Africa, and Middle East. Although cabinet-level engagements with Australia have been sparing to date, U.S. officials have nonetheless sought Canberra's cooperation on global health and economic initiatives, and in promoting democratic values abroad.
The Biden administration has also worked to expand the role of select multilateral groupings involving regional allies. Washington moved quickly to elevate the Quad between Australia, India, Japan, and the United States to a leaders' level dialogue and revive the dormant trilateral partnership with Seoul and Tokyo. In both cases, the United States and its Indo-Pacific partners have signaled their intention to expand cooperation beyond the security realm – in health, climate change, and technology, etc. – to strengthen the collective ability to provide global and regional public goods.
At the same time, Washington has expended significant diplomatic capital to bring its European and Indo-Pacific partners together in support of a global agenda to counter China's expanding ambitions and influence. Crucially, as the Biden team views competition with China as a long-term global challenge – rather than a near-term regional imperative – this agenda has prioritized coordinated pushback on issues such as Beijing's Belt and Road Initiative, cyber malpractices, human rights abuses, and techno-authoritarianism.
Where Goes the Neighborhood?
But for all that Indo-Pacific allies and partners bring to global initiatives, the Biden administration has yet to focus its investment in these relationships on a dedicated regional strategy. This is a serious problem. Biden's Asia team has talked a big game on strategic competition with China. But even as Beijing continues to undercut U.S. regional preeminence, there remain serious questions over Washington's capacity and willingness to maintain a favorable Indo-Pacific balance of power, deliver a comprehensive regional trade and investment strategy, and sustain robust and wide-ranging engagement with Southeast Asia.
Worryingly, there has been little progress on such regional issues during the Biden administration's engagements with its Indo-Pacific allies and partners to date. With the notable exception of the ambitious Quad Vaccine Partnership, projects designed to have a strategic impact in the region – such as the U.S.-Korea Global Vaccine Partnership and U.S.-Japan Competitiveness and Resilience Partnership – have been diffuse and slow-moving. This is a missed opportunity for the administration's alliance revitalization agenda. But it also raises questions about its priorities so far: The Biden team has simply not demonstrated the same sense of urgency in focusing alliances on Indo-Pacific challenges as it has on building allied and partner support for the globalization of strategic competition with China. This leaves regional states wondering whether Washington will be truly committed to competing for influence with China within the Indo-Pacific.
Empowering Allies Through Defense Integration
As a starting point, ensuring U.S. alliances and partnerships in the Indo-Pacific can effectively contribute to shared security objectives is a necessary component of an improved regional strategy. Achieving this will require the Biden administration to better empower its partners for collective and independent roles. This is not a natural impulse for the United States. On the contrary, Washington's "superpower mindset" and the protectionist instincts represented in its newly tightened "Buy American" regulations do not portend a swift departure from longstanding U.S. preferences to limit and control the extent of defense integration with allies and partners.
This is especially problematic given the United States' growing – and increasingly well recognized – need to multilateralize its defense industrial and technological base to maintain a competitive military advantage vis-à-vis China. Unfortunately, even with close allies like Australia and Japan, efforts to deepen defense industry integration have encountered significant economic and political hurdles, particularly around sharing and protecting sensitive data.
Technology sharing reforms should thus feature prominently in the Biden team's efforts to empower Indo-Pacific allies and partners going forward. To start with, the administration should lean into reforming and implementing existing mechanisms that are designed to facilitate greater two-way collaboration between U.S. and allied defense industries. This includes removing barriers to technology transfer and information-sharing arrangements with Australia by fully utilizing the U.S. National Technology and Industrial Base legislation – the slow progress of which is currently complicating Canberra's effort to build a sovereign guided munitions manufacturing capability. It also requires reforming restrictive data-sharing arrangements within the U.S. Foreign Military Sales program, the likes of which have recently frustrated Tokyo, pushing it to prioritize domestic alternatives to U.S. capabilities and munitions.
Empowering allies also requires Washington to step out of the way of allied self-strengthening efforts to enhance their own defense capabilities, even when these do not entirely align with U.S. preferences. On this score, the Biden administration's record is mixed. Its decision to scrap the U.S.-Korea Missile Guidelines in May is a good example of what needs to be done – enabling Seoul to produce and field longer-range systems that provide it operational advantages vis-à-vis China and North Korea, and paving the way for enhanced bilateral space cooperation. But other efforts will not be so simple. For example, finding a solution to Washington's disagreement with India over its purchase of the Russian S-400 air defense system – one that does not jeopardize future India-U.S. military cooperation – will be essential for sustaining the trajectory of that strategic partnership. By increasing the ability of U.S. allies and partners to defend themselves and contribute to collective defense efforts, letting such initiatives flourish offers mutual strategic advantages.
Correcting the Course
The Biden administration's recommitment to strong Indo-Pacific relationships and policy of ongoing strategic competition with China are welcome starting points for its early engagements with allies and partners. But it's been slow off the mark when it comes to developing a regional strategy that will set the United States on the right trajectory to compete for influence with China within the Indo-Pacific.
This week's AUSMIN consultations provide an opportunity for Washington to begin correcting the course. By working with Canberra on ambitious initiatives to strengthen regional defense posture, geoeconomic security, sovereign resilience, and diplomatic engagement, Washington can signal that investing in the Indo-Pacific is as important to the administration as global competition with China. Failure to focus substantial attention and resources on regional competition will exacerbate concerns that the Biden administration, like its predecessors, is unable or unwilling to deliver on the Indo-Pacific pivot that Washington has promised for a decade.