Advancing Indonesia-Malaysia Relations Amid COVID-19
Much of the quick visit of the Malaysian prime minister to Indonesia signaled continuity in relations rather than any major boost.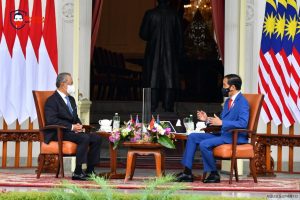 From February 4-5, Malaysian Prime Minister Muhyiddin Yassin paid a visit to Indonesia, his first overseas visit since assuming the premiership last year. The interaction highlighted the ongoing efforts by both neighboring Southeast Asian countries to seek to advance their relationship in spite of various ongoing challenges.
Despite some unresolved disagreements – ranging from the treatment of domestic workers to illegal fishing to the outstanding Ambalat dispute – the two major Muslim-majority countries in Southeast Asia do maintain a healthy overall relationship, which they have attempted to advance. This is despite some challenging developments over the past few years, including multiple changes of government in Malaysia and the ongoing coronavirus pandemic in both countries.
Seen from that perspective, Muhyiddin's visit to Indonesia was an opportunity for both countries to advance their cooperation. The trip, which occurred nearly a year after a planned visit was shelved due to COVID-19, and was also constrained by strict health protocols and precautions, was Muhyiddin's first official overseas visit since he assumed office in March 2020, signaling the continued importance of the relationship. The trip, which lasted less than 24 hours, saw Muhyiddin meet Jokowi face-to-face at Istana Merdeka in Jakarta, with a small delegation headed by Foreign Minister Hishammuddin Hussein holding a discussion with Indonesian counterpart Retno Marsudi.
Per an official statement by Malaysia's foreign ministry Wisma Putra, the meeting was meant to address a range of economic and security issues as well as the COVID-19 pandemic. In terms of areas of alignment, among those mentioned during the press conference included the importance of self-restraint and constructive engagement in the South China Sea – where Malaysia is officially a claimant while Indonesia maintains its status as an interested party – as well as the seriousness of the situation in Myanmar, where both sides advocated for a role for the Association of the Southeast Asian Nations (ASEAN). Also top of mind was the issue of palm oil, with the world's two largest exporters of the commodity renewing calls for solidarity in the face of anti-palm oil campaigns by Europe and Australia.
The visit also reportedly touched on challenges in the relationship, though unsurprisingly less specifics were publicly provided. Of particular note was the issue of migrant workers, which has long been an irritant in ties, with Jokowi suggesting that the two sides might look to develop a mechanism in order to better protect Indonesian domestic workers. Additionally, in a sign of continued caution regarding COVID-19, while both sides said they would look at ways to intensify negotiations regarding the Reciprocal Green Lane for official and business travel, there was no agreement on immediate implementation due to the pandemic, as well as the required approvals from the relevant health authorities of both countries.
To be sure, much of the quick visit signaled continuity with respect to the overall relationship rather than any major boost. Even though Muhyiddin did say that he intended for ties to be "further upgraded to a strategic level," it is not yet clear how identified strategic fields will actually be progressed. Additionally, there are still uncertainties with respect to the trajectory of ties, including the potential for further political change in Malaysia, with elections that could be called this year (Muhyiddin is already the third Malaysian leader Jokowi has worked with since coming to power, after Najib Razak and Mahathir Mohamad). Nonetheless, as the process of shaping ties continues, interactions such as this one between the two sides will be interesting to watch.