China Gifts Pakistan 1.2 Million COVID-19 Vaccine Doses 
Pakistan was the first country to receive donations of a Chinese COVID-19 vaccine, reflecting the countries' warm bilateral relationship.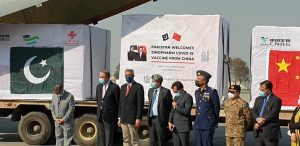 Early this week, Pakistan received half a million doses of China's Sinopharm shots, the first destination of Beijing's gifted vaccine. This donation marked China's first vaccine aid sent overseas. Thirteen other countries (Belarus, Brunei, Cambodia, Equatorial Guinea, Laos, Mongolia, Myanmar, Nepal, Palestine, Sierra Leone, and Zimbabwe) were also among the recipients of Chinese vaccine aid, with several dozen other developing countries slated to be given Chinese vaccines at a later date, though without a specific timetable.
Pakistan secured 1.2 million doses from Sinopharm and the country's health minister also confirmed that the country will receive 17 million doses of AstraZeneca's vaccine in the year (6 million of those are expected in March). Both vaccines received emergency use approval in January. Meanwhile, another Chinese vaccine producer, CanSino Biologics, launched part of its phase III clinical trials for its COVID-19 vaccine candidate in Pakistan in September, along with participants in six other countries.
As of February 3, Pakistan had seen more than 549,000 cases and 11,800 deaths from coronavirus, according to government data, though the country's testing may not reflect the reality and strains on hospital and healthcare infrastructure. The government's response to the second wave has been criticized. An editorial in Dawn, a prominent Pakistani newspaper, wrote: "[A] far cry from the success story during the first peak, Pakistan is hurtling towards an abyss as it sleepwalks its way into a crisis that could see its healthcare system collapse."
While Pakistan is set to receive millions of vaccine doses, they are unlikely to swiftly alleviate the challenges of the pandemic in a country with a population of 220 million people. Pakistan is one of 92 lower-income countries eligible for free vaccines through COVAX, the global initiative and partnership that aims to provide 2 billion vaccine doses to 20 percent of the most vulnerable in the world's poorest nations.
There is also symbolism in Pakistan becoming the first recipient of a Chinese-developed COVID-19 vaccine, despite the logistical challenges ahead of distributing and administering vaccines worldwide. Indeed, this move should come as no surprise. The two countries have long championed their bilateral relationship as one of friendship, a theme echoed in statements by officials at the arrival of the first batch of Chinese vaccines in Islamabad. Pakistani Foreign Minister Shah Mahmood Qureshi called the donation "practical proof" of the China-Pakistan friendship. Separately, Chinese Ambassador to Pakistan Nong Rong called Pakistan China's "closest friend" and that the vaccines represented a "manifestation of our brotherhood."
Beijing has already assisted Islamabad in its fight against the COVID-19 outbreak, providing medical equipment and protective gear, as well as sending doctors last spring. However, the neighborly partnership between the two extends far beyond cooperation on public health issues. The two countries are celebrating 70 years of diplomatic ties in 2021 and are likely to highlight the strength of their relationship with the completion of elements of the China-Pakistan Economic Corridor – a flagship element of the Belt and Road Initiative – as well as new projects.
Beyond CPEC, the two sides also inked a defense memorandum of understanding in December, aimed at enhancing cooperation between the People's Liberation Army and the Pakistan Army. And just last week, the government of Pakistan-administered Gilgit-Baltistan proposed a new border road linking the region to China's Xinjiang region and supplementing the Karakoram Highway. The new route would likely bolster not only transport but trade.
Despite hiccups in CPEC's implementation, it remains a central facet of the bilateral relationship. As the German Marshall Fund's Andrew Small noted in a recent interview with The Diplomat:
[T]he routine with CPEC in Pakistani domestic politics is that everyone expresses their profound support for it in principle and then the opposition criticizes the form that it is taking in practice with the government in power, and the way it is being executed. This reflects China's sanctified status in Pakistan. It is still the 'all-weather friend,' and its importance as a security partner and financial backer has only grown.
China's outsized role in Pakistan appears likely to expand further as it is poised to position itself as a provider of much needed vaccines in a country hard pressed to beat back a new wave of the coronavirus.