Harvard Professor's Article Sparks Outrage Over Its Depiction of Japanese Military Brothels
While U.S. scholars and politicians criticized the article, it was defended by far-right activists in Japan – and South Korea.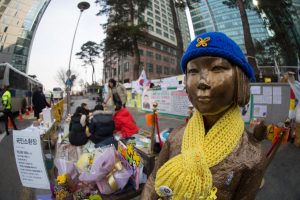 An article published by J. Mark Ramseyer, the Mitsubishi professor of Japanese legal studies at Harvard Law school, has been criticized not only in South Korea but also in the United States as he described Korean women who were sexually abused by the Japanese military during World War II as willing prostitutes who carefully negotiated the terms of their contracts.
Ramseyer made the contentious claim that the women, sometimes euphemistically referred to as "comfort women," were volunteers and not "sex slaves," and argued that there was no coercion from the Japanese government in recruiting the women. Other scholars have said that he did not provide any proof or evidence that can support his claim.
After his article was published, the Korean Association of Harvard Law School issued a statement on February 4 slamming the article for being "factually inaccurate and misleading." Both political and academic circles in the United States also joined the criticism.
U.S. Representative Young Kim tweeted on February 11 that Ramseyer's claims are "untrue, misleading, and disgusting." Kim also said that his claims are offensive to victims, tweeting "we must support victims of human trafficking and slavery, not tear them down."
"I urge him to apologize," Kim said in her tweet. A fellow representative, Michelle Steel, retweeted Kim's post, commenting, "Agree. This is disgusting."
The Harvard Korean Society also issued a statement, saying it demanded that Ramseyer offer an official apology to Korean women who were forced into sexual slavery, while asking the journal to withdraw the article.
Meanwhile, U.S. scholars have taken issue with the academic credibility of his article. According to The Harvard Crimson, Carter J. Eckert, a professor of Korean History at Harvard University referred to Ramseyer's article as "woefully deficient, empirically, historically, and morally" in an emailed statement.
"What concerns me is this is scholarly fraud," Alexis Dudden, a professor of Japanese and Korean history at the University of Connecticut, said in an interview with a local news outlet in Seoul, South Korea. "He has to be able to able to reproduce the evidence and there is no evidence." Dudden also added that Ramseyer has to provide sourcing for the 7,000 contracts he wrote about in his article and open them up to public review.
The active criticisms from U.S. scholars and Korean students in the United States have received attention in South Korea. However, the South Korean government has not issued a statement. The non-governmental organizations that support South Korean women who were sexually abused by the Japanese military have also not taken a public stance.
That silence does not sit well with some Koreans. "The Korean government and politicians should be ashamed of themselves as most news reports were about the criticisms made by U.S. scholars and politicians." Yoon Tae-young, 25, a university student in Seoul, told The Diplomat. "The Korean government should make a statement officially or do anything to make more Korean people know about Ramseyer's ignorant article."
Amid the criticism, Ramseyer's background has attracted attention. His specialty is Japanese law – not research into Japanese military abuses, including sexual slavery during World War II – and his background is strongly connected to Japan. Ramseyer spent most of his childhood in Japan and attended Japanese schools before he returned to the United States for college. He was awarded the Order of the Rising Sun from the Japanese government in 2018.
That background is notable because the article's arguments are similar to the defense often used by Japanese nationalists: that the women in war-era Japanese military brothels were willing prostitutes, not victims of coercion. Contrary to criticism from scholars, politicians and students in the United Sates, Japanese historians sent a letter to the journal's editors to express their support for Ramseyer's paper, the local media in South Korea reported.
In a letter, six Japanese scholars defended Ramseyer's article as a great academic contribution based on a surprisingly wide range of raw materials. They also said that the article is an achievement to be praised, not be reproached. One of the scholars was Ezaki Michio, who has previously rejected claims of Japanese military atrocities in China and South Korea.
Surprisingly, however, there was another group that rejected the wave of criticism: right-wingers in Korea.
A U.S. university professor received an e-mail from a representative of Media Watch, a far-right Korean media outlet, according to local media. In an email with the subject line "Outsiders do not have any authority to argue about it," the sender said, "I am afraid that your intervention will only prevent reasonable debates like this."
The professor, who remained anonymous, had been criticizing Ramseyer's article and felt horrified when colleagues also received the same e-mail from Media Watch. The media outlet also sent a statement supporting Ramseyer to Harvard University and the journal. Many Koreans have expressed their anger over the article, which comes as Seoul is dealing with the issue of compensation for those who were forced to provide sexual services or war-time labor for Japanese corporations during World War II. Koreans have been shocked by South Korea's far-right scholars' stance on the article.
The International Review of Law and Economics, where the article was published, issued an "expression of concern" to "inform readers that concerns have been raised regarding the historical evidence" in Ramseyer's article. The journal said it was investigating the claim and "will provide additional information as it becomes available."
Originally, the International Review of Law and Economics was scheduled to publish Ramseyer's article in the March issue, but it deferred publication as it completes its investigation. It is also reported that the journal is considering publishing his article and the counterarguments at the same time.
In the midst of the disputes over Ramseyer's article, Harvard Law School will host an online forum on February 16 to discuss the ongoing "comfort women" issue. Lee Yong-soo, one of the Korean women who were forced into sexual slavery for the Japanese military, will attend.