India and Pakistan Announce Ceasefire Across Disputed Border
The sudden announcement comes weeks after Chinese and Indian forces began their military disengagement in eastern Ladakh.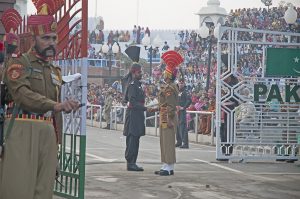 In a major development that bodes well for South Asian security, India and Pakistan have recommitted themselves to cease fire across the Line of Control (LoC) and other contested sectors. According to a joint statement released on February 25, "both sides agreed for strict observance of all agreements, understandings and cease firing along the Line of Control and all other sectors with effect from midnight 24/25 Feb 2021." This statement followed a call between senior Indian and Pakistani military officers.
"In the interest of achieving mutually beneficial and sustainable peace along the borders, the two DGs[-]MO [director generals of military operations] agreed to address each other's core issues and concerns which have propensity to disturb peace and lead to violence," the statement said.
While India and Pakistan agreed to an LoC ceasefire in 2003, by 2014 incidents of ceasefire violations had spiked, reaching alarming proportions over the last few years. Equally worrying has been the frequent use of heavy-caliber artillery guns by both sides, which carried serious risks of escalation.
Speaking to The Diplomat, Stanford scholar Asfandyar Mir, a specialist in South Asian security affairs, noted: "This announcement – specifically the language used in the joint statement – is surprising, and comes at a time when the relationship remains very tense. By various accounts, 2020 was a bloody year on the LoC."
The statement comes a day before the second anniversary of Indian air strikes on alleged terrorist camps outside Balakot, a town in Pakistan's Khyber Pakhtunkhwa province. The Indian strikes on February 26, 2019 – and Pakistan's retaliatory action in kind the day after – were the first instances of the use of air power by the two against each other since both declared themselves as nuclear-weapons powers in 1998. Between 2001-2002, India and Pakistan were at the brink of war following deadly attacks on Indian soil, including a foiled bid by Pakistan-based extremist groups to decimate the Indian Parliament in December 2001.
In September 2016, India launched an avowed cross-LoC special operation inside Pakistan-administered Kashmir following a terrorist attack on an Indian Army base in Uri, in the Kashmir valley. India accuses Pakistan of aiding and sheltering anti-India groups who support a religious war in India-administered Kashmir against New Delhi.
Following India's decision to remove Kashmir's special autonomous status under Article 370 of the Indian constitution in August 2019, as well as its decision to carve out a separate, centrally-controlled territory of Ladakh from the erstwhile state of Jammu and Kashmir, many had feared that the decision would bring the region to boil. However, draconian lockdowns as well as a massive security presence in Kashmir helped New Delhi keep a lid on the situation. Some feared that should India and Pakistan not come at least to a tacit understanding on the way forward in their bilateral relationship, this summer could see significant violence in Kashmir. It is plausible, in light of the new announcement, that such an understanding could indeed be in the works, away from the public glare.
Interestingly, the February 25 ceasefire statement comes just a little more than two weeks since China and India committed themselves to military disengagement in eastern Ladakh, following an almost 10-month long standoff, beginning with areas around the Pangong Lake. While both Chinese and Indian forces have indeed completed disengagement in the north and south banks of the Pangong Lake, other areas of friction remain – not to mention that larger commitments to de-escalation are still proving to be elusive.
Many analysts (including me) have hypothesized that China's decision to apply sustained military pressure across a wide frontage in Ladakh had much to do with India's August 2019 decisions. Jammu and Kashmir, contrary to widespread belief, is a triangular dispute involving China as well, through its claims on Aksai Chin and the Shaksgam Valley. China also has significant infrastructural investments in Gilgit Baltistan, an area administered by Pakistan but claimed by India.
Since the beginning of the Ladakh standoff, the New Delhi strategic community has been abuzz with apprehensions about a two-front threat in front of India, whereby China and Pakistan, close military allies, could collusively attack India – or that one could take advantage of the other's military thrust against India to open a new front. Analysts have repeatedly noted that one way for India to avoid a two-front threat from materializing is for New Delhi to reach out to Pakistan and reduce hostilities, or at the very least keep things from boiling over.
Speculating on why India may have agreed to an LoC ceasefire now, Mir noted that it could be that New Delhi now sees some of its nominal goals when it came to raising the costs for Pakistan's support of anti-India groups as met, leading it to seek an off-ramp. However, he noted that it could very well be that India wants to free up military attention to devote to China, and therefore sees the need to bring temperatures with Pakistan down. "Both are plausible, but I'd speculate the China angle played into this more," Mir said.
Earlier in January, news reports suggested that the Indian army's Mathura-based 1 Corps – an offensive, strike, corps earlier tasked with meeting a Pakistan contingency – would be re-tasked with managing a China threat. Similarly, the army's 17 Corps, India's sole mountain strike corps, will also have a primary focus on China, reports suggested.
Of course, there is yet another possibility: that there is more to the China-India disengagement talks than what meets the eye, and that the India-Pakistan ceasefire announcement and China-India disengagement plans are not discrete, unlinked events. Finally, it remains to be seen to what extent a possible shift of the Biden administration's posture towards Pakistan (as it sees a way out in Afghanistan) may have played into Indian calculations.