India's Foreign Secretary in Russia to Keep Marriage of Necessity on Track
Beyond flowery rhetoric and arms deals, New Delhi has extremely valid reasons to keep relations with Moscow on an even keel.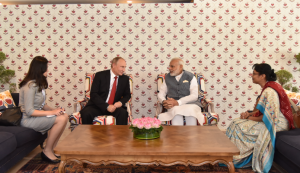 Indian Foreign Secretary Harsh V. Shringla is visiting Moscow on a two-day trip beginning February 17. According to a press release from the Ministry of External Affairs, during his visit Shringla will participate in the latest iteration of the India-Russia Foreign Office Consultation, with the Russian side being led by Deputy Foreign Minister Igor Morgulov. "During the visit, Foreign Secretary will also meet Russian Deputy Foreign Minister H.E. Mr. Sergey Ryabkov for an exchange of views on topical issues of regional and international importance," the release noted. "This year's first visit abroad by the Foreign Secretary to Moscow signifies the importance India attaches to its close and friendly relations with the Russian Federation," it added.
Providing more details on what is likely to be on Shringla's Moscow agenda, LiveMint has noted that it will include finalizing the date for the annual India-Russia leaders' summit, consultations around BRICS (which India is chairing this year), as well as trade and investment, arguably the weakest link in the relationship. Since the end of the Cold War, India-Russia relations have been dominated by political issues (chief among them, a common rhetorical quest for a multipolar world and common, revisionist, positions on international institutions) and defense trade, while economic ties continue to remain sclerotic.
As LiveMint also noted, the Indian foreign secretary's Moscow visit is also likely to see renewed discussions around the Chennai-Vladivostok Maritime Corridor, an India-Russia connectivity initiative that would see the two eponymous coastal cities linked. The countries inked a memorandum of intent about the initiative in September 2019 during the Indian Prime Minister Narendra Modi's visit to the Russian Far East. While the maritime corridor, per the plan, would boost the economic and commercial leg of the bilateral relationship, it also fits rather well in India's nascent Indo-Pacific strategy that pivots around the notion of "inclusiveness."
However, the real import of Shringla's visit to Moscow lies in the fact that it comes ahead of several high-profile India-Russia engagements later this year while potential U.S. secondary sanctions on India due to its acquisition of the S-400 air defense missile system looms in the background. Given this, analysts have noted that Shringla's visit is likely to also be a message that India's ties with Russia and the U.S. are independent of each other – and the country's defiantly proud tradition of strategic autonomy is very much alive.
But beyond symbolism, whether about an inclusive Indo-Pacific or foreign policy theology, the fact of the matter is that India is impelled to keep relations with Russia on an even keel even when it is, at core, transactional. There are three concrete reasons behind this.
First, it is highly unlikely that Moscow will not play a significant behind-the-scenes role in the future of Afghanistan assuming the U.S. military withdrawal from that country goes as planned and the Taliban returns to Kabul in one fashion or the other. Under such circumstances – and especially given that New Delhi has largely watched the developments in Afghanistan from the sidelines – it makes eminent sense for the Modi government to try and protect its equities in Afghanistan by keeping all major stakeholders, including Russia, on its side.
Second (and related), a Russia that increasingly pals around with Pakistan is a scenario that India will loathe. And the Russians know it, periodically (if tacitly) reminding New Delhi of the cards it holds in that direction. Since 2016, Pakistan and Russia have held regular bilateral military "Friendship" exercises, and last year, Pakistan participated in the multination Kavkaz exercise hosted by the Russian army while India withdrew from it. The Russian navy also participated in the latest edition of the biennial multination "Aman" naval exercises that Pakistan hosts. But most jarringly from India's point of view, Russia's sale of the Mi-35M attack helicopters to Pakistan (following a 2015 purchase order) had raised the prospect of further armaments deals. It is also not a particularly well-kept secret in New Delhi that Russia's Afghanistan hands maintain a keen interest in Kashmir and that they have, on occasion, linked the two.
Third and finally, Moscow's importance to India as key interlocutor when it comes to China was underscored by its quiet attempts to mediate between New Delhi and Beijing last year as both sought a resolution of the Ladakh standoff in their own terms. A United States that increasingly finds its at loggerheads with China is unlikely to have any real diplomatic card to play when it comes to China's disputes with third parties. While analysts have pointed out the growing asymmetry in China-Russia relations (where Beijing appears to hold the stronger hand), Russia still has significant clout when it comes to China – a fact India could do well to accept and leverage in the future.