Mother Tongue: Preserving the Saura Language in India
Cultivation of indigenous languages is an imperative in ensuring tribal identities are not erased — in India, and elsewhere.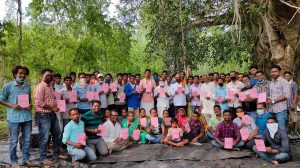 Over 90 percent of the 6,700 languages across the world are spoken by only 3 percent of the world's population. Although indigenous people make up less than 6 percent of the global population, they speak more than 4,000 of the world's languages.
"Indigenous languages are complex pieces of knowledge that have developed over generations," said Kadey Soren, a Bhubaneswar-based development practitioner. Soren belongs to the Santal tribal community. He is also the author of a book, "Rethinking on Tribal Education in Mayurbhanj district of Odisha."
"Since the indigenous languages are now under serious threat, the future of indigenous people seems uncertain," Soren highlighted. "It is the language which provides a unique identity to each tribe."
Indigenous people have the right to revitalize, use, develop and transmit to future generations their languages, oral traditions, writing systems and literature, according to Article 13 of the United Nations Declaration on the Rights of Indigenous Peoples. Similarly, Articles 14 and 16 of that declaration state indigenous peoples' rights to establish their educational systems and media in their languages, and to have access to education in their language.
India is a treasure trove of linguistic diversity with nearly 450 living languages, 22 of them granted the status of a "scheduled language" by the country's constitution. However, many indigenous languages in India are on the verge of extinction.
Ganesh Narayan Devy, a linguistic expert, reveals a shocking figure: over 250 languages in India have already died over the past 60 years. Another 150 languages could vanish in the coming decades, warns Devy. There are 197 languages presently categorized as endangered in the country.
The Case of the Indigenous Saura Language
One of the most ancient tribes in India, known for their unique art and language, the Saura largely inhabit Odisha's Koraput, Gajapati, Nabarangpur and Rayagada districts. Many of the Sauras also settled in other states like Andhra Pradesh, Chhattisgarh, Jharkhand and Assam. Over the years, dominant local cultures have eroded their age-old culture and language, claim anthropologists.
A majority of the Saura people have converted to Christianity, while a small number still practice animism. Many Saura youngsters complain not having been told about their rich culture by their elders and others. And in the absence of urgent efforts, the Saura language could be pushed toward the edge.
For decades dominant languages were extensively used in both government and privately run schools across the tribal hinterlands in India, which further limited the scope for tribal children to study in their local dialect. Languages like Odia, Hindi and English always get top priority in schools. In India, there is hardly any scope to learn a mother-tongue in schools for many tribal populations, with the effect that indigenous languages were the least recognized of dialects.
Apathetic attitude by Saura political leaders is also one of the pressing reasons why the Saura language never garnered much attention from the government. "Only a handful of political leaders raised the issues of promoting Saura language in Odisha," complains Mangei Gomango, a Saura rights activist. He is the son of Soura Pandit Mangei Gomango, who devised the script of Saura language in 1966.
"It is a matter of fact that the recognition of Saura language was raised only twice in the parliament by the then Odisha's Chief Minister Giridhari Gomango," added Gomango.
The role of civil societies and local media in advocating the preservation of endangered indigenous languages are equally paramount. In reality, very few institutions have been working towards saving indigenous language in Odisha.
However, there are some states where a handful of institutions and activists are trying to preserve endangered indigenous languages, such asa Santhali radio show in West Bengal and in Telengana, where a Gondi language dictionary has been developed.
"We have facilitated many researchers to conduct their study on Saura language. Regrettably, they never shared their research findings," said Ronit Sabar, who has been campaigning to preserve the language in Odisha. He belongs to the indigenous Saura community. According to Sabar key findings and observations from such research studies could substantially influence policymakers.
"Unfortunately, the Saura language received the least attention by the philanthropic fraternity," underlined Lal Bihari Gomango, member of Saura Sikhya Youth Association (SSYA), a Rayagada-based volunteer group with a mission to preserve Saura script and language through empowering Saura youths.
According to the members of SSYA, there are several other indigenous languages which managed to receive adequate attention by the government. Take, for instance, the Ho language which the Odisha Government has proposed to be recognized in the Scheduled Areas. "The alphabets of Ho dialect came much later than the Saura," says Gomango, "But it has received remarkable support from the state government in comparison to the later."
However, Soren views the matter differently. "Any language [in order] to be recognised by the government should demonstrate adequate manuscripts," explained Soren. "In the case of Saura language, more numbers of publication should be done," he suggested. Indigenous languages like the Santal and Ho performed better because of a series of publications and collective effort by the community members for recognition of their languages. It is high time the Saura community should also follow the same path.
What Should Be Done?
"Language revitalization goals are best steered by local stakeholders,'' emphasized Sabar. Active community involvement is a crucial strategy in language-reviving initiatives. SSYA has been printing and distributing books in Saura at free of cost amongst the people.
"We have launched Saura Sakhyarata Abhiyan," said Jitendra Karji, a member of SSYA. One of the main objectives of this campaign is to advocate for the validation of signature in Saura language by the government.
Commenting on the future action plan of SSYA, Gabriel Bhuya, who is also a member of SSYA, said, "In the next five-year, more numbers [sic] of our people should use Saura language at the schools, colleges and universities. Although we have printed and distributed Saura calendar among the people, there are still other areas which need urgent attention. Publication and printing of Saura alphabets, books, dictionaries and other teaching-learning materials is the need of the hour."
"Empowering the Saura youths could show the way," Haraprasad Hepruka, the sarpanch (leader) of Kurli panchayat in Rayagada district, opined. Hepruka belongs to the Kondh tribal community and is a popular youth leader in the southwest region of Odisha.
"We need to sensitize our youths about the importance of Saura language,'' underlined Hepruka. He has been playing an instrumental role in interfacing with the relevant government authorities and elected representatives in order to promote the Saura language.
At the present, Saura community children are taught in Odia in schools. "This method is not effectively implemented in the schools," reports Karji, "Our children are still facing difficulties to learn the language at schools [sic]." In a bid to address this challenges, Sangita Mohanty, deputy director at the Kalinga Institute of Social Science, believes, "Regular teachers training on MLE [multilingual education] should be organised which will equip them with the required skills to impart student-friendly education."
Understanding the special cognitive needs of the younger generation of tribal students will also play a critical role in ensuring effective implementation of several educational initiatives across the tribal hinterlands. "Judicious use of various ICT [information and communication technology] tools in regular school curriculum could facilitate mother-tongue based education," recommended Mohanty. "Tapping into a viable technological solution would reinforce mother-tongue based education."
Tribal development experts have demanded a comprehensive and scientific tribal language mapping in Odisha. "The language mapping could significantly help to strategically address various language barriers," underlined Mohanty.
Last but not the least, being one of the oldest inhabitants of the state, the Saura community need to stand together in their campaign to mainstream one of the ancient language of the state. And we need to make sure that they are not alone.
Abhijit Mohanty is a Delhi-based development professional and freelance journalist. He has worked with indigenous communities, refugees, internally displaced person and migrant workers across India and Cameroon. His main thematic areas of work include food and nutritional security, health, inclusive education, gender and forest governance. His work has been featured on The Wire, Down To Earth, Village Square, Times of India, India Together, Geopolitical Monitor.