Second, Kinder Acts: The Story of Reena Nachika
On the occasion of International Women's Day, the story of a young Indian Maoist who turned her back on violence – and now champions education instead.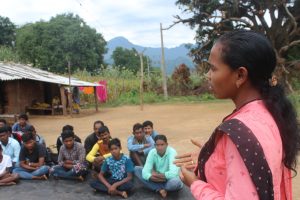 In the remote village 465 kilometers from Bhubaneswar, capital of the eastern Indian state of Odisha, people are excitedly gathering for a community meeting. Reena Nachika, once a Naxal — a Maoist rebel — but now a social worker, is motivating parents to send their children to school.
"Education is the only way to empower our next generation,'' said Nachika, a native of the Dakapada village who belongs to the indigenous Kondh community. "If today I am here, speaking confidently in front of you all, it is because of my education."
For local people, participating in a community meeting like this just a few years ago meant risking one's life, since such gatherings were generally considered suspicious by the military and police. "Those days were like a nightmare for us," recalls Purna Mandingi, a community leader. "We were petrified to even participate in our local festivals. The word 'Naxal' was enough to create terror in the village.''
For women, collecting forest produce, firewood, and herbs from the adjacent jungle was not possible earlier, as the military used to heavily patrol it. "Talking with a government babu [officer] could infuriate Naxals," said Deepai Majhi (name changed). "If we provide food or shelter to the rebel groups, the military will arrest us, alleging we are their sympathizers. They blame us that we are providing details of military and police movements to the Naxals."
Revolutionary Road
Nachika was 12 years old when her father died due to prolonged illness. Being the eldest daughter of the family, she knew that life would not be easy anymore without her father. To support her mother in agricultural work, she quit school in the third grade. Raising two brothers and one sister became the responsibility of Nachika and her mother. They survived on subsistence agriculture across the hilly slopes and worked as wage laborers whenever they found the opportunity.
"One day, they [Naxals] came to our village. Their leader told us: We are fighting for your rights, we need more youth to fight with the corrupted government," vividly recalls Nachika's mother. One of their members asked Nachika to join them. Her mother could not even protest as she knew this could invite violent measures from the Naxals.
On the other hand, at the tender age of just 12 years, Nachika was skeptical of what was happening around her. A month later, Nachika officially joined the Naxalites, not inspired by their Maoist ideology, but to protect her family from the extremists. Like Nachika, other boys and girls also joined the Naxal group. "They joined because of extreme poverty," exclaims Papeya Pidikka, a sarpanch (village head) from the Garidi panchayat in Narayanpatna.
"Naxal training was backbreaking," recalls Nachika. "We were trained in rifle firing, counter-combing operations, preparing explosives, detonators, code language, use of maps and first aid kits. Reading books on Mao principles and the legacies of their leaders were also part of our regular training." Far away from her home, in the dense forest of Koraput, everything was new for Nachika.
Benevolent steps taken by the Maoists, according to Nachika, include protecting land from parties with vested interests, providing financial assistance to poor families, and fighting for the rights of tribal people. However, there are numerous aspects that Nachika recognized as bad, and unacceptable from a humanitarian point of view, she claims.
"They kill people, which is bad. They punish family members of culprits for something they never did by themselves. This is unreasonable," says Nachika. As the days passed, she began to feel alienated from the agenda of Naxals. She spent countless nights in the forest in self-introspection, grappling with the dilemma of whether to quit or continue her fight along with the Naxalites.
Disenchantment
After spending around four years with the Naxals, one day, Nachika mustered her courage. She decided to surrender to government forces and start a new life. She was completely aware of the possible repercussions in case her former comrades acted out. "Yes, I was frightened, but I also recognized the futility of the violent path of Naxalism. Had I not decided to return to my village, I would have been dead long ago," Nachika confidently says. Peaceful negotiations could yield desired changes, but armed struggle is irrelevant, she further explains.
In 2011, she surrendered to the police. She stayed at the Simliguda sub-jail for nearly three years. After completing the mandatory three-year imprisonment, Nachika decided to return to her village. This alarmed jail authorities, who were worried that this sudden return could prompt Naxals to take revenge on her.
"I was perplexed. I had no idea what to do next after completing my imprisonment. But there was one thing I always used to miss when I was in the jungle [with the Naxalites]; I thought I should join school once again," said Nachika. Koraput's  then-superintendent of police supported the idea of providing financial support for Nachika's education. The support was under the Surrender and Rehabilitation Scheme of the government of Odisha.
Nachika was admitted in class eight at a government high school in Dasmantpur block of Koraput. After completing class eight, she studied class nine and 10 at Narayanpatna government high school. "My mother cried when she knew that I passed class 10 in 2017. I was the first person in my family to study up to class 10," Nachika said in an emotional tone.
The news of an ex-Naxal successfully passing class 10 examinations circulated like wildfire. Koraput district administration strongly endorsed the case of Nachika as an inspiring story, which could influence other members of Naxal groups to follow her chosen path and start a new life. Several media agencies published exclusive reports on Nachika. She became an overnight star in the region.
"Now, I Am a Social Worker"
After completing class 10, Nachika returned to her village Dakapada. Considering her past engagement with the Naxals, Nachika was quite anxious to see how the people might accept her in the village. "I never thought that I will see my elder daughter again in my life," said Nachika's mother. "You know their [Naxal] world is different. They control life and death with guns and bullets."
"I was happy to see that people in and around my village accepted me wholeheartedly," says Nachika proudly. "This is the real impact of education. Finally, I was back in my village, my birthplace. It is here I want to stay and work for my people."
Manas Mohanty, district coordinator, Koraput from the Kalinga Institute of Social Science (KISS), motivated Nachika to participate in a 10-day residential training program specially organized to empower rural and indigenous youth at Bhubaneswar. "It was my first visit to Bhubaneswar, the state capital.  The UDAY training program held at KISS opened my mind," said Nachika. After returning to her village, she started sensitizing the tribal community about the various pro-poor government welfare schemes and the process to access them.
The UDAY project is a joint initiative by the UNFPA, Rural Electrification Corporation, and KISS with an aim to build the capacity of young boys and girls in leadership, social entrepreneurship, and responsible citizenship.
"I have been working against the practice of child marriage in the area,'' Nachika highlighted, "Parents are gradually understanding many ill-effects of early marriage." Similarly, she is also educating tribal girls on maintaining menstrual hygiene, reproductive health, and family planning. "Discussion on such topics used to be a taboo in the society earlier. It is because of regular training and exposure programs organized by KISS, they are opening up," explains Nachika.
Abhijit Mohanty is a Delhi-based development professional and freelance journalist. He has worked with indigenous communities, refugees, internally displaced person and migrant workers across India and Cameroon.  His work has been featured on The Wire, Down To Earth, Village Square, Times of India, India Together, Geopolitical Monitor.