Ripple Effects of Myanmar Coup Felt in India's Northeast
The February 1 coup has generated concern among Chin refugees in India's northeast, and could complicate the country's counterinsurgency efforts.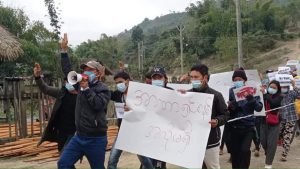 Anti-coup demonstrators continue to pour onto the streets for a fifth straight day in Myanmar despite the protests turning violent on February 9, with one woman sustaining a critical head injury from a bullet in Naypyidaw.
A day earlier, the new military administration had issued warnings of a crackdown, banning gatherings at potential flashpoint sites across the country.
Senior General Min Aung Hlaing, the junta leader who deposed the elected government of Aung San Suu Kyi's National League for Democracy (NLD) on February 1, made a televised speech on the evening of February 8. In his first address since the coup, televised on state-run MRTV,  Min Aung Hlaing justified seizing power by referring to  "voter fraud," which the military claims tainted the 2020 general elections that handed the NLD a landslide victory.
A statement issued by the new military rulers, also read on MRTV on Monday, warned of "legal actions" against protesters and reiterated the military's rhetoric of "discipline-flourishing democracy." "Democracy can be destroyed if there is no discipline," declared the statement, adding "We will have to take legal actions to prevent acts that are violating state stability, public safety and the rule of law."
Notices were issued in several townships in Yangon and Mandalay, imposing a curfew from 8 p.m. until 5 a.m. and banning public gatherings of more than five people in a bid to prevent protest marches. Protesters could face prosecution under Section 144 of the Criminal Code for "unlawful assembly," a legal tool that has been used in the past by the Myanmar junta to justify violent crackdowns on lawful mass demonstrations.
Notwithstanding the military's warnings of a crackdown and increasing signs of a willingness to use greater force to suppress demonstrations, protests have spread across the country, including ethnic minority-dominated border townships in the Naga Self-Administered Zone in Sagaing Region and Chin State.
On the morning of February 10, tens of thousands of people gathered on the streets of Monywa, Kalaymyo, Katha, and Homalin in Sagaing Region with chants about boycotting the junta and reinstalling the elected government: "We want democracy"; "Give power back to the elected government"; "Set free Aung San Suu Kyi and the president."
Mass demonstrations have also taken in place in Lahe, the capital of Naga Self-Administered Zone, reports Monywa Gazette, a regional news outlet.
"It's dangerous to protest against the generals. But we can't go quiet. No one wants this military dictatorship. We have been held hostage by dictators for far too long," said a 55-year-old protester in Monywa on February 10.
As Myanmar erupts in nationwide protests against the military takeover, a small refugee community in northeastern India is alarmed, worried, and sad. These ethnic Chins, who share an ethnic ancestry with the Mizos and Kukis in Northeast India, fled Myanmar between 1989 to 2004 when the Myanmar military violently cracked down on the Chin self-determination movement.
Northeast India shares several hundred kilometers of porous borders with Myanmar's Chin and Sagaing, home to Myanmar's ethnic Chins. There are currently about 20,000 Chins taking refuge in two northeast Indian states, Mizoram and Manipur.
Lalnuntluanga Fanai, who fled Sagaing in 2004 and currently lives in Mizoram's Aizawl, says: "We are concerned about our loved ones and relatives in Myanmar. With the military directly at the helm of affairs, they, as ethnic minorities, would be more vulnerable to oppressive treatment."
Samuel Kuki, who splits his time between Homalin in Sagaing and Churachandpur in Manipur, thinks "the descent to military rule could worsen the Chin refugee situation, forcing more people to take refuge in northeastern India."
Regional media on February 10 reported that the Chin National Army, the armed wing of the Chin National Front, an ethnic Chin group fighting for self-determination and a federal union in Myanmar, has sought asylum for their family members in Mizoram's Champhai district bordering Myanmar as there is apprehension that with the situation escalating the junta may crack down on them at any time.
Following the coup, the international border crossing and trade route of Moreh that connects India with Myanmar and ASEAN came to a screeching halt.
"The trade was just starting to take off after coronavirus-related public health restrictions were lifted by Indian government. Then came the coup in Myanmar, as a shock. Everything's in a lull once again, and we don't know how long it will take to normalize the situation," says T. Houpu, an Indian shopkeeper in Moreh.
According to a 2016 report, border trade between India and Myanmar stood at approximately $50 million, up from about $15 million in 2005-2006.
Analysts caution that the coup in Myanmar could also bring in a fresh spell of uncertainty in politically volatile Northeast India. Multiple Indian insurgent groups share historical relationships with ethnic armed organizations in Myanmar, in addition to having their bases across the border in Myanmar. Now with the prospect of prolonged unrest in Myanmar following the military takeover — enmeshed in which are aspirations of the Bamar majority and the ethnic minorities of the country — the fresh ground of fluidity could bestow Indian insurgents operating in the region new opportunities for forming and shifting alliances. This, in turn, could impact the long-drawn ongoing negotiations between these groups and the Indian government.
Thet Swe Aye is a freelance writer based in Monywa in Sagaing Region of Myanmar. He is a regular contributor to Monywa Gazette.
Bikash Kumar Bhattacharya is an independent journalist based in northeastern India. His works have appeared in Mongabay, The Diplomat and The Indian Express among others.