Myanmar Refugee Numbers Swell in India's Mizoram State
The exodus follows a series of brutal military reprisal killings in Chin State's Matupi Township.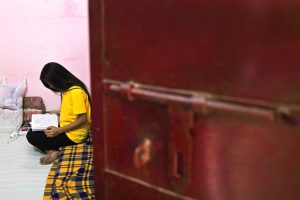 A humanitarian crisis is brewing in India's Mizoram State, where several thousand displaced civilians from northwestern Myanmar have sought sanctuary following brutal reprisal attacks by the military junta.
In a statement dated January 22, the New Zealand Myanmar Ethnics Council (NZMEC) and Global Action for Myanmar Peace & Federal Democracy (GAMPFD)  said that "several thousand" had recently crossed the border from Myanmar's Chin State into Mizoram and were now being housed in nine makeshift camps. It called on the United Nations and other humanitarian agencies "to provide food, blankets, and other necessities for people who have been displaced by unrest since the military coup in Myanmar one year ago."
Over the past six months, Chin State has become an active frontline of the armed resistance to the junta that seized power last February, and has experienced a series of brutal reprisals as a result. The most recent was a massacre that took place on January 6-7 in Chin State's Matupi Township, in which 10 people were killed, including a 13-year-old boy and a local journalist. The massacre followed fierce fighting between the Chinland Defense Force-Matupi (CDF-Matupi) and the Myanmar military, and prompted an exodus from several villages in the vicinity.
On January 22, the Indian Express reported that more than 2,000 people from Chin State had crossed over into the border villages of Mizoram since January 5, citing state government sources and NGOs offering assistance to the refugees. Another local media outlet reported that the number of displaced in Mizoram, the southernmost of India's remote northeastern hill states, was "over 4,000." Among those who arrived in the last two weeks were four persons with shrapnel wounds, according to the Indian Express report, one of who was reported to have died in hospital in Mizoram.
Even prior to the recent massacre, residents had been fleeing from Matupi township for months. In an investigation published earlier this month, the Associated Press cited a college student who fled the area as saying that junta troops "had locked people into houses and set them alight, hid bombs in churches and schools, killed three protest leaders she knew and left bodies in the middle of roads to terrorize people."
The NZMEC/GAMPFD statement quoted a member of the Chin diaspora community living in New Zealand, whose uncle was among the 10 people killed in Matupi. "Since this incident, the military junta soldiers have been going house-to-house in Matupi, especially at night, arresting people and murdering them on suspicion of political activities," said the person, who was given the pseudonym Zalattphyu. "People are living in fear. The majority of people have now left Matupi township."
In its most recent emergency report on Myanmar, dated January 19, the United Nations High Commissioner for Refugees (UNHCR) estimated that more than 33,800 people have been displaced in Chin State due to the post-coup conflict. In addition to the people who have crossed the border into Mizoram in recent weeks, the UNHCR reports an additional 15,000 people who have entered India's Manipur State, which lies to Mizoram's north, most of them from Sagaing Region.
Whereas the Thailand-Myanmar border has an established humanitarian and aid infrastructure dating back to the early 1990s, the India-Myanmar border is both more remote and less well equipped, in part due to the fact that conflict in Sagaing Region and parts of Chin State has been relatively rare.
While local church groups and NGOs, as well as the local authorities, have come to the aid of the displaced civilians in Mizoram, the NZMEC/GAMPFD statement said that these groups lacked the resources to handle the arrivals needs on their own, especially given the region's punishing winter temperatures.
"The current influx of Chin people into Mizoram is straining local resources, and risks spreading COVID-19 in the host communities,"  the statement said, adding that many had arrived on foot after days of walking, and are in dire need of assistance.
The burgeoning refugee presence in Mizoram is the latest sign of how Myanmar's internal conflicts have exported instability to neighboring countries. With the armed resistance continuing to spread, and the Tatmadaw troops employing increasingly sadistic violence in order to shore up the tottering coup regime, authorities in northeastern India should brace themselves for more arrivals.