Rude Girl? Rihanna's Tweet Draws Indian Foreign Ministry Response
Other celebrities also spoke out against the Modi government's handling of the farmers' agitation, unleashing a social media war – and a government overreaction.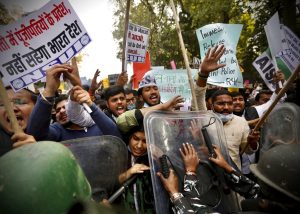 The Indian Ministry of External Affairs (MEA) has issued a strongly worded statement against social media comments by international celebrities about the ongoing farmers' protests in India. In a February 3 press statement, the MEA noted: "Before rushing to comment on such matters, we would urge that the facts be ascertained, and a proper understanding of the issues at hand be undertaken."
"The temptation of sensationalist social media hashtags and comments, especially when resorted to by celebrities and others, is neither accurate nor responsible," it added.
The statement simultaneously portrayed the protests as part of India's "democratic ethos and polity" but also claimed its dismay at "vested interest groups trying to enforce their agenda on these protests, and derail them."
On February 2, popular American entertainer Rihanna (who has more than 100 million followers on Twitter) had tweeted a CNN article about the farmers' protests in the outskirts of – and, in instances, inside – India's national capital New Delhi. The entertainer simply added in her tweet: "why aren't we talking about this?! #FarmersProtest." A diverse set of international voices – including teenage climate activist Greta Thunberg, Meena Harris (lawyer and niece of U.S. Vice President Kamala Harris), former adult film performer Mia Khalifa, and member of House Foreign Affairs Committee Representative Jim Costa – had also chimed in the very same day as Rihanna.
The ongoing farmers' protests, which now threaten to morph into a larger agitation encompassing many other issues, has manifestly unnerved the Narendra Modi government and represents the first large-scale political crisis to confront it in the six years Modi has been in office as prime minister. Protesting farmers from Punjab, Haryana, Uttar Pradesh, and other states are demanding repeal of three new agricultural laws that the Modi government passed in September last year, in a manner that many observers criticized as going against established parliamentary norms.
In a bid to put a lid on the protests – which led to chaos and violence in the streets of New Delhi on January 26, a day India celebrates each year to commemorate the country's founding as a constitutional republic – the central as well as several BJP-run state governments have adopted a ham-fisted approach, as protesting farmers show no sign of backing down. Police in Haryana, Madhya Pradesh, and Uttar Pradesh have registered criminal complaints against several journalists and opposition politicians who have covered or commented on the protest in a manner deemed unsavory by the ruling party. The Delhi Police, which directly reports to the federal government, arrested two journalists covering the protests on January 26. It has also erected concrete barriers and barbed-wire fencing along sections of the national capital's borders with neighboring states, rendering an image of a government under siege from its own people. Several areas in Haryana, a state bordering Delhi, have also seen government-ordered internet shutdowns.
These measures manifestly look like a panicked reaction from the Modi government as it failed to adequately assess the direction the farmers' protests that started in November could take. The MEA's February 3 statement adds to the impression that the Modi government is finding it difficult not only to manage the extant agitation, but also to shape the international narrative around it.
Meanwhile a group of Bollywood celebrities – including a Canadian actor of Indian origin known for his vocal support for Modi and (relatedly) maudlin, hypernationalist films – have taken to social media to promote a pro-government message, using a hashtag promoted by the MEA spokesperson.