Amid Legal Crackdown, Thai Protest Movement Regains Momentum
After a period of hiatus, and amid a concerted legal offensive, the student-led protests are beginning to revive.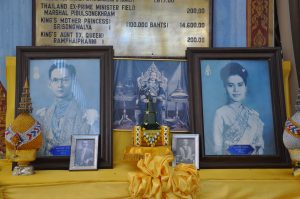 Thousands of protesters gathered in the Thai capital Bangkok on Wednesday to demand the release of jailed protest leaders, and renew the movement's combustive calls for reform of the monarchy.
The protest came amid an intensifying legal offensive against those leading the protest movement, which since its emergence since last year has posed a stiff and persistent challenge to the government of Prime Minister Prayut Chan-o-cha.
The youth-led protests are calling for Prayut's resignation and for replacement of the country's semi-democratic junta-drafted constitution with a genuinely democratic charter. More threateningly, activists are also demanding reforms to the power of the monarchy and the abolition of the country's strict lese majeste law, which carries a punishment of up to 15 years imprisonment for insulting the monarchy.
After a string of massive demonstrations in September and October, the protests went into a slight hiatus, as the government began a counteroffensive against the movement, wielding the lese majeste law as a cudgel against key protest leaders. According to Thai Lawyers for Human Rights, a local civil society group, at least 76 people, including six minors, have been charged with violating the lese majeste law since last November, when the government began cracking down on the protest movement.
While much international media attention absorbed by the escalating political crisis next door in Myanmar, the protest movement appears to once again be gathering steam.
On March 20, more than 30 civilians and police were injured when police used water cannon, teargas, and rubber bullets to disperse a throng of around 1,000 protesters gathered close to the Grand Palace in Bangkok – one of the most violent crackdowns since the protests began last year.
During the protest, activists splashed a royal portrait with paint and attempted to set it on fire, and police arrested at least 20 demonstrators on lese majeste charges and for breaching public gathering laws,
At Wednesday's protest, key leaders – some of whom already face lese majeste charges – doubled down on criticisms of Thailand's most powerful institution. The activist Patsaravalee Tanakitvibulpon delivered a speech in which she assailed the monarchy and the large and unaccountable flows of public finances that support it. She spoke from a small stage on which was hung a large black banner saying "Reform the Monarchy."
Attapon Buapat, who was indicted for lese majeste earlier this month but later released on bail, told the crowd, "This is a long and tiring fight. We must fight together along this path to democracy. Change has begun. They could only slow it down but never stop it."
The demonstration was held a day before prosecutors are to decide whether to push forward with sedition and lese majeste cases against 13 other protesters. Eight other protesters already were charged with lese majeste over the past month and are being held in pretrial detention without bail, to prevent them from playing any active role in the ongoing political protest movement.
The broader challenge for the protest movement remains the same: whether, in the face of an uncompromising political elite, it can widen its coalition out to include more conservative members of Thai society who might find the movement's republican demands unsettling.