Thai Court Denies Bail for Hunger Striking Protest Leaders
The move came as Prime Minister Prayut assumed sweeping new powers to fight the current outbreak of COVID-19.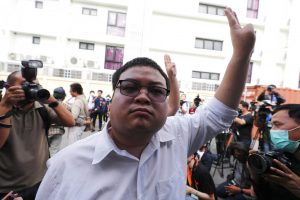 A court in Thailand has again denied bail for seven detained activists accused of defaming the country's powerful monarchy, two of whom are ailing from more than a month of hunger strikes.
The seven are in pre-trial detention for violating Thailand's harsh lese majeste law, which carries a punishment of up to 15 years in prison for insulting the king or the institution of the monarchy.
The charges stem from the wave of protests that took place in the second half of last year, which called for the resignation of Prime Minister Prayut Chan-o-cha and the creation of a new and genuinely democratic constitution. Protest leaders also broke with a long-standing political taboo in openly criticizing the monarchy and calling for reforms to limit its wealth and power.
Since November, the authorities have responded with a flurry of lese majeste accusations. A total of 82 people now face the charge of royal defamation, according to Thai Lawyers for Human Rights (TLHR), a local watchdog group. In January, a retired civil servant was imprisoned for a record 43-and-a-half years after being found to violating the law on 29 occasions.
Another 103 people have been charged with sedition for their participation in anti-government protest activities.
Two of the activists, Parit "Penguin" Chiwarak and Panusaya "Roong" Sithijirawattanakul, are reportedly in a frail state after launching hunger strikes to protest their pre-trial incarceration, which human rights groups say has been weaponized to punish pro-democracy protest leaders.
Parit has been on hunger strike for 45 days, and has deteriorated to such an extent that prison staff administered him an intravenous fluid drip earlier this month. As TLHR co-founder Sirikan Charoensiri told The Sydney Morning Herald this week, "He can't actually walk upstairs by himself now. He has to be escorted." Panusaya remains in better condition, Sirikan said, but she has also lost a lot of weight and remains in a fragile condition.
During a pre-trial hearing on March 15, Parit read out a statement in which he informed judges of his intention "to fast and sustain myself on only water, sweetened water, and milk until you return to your common sense by granting my right to bail and be able to fight my case for myself."
He added, "the torment that happens to me is a testimony to the injustice that has occurred, a spark that pricks your conscience and serves as proof that the truth is not afraid of any suffering whatsoever."
The fact that the judges have ignored the pair's pleas for bail speaks to the Prayut government's determination to quash the pro-democracy protest movement that opened a rare public debate about Thailand's monarchy, and the lopsided distributions of wealth and power that it sacralizes.
As in many other parts of the world, the COVID-19 pandemic has only played into Prayut's hands, offering him a pretext to impose a state of emergency and strengthen his hold on power. Earlier this week, a decree transferred ministerial powers covering 31 laws into the direct control of the former general, "temporarily in order to suppress the [virus] situation and protect the people." Those include control over immigration, health and procurement, but also over several areas of defense and cybersecurity.
Thailand is currently in the midst of its worst outbreak of COVID-19, with daily caseloads averaging over 2,000 for the past week, a spike that has prompted the Ministry of Finance to downgrade its economic forecast for 2021 for the second time this year.
Coming after a year in which Thailand seemed to have evaded the worst of the pandemic, the current outbreak has prompted criticism of what many view as the sluggish government response. Given past and regional precedent, it is highly likely that Prayut will use his new powers, which have no expiration date, to ensure that his government survives its current challenges.
Sunai Phasuk, a senior researcher with the New York-based group Human Rights Watch, told Voice of America that the former general had "seized power from cabinet ministers to establish one-man-rule using COVID-19 outbreak as a pretext," describing the move as "a silent coup."