Amid Outbreak, Australia Donates 8,000 COVID-19 Shots to PNG
The donation serves immediate needs, but also dovetails with Australia broader program of engagement with the Pacific.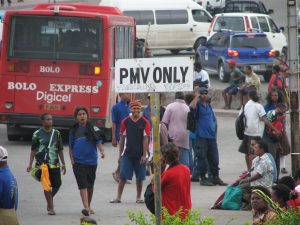 Australia has announced that it is donating 8,000 doses of coronavirus vaccine to Papua New Guinea's frontline health workers, as the Pacific nation battles a COVID-19 outbreak.
Prime Minister Scott Morrison said the doses would be sent next week to Papua New Guinea from Australia's own stockpile of AstraZeneca vaccines, which would be used to inoculate front-line health workers. He also said that Australia would ask the London-based pharmaceutical firm to send 1 million of the 3.8 million internationally-produced doses contracted by Australia to Papua New Guinea.
Earlier this month, the European Union blocked a shipment of around 250,000 doses of AstraZeneca's vaccine to Australia. The EU refused permission for the vaccines to be exported on the grounds that the need in Europe was more pressing, given the continent's "third wave" of infections, while Australia was "not vulnerable" due to the country's low incidence of COVID-19.
"With the support of the PNG government, we are … making a formal request to AstraZeneca and the European authorities to access 1 million doses of our contracted supplies of AstraZeneca not for Australia, but for PNG, a developing country in desperate need of these vaccines," Morrison told reporters.
He added, "We've contracted them. We've paid for them and we want to see those vaccines come here so we can support our nearest neighbor, PNG, to deal with their urgent needs in our region."
On top of the inoculations, Australia will send a large shipment of personal protective equipment, including a million surgical masks and caches of protective goggles, gloves, and gowns.
Papua New Guinea, a nation of 9 million people which lies to Australia's north, appears to be in the midst of a serious outbreak of COVID-19. The country currently has more than 1,400 active cases, but the full extent could be much greater due to the country's rugged, sparsely populated terrain and low levels of testing.
Australia's Chief Medical Officer Professor Paul Kelly said today that because of the lack of testing resources, any numbers coming out of PNG in terms of cases and deaths would be "a major underestimate." PNG's Prime Minister James Marape warned this week that one in three or four people in the country could soon be infected with COVID-19.
Claiming that the emergency "presents very real risks to Australia," Morrison also announced restrictions on travel to Papua New Guinea. Beginning at midnight tonight, flights between PNG's capital Port Moresby and the northern Australian city of Cairns will be halted, and a ban will be imposed on workers flying in and out of the country. The restrictions will be in place for two weeks pending developments.
The donation of vaccines to PNG stands as a classic case of enlightened self-interest on the part of Canberra, which will help a needy neighbor while also replenishing Australia's soft power reservoir in the Pacific. In 2016, the country announced the "Pacific Step-up," policy that seeks to bolsters Australia's influence in a far-flung region in which it has long claimed a leadership role, but where it has often been perceived to take the region for granted.
Australia's Pacific push comes amid its growing consternation about China's inroads in the region. In October, the Australian announced that it was spending half a billion dollars on an "advance purchase" of COVID-19 vaccines via the global COVAX scheme, to help important neighbors in the Pacific and Southeast Asia recover from the pandemic.