Hopes for Historic Pacific Visit Dashed After Biden Cancels Trip to Papua New Guinea
Biden was set to be the first sitting U.S. president to visit any Pacific Island nation. Not anymore.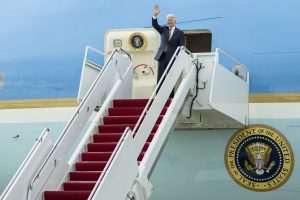 Papua New Guinea had declared Monday, May 22, a public holiday in anticipation of a historic visit by U.S. President Joe Biden and other leaders from the region.
Police were tightening security, billboards were going up, and people were getting ready to sing and dance in the streets. Expectations were high for what would have been the first visit by a sitting U.S. president to any Pacific Island nation.
"I am very honored that he has fulfilled his promise to me to visit our country," Papua New Guinea Prime Minister James Marape had written on Facebook.
Those expectations were dashed Wednesday when Biden canceled the visit to focus on debt limit talks at home.
Adding insult to injury, Biden did not personally call Marape to cancel. While Biden spoke to Australian Prime Minister Anthony Albanese earlier on Tuesday to inform him he was postponing a visit to Australia – and invited him to Washington for an official state visit at a yet-to-be determined date – White House staff broke the news to Papua New Guinea's prime minister.
To be sure, many of the festivities in Papua New Guinea will still be going ahead. Biden's planned three-hour stopover –  sandwiched between the Group of Seven meeting of wealthy democracies in Japan and the now-scrapped trip to Australia – was timed to coincide with a trip by Indian Prime Minister Narendra Modi, who will still meet with Pacific Island leaders to discuss ways to better cooperate. But now that Biden plans to return home directly after the G-7 meeting, many in Papua New Guinea are feeling deflated.
Steven Ranewa, a lawyer in the capital, Port Moresby, said Biden's planned visit had been very big news across the Pacific, and he planned to watch the motorcades from the street.
"Everyone was excited," he said. "But now that it's been canceled, it's really demoralizing."
Konio Anu, who manages a lodge in the capital, said she was saddened by the news, and wondered if people would still get the day off on Monday. She said she was waiting to see if one international guest who booked for Monday would cancel.
Some other leaders had their doubts as well. New Zealand Prime Minister Chris Hipkins deliberated most of the day before announcing that he would still go ahead with his trip to Papua New Guinea.
Anna Powles, a senior lecturer in international security at New Zealand's Massey University, said that although Pacific leaders would understand that Biden was needed at home, the cancellation demonstrated how domestic U.S. politics can undermine the nation's foreign policy agenda.
"Unfortunately, it speaks to a pattern of behavior that causes many in the region to regard the U.S. as a less-than-reliable partner," Powles said.
She said the meeting had been framed as a sequel to a summit held with Pacific leaders in Washington last year, and was supposed to represent a deepening of the relationship between the United States and the Pacific at a time when China is increasingly exerting its influence in the region.
The United States has recently opened embassies in the Solomon Islands and Tonga, and plans to open more in the region as it tries to reassert its presence in the Pacific.
Powles said the hectic schedule leading into the U.S. elections next year would make it difficult for Biden to reschedule.
Biden's shortened Pacific trip also forced Australia to cancel plans to host a summit of leaders from the Quad, a grouping of Australia, India, Japan, and the United States. Albanese told Australian Broadcasting Corp. that the Quad leaders are now hoping to hold a meeting on the sidelines of the G-7 summit in Hiroshima, Japan.
"We'll also hopefully be able to find a time when the four of us can sit down," the Australian prime minister said. "We will have to organize the logistics of the Quad meeting now in Sydney and we'll be discussing with our partners in the U.S., but also Japan and India over the next day or so."
Home to nearly 10 million people, Papua New Guinea is the largest Pacific Island nation by population. It is located just north of Australia on the eastern side of New Guinea island, the world's second-largest island. The western side of the island is part of Indonesia. Papua New Guinea is relatively poor, with many people leading subsistence lives.
During a 2016 speech in Australia when he was vice president, Biden talked about his connections to the Pacific region and said that two of his uncles had fought in Papua New Guinea during World War II. He said one had been killed and the other had returned home badly injured.
But China ended up sending a top-level delegation first, after Chinese President Xi Jinping visited Papua New Guinea for an APEC summit in 2018. Then-U.S. President Donald Trump opted not to attend, instead sending Vice President Mike Pence.
With the brief stop in Papua New Guinea to meet with Pacific Island leaders, Biden had hoped to demonstrate that the United States is committed to remaining engaged for the long term in the Pacific Islands. In addition to bilateral meetings, he was set to attend a summit with 18 Pacific Island leaders.
The Pacific Island region has received diminished attention from the United States in the aftermath of the Cold War and China has increasingly filled the vacuum through increased aid, development and security cooperation. Biden has said that he's committed to changing that dynamic.
Ranewa, the lawyer, said that China's increasing influence could be seen throughout Papua New Guinea, whether it was in providing services or building infrastructure. He said some welcomed China's help, while others did not.