ASEAN Readies Regional COVID-19 Vaccine Certificate
The move is an important step in reviving intra-regional tourism and recovery from the coronavirus recession.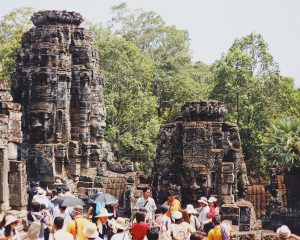 The Association of Southeast Asian Nations (ASEAN) is considering introducing a digital COVID-19 vaccine certificate as a means of reviving the region's comatose tourism sector.
Representatives from the Southeast Asian bloc's 10 member states discussed the idea of a common certificate during the two-day ASEAN Economic Ministers meeting that ended Wednesday.
Azmin Ali, Malaysia's minister of international trade and industry told reporters that the 10 nations "shared their national efforts on the vaccination program" and agreed on the need to "speed up" the distribution of vaccines throughout the region.
"The economic ministers also deliberated on the possibility of introducing a common digital vaccine certificate, especially to speed up the opening up of sectors most hard hit, such as the tourism industry," he added.
The proposed ASEAN vaccine certificate comes as the European Union is set to finalize plans for a digital green pass that proves a traveler has been vaccinated against the coronavirus. Ali said there was no timeline for the introduction of the vaccine certificate, but expressed hopes that "it can be finalized in the near future."
Tourism is a vital industry for many Southeast Asian nations. In 2019, the region attracted 133.1 million international tourist arrivals, and in Thailand, the sector made up close to a fifth of the country's GDP. But the region's tourist industry was gutted by the travel bans imposed due to COVID-19, impacting the economic livelihoods of hundreds of thousands out of work.
Ali said that there was no specific timeline for the introduction of the ASEAN vaccine certificate, but it would be a logical first step in reviving the growing intraregional tourist market. According to the ASEAN Secretariat, the region saw more than 50 million intra-regional visitor arrivals in 2019, which made up 36 percent of the region's total.
It also makes sense given the fact that the COVID-19 vaccine rollouts in some Southeast Asian countries are likely to be protracted. All 10 ASEAN states have now commenced their vaccination campaigns, starting with senior government officials, health care workers, and seniors.
In January 2021, the Economic Intelligence Unit published a report stating that while nations like Singapore and Vietnam will complete their vaccination programs in the next year or so, it could take much longer in other nations.
In particular, Myanmar, Laos, Cambodia, the Philippines, and Indonesia – which together make up the bulk of Southeast Asia's population – are all expected to take at least two years to reach widespread vaccination rates, and possibly longer.
The creation of a regional vaccine certificate is thus an indispensable step in getting tourism back and running in the meantime, and beginning the long process of pulling the region out of its COVID-19-induced slump.