Australian Parliamentary Debate Condemns China over Uyghur Abuses
The motion can be interpreted as a parliamentary release valve for the growing pressure around matters of human rights in China.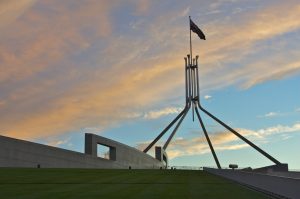 The Australian House of Representatives has tabled a bipartisan private members motion condemning China for its continued engagement in "serious and systematic breaches of human rights on its people."
The motion, put forward by Liberal MP Kevin Andrews and Labor MP Chris Hayes, spurred an hour-long debate in which 12 members spoke about the human rights situation in China's Xinjiang region.
Carefully crafted, the motion notes the similar condemnation from the other countries. It then calls on the Australian government to "urge the United Nations to investigate breaches of human rights" in Xinjiang and "continue protesting human rights abuses."
Stopping short of recognizing China's actions on its ethnic minorities as genocide, it demands that the Australian government to take appropriate measures to "enforce laws against modern slavery and identify supply chains that use forced labor." Similar calls are increasingly being debated globally as concerns have been raised over forced labor within supply chains stemming from China.
The motion follows a similar, but not aligned, motion by Senator Rex Patrick, which called out Uyghur repression in Xinjiang. That motion was denied formality, which is standard practice adhered to by the Coalition and Labor Party in the Senate on complex matters of foreign policy.
Both the Coalition and the Labor Party are acutely aware of the potential harm caused, and inherent risks associated with, debating foreign policy in the public domain and outside of the control of foreign policy officials.
However, this bipartisan motion driven by Hayes and Andrews, who is the longest serving member of the lower house, was granted an hour of speaking time. Members were oversubscribed to the debate; many more would have spoken if allowed.
During the debate, ALP MP Mike Freelander compared China's treatment of Uyghurs to the treatment of Jews in Nazi Germany, while Liberal MP Tim Wilson accused the Chinese government of "engaging in a form of cultural genocide"  against the Uyghur people.
The motion can be interpreted as a parliamentary release valve for the growing pressure around matters of human rights in China. Calls for greater use of targeted sanctions were made. However, the debate was largely consistent with the actions already undertaken by Prime Minister Scott Morrison's government, particularly those by Foreign Minister Marise Payne.
It stands as a largely symbolic move, given that following the debate the motion was adjourned and not voted upon. Those who lobby for a recognition of genocide through such motions are consistently and firmly advised by the foreign minister that Australia has different mechanisms by which to make such a declaration, and it is something the government is examining closely.
Today's debate comes after former Australian foreign minister, Julie Bishop, recently warned that Australian should "avoid the diplomatic freezer" by engaging in media tit-for-tats. However, while the parliamentary motion may elicit a response from the Chinese Embassy in Canberra, any condemnation would likely not perturb the government, given that pushback against Beijing's outward media offensive around the world has in reality brought many countries together.
For Australia, this was most recently evidenced by the White House's Indo-Pacific lead, Kurt Campbell, who stated that the United States advised the Chinese government that it would not "leave Australia alone on the field."
The diplomatic chill between Canberra and Beijing continues as Payne's approaches to Chinese Foreign Minister Wang Yi continue to be ignored.