China's EU Sanctions Are the Latest Proof: Beijing Doesn't Understand Democracies
Once again, Beijing has misunderstood the functioning of democratic institutions. It's part of a long-standing pattern of missteps.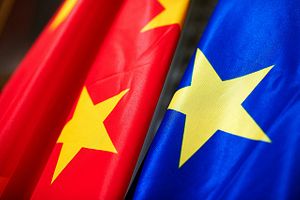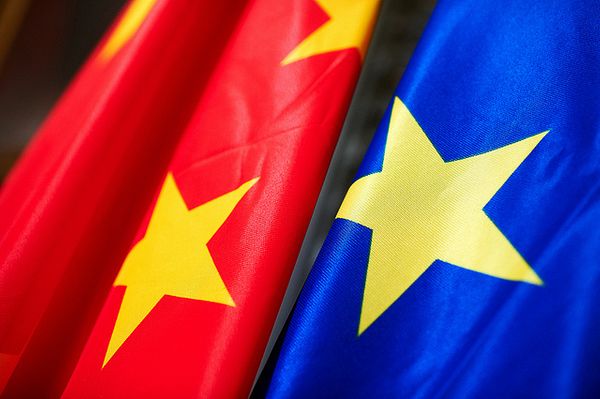 This week, in an act of tit-for-tat after the European Union imposed sanctions on Chinese officials involved in Xinjiang human rights abuses, China imposed its own sanctions on five Members of the European Parliament (MEPs), three members of national parliaments, two EU committees, and a number of European think tanks and experts on China. But these Chinese sanctions will, ironically, have a stronger negative impact on China than on those targeted.
At the end of 2020, China and the EU finalized negotiations for the EU-China Comprehensive Agreement on Investment (CAI). This agreement was criticized by numerous observers even while supported by the EU, government leaders, and the business community. Its goal is to regulate the foreign investment framework and help European companies better compete on the Chinese market. Chinese companies have largely open access on the EU market, but European companies aren't so lucky. The CAI aims to change that. The fact that China agreed to a number of concessions to wrap up negotiations before the inauguration of the Biden administration shows that it had an interest in the CAI coming to life and strengthening EU-China relations. But in order for that to happen, the agreement still needs approval from the European Parliament and the Council of the EU.
After China's recent sanctions, the odds that the CAI will pass through the European Parliament decreased dramatically. China seems to have strategically (and shortsightedly) chosen five MEPs that come from all the four main political groups in the European Parliament – the European People's Party, Progressive Alliance of Socialists and Democrats, Renew Europe, Greens-European Free Alliance – whose support is vital if the agreement is to be approved. But, obviously, MEPs will be wary to approve an agreement with a country that just sanctioned their colleagues and friends, not to mention that the five MEPs will probably lobby even harder against the CAI.
To see how members of parliament tend to be sympathetic to one another, China already had the case of Italy to study.
China started a fight with the Italian Parliament in 2020, after a few nationalist – and not particularly influential – MPs organized a videoconference with Joshua Wong, a Hong Kong democracy activist. The Chinese Embassy in Rome criticized the MPs, prompting a committee of the Italian Chamber of Deputies to pass a resolution supporting the Hong Kong protesters. Because China failed to understand the limited influence of MPs from a party outside the mainstream, and instead of ignoring them, directly criticized them, it united Italy's political elite, including Prime Minister Giuseppe Conte, who signed Italy up for China's Belt and Road Initiative, in fighting back against the intrusion. It thus shouldn't be very hard to predict what the consequence of China's attack on the European Parliament will be.
The five MEPs weren't the only targets, either. China's sanctions list included the Political and Security Committee of the Council of the EU (which includes the ambassadors to the European Union of the 27 member states) and the Subcommittee on Human Rights of the European Parliament. While China hasn't yet clarified whether the sanctions target all the EU ambassadors or the MEPs of the Subcommittee on Human Rights, sanctioning two bodies of the institutions that will decided the CAI's fate seems completely counterproductive. The EU, for its part, didn't sanction any central Chinese institution that deals with or implements foreign policy.
Yet this action shouldn't be surprising. It is part of a long series of Chinese reactions that hurt its diplomatic relations and illustrate that China has a very poor understanding of democracy and the rule of law. Numerous times, China has failed to understand how its actions will be interpreted in democratic societies and what consequences they will generate.
This wasn't even the first time that China has misunderstood the EU. A few years ago, the Estonian government became an innocent victim of China's misunderstanding of how European institutions function, when after a visit to Taiwan by an Estonian Member of the European Parliament, the Chinese Embassy decided to complain to the Estonian Ministry of Foreign Affairs. European Members of Parliament don't represent their native country, but the European Union and European citizens. The Estonian MOFA and the European Parliament are not only two different institutions, but they represent different political entities.
When it comes misunderstanding how democracy and the rule of law function more generally, the list of China's missteps is even longer. Czechia has often found itself on China's radar in the past few years. The Chinese government, angered by the fact that the mayor of Prague is a supporter and promoter of Taiwan, took measures that affected its diplomatic ties with Czechia as a whole, even though the national government has no control over the mayor. While in China the political system is centralized and national leaders have control over local ones, there are no democratic strings that can empower a national institution to dictate to a local politician what to do.
China's misunderstandings in Czechia didn't stop there. When then-President of the Senate Jaroslav Kubera, announced his intention to visit Taiwan, China decided to pressure President Milos Zeman, to whom it addressed a letter threatening retaliation against Czech companies in China, like Skoda Auto or Home Credit Group. The Czech president has no power and no control over the president of the Senate, however. Zeman is traditionally a close friend of China, but soon after the letter, in January 2020, he publicly declined the invitation to participate in that year's 17+1 Summit between China and 17 Central and East European countries, which would have taken place in Beijing (it was postponed because of the pandemic). While Zeman later reconsidered his position, it was a high-profile snub showing the costs of China's failure to understand how democracies work.
But China didn't learn much from that episode either. In August 2020, while Foreign Minister Wang Yi was in Germany, he threatened Czech Senate President Milos Vystrcil, who led that planned visit to Taiwan, saying Vystrcil will pay a "heavy price." The German foreign minister, sitting right next to Wang, promptly defended Vystrcil, saying that such threats are not permitted in Europe.
That wasn't Wang's only statement that highlighted a flawed understanding of democracy. While visiting Norway, Wang indicated that a Nobel Peace Prize for Hong Kong protesters would affect diplomatic relations, even though the Norwegian government has no control over who wins the Nobel Prize. The episode inspired a sense of déjà vu. Ten years ago, China decided to impose unofficial economic sanctions on Norway simply because the Nobel Committee awarded its Peace Prize to a Chinese dissident, Liu Xiaobo. Even though the members of the committee are appointed by the Norwegian parliament, the committee is a private body, over whose decisions the Norwegian parliament, let alone the Norwegian government, has no control.
Canada is another good example of China's failure to understand how democracy and rule of law work in Western countries. Back in 2018, China had a great opportunity to improve its relations with Canada. Then-U.S. President Donald Trump imposed tariffs on Canadian products and tried to strong-arm it into a new NAFTA agreement. It could have been a godsend for China-Canada relations. Instead, China blew all its chances with Canada by starting a vicious fight with it because of one person: Meng Wanzhou, Huawei's chief financial officer, who was arrested in Canada because of a U.S. request. China even arrested two Canadian nationals to pressure Canada for Meng's release.
But China failed to understand the separation of powers and rule of law. It is pointless to pressure and to punish the Canadian government so it will set Meng free, because the executive power of the Canadian government and the judiciary power of the courts are two different and independent institutions. No prime minister could interfere in judicial decisions in Canada, as in other Western democracies. But in China, the two Canadians who were arrested can be released with a wink of the eye from President Xi Jinping. In the end, instead of getting closer to China, Canada later announced it had terminated negotiations for a free trade agreement with China.
Even when they might get the way Western institutions work right, Chinese officials often completely miss the political winds. When the wife of the Chinese consul general in Chicago asked a Republican state senator from Wisconsin to pass a resolution praising China for how it handled the initial coronavirus outbreak in Wuhan, she only succeed in determining him to pass a resolution criticizing the Chinese leadership. The outcomes of these endeavors are very similar to what happened in India with #TaiwanNationalDay. The more China insists on telling other entities what to do, the more backlash it faces. In a functioning democracy, you can't just go to the president of a state senate with an already-written resolution and ask them to pass it, nor can you go to the media and ask them not to call Taiwan a country.
All these examples show us that democracy, rule of law, separation of powers, and freedom of speech are just words in the Chinese dictionary, often ignored or misunderstood by Chinese leaders and officials. China's continued misunderstanding of how democratic countries function will simply heighten tensions with its diplomatic partners and lead to even more criticism and isolation. On the other hand, adapting to these political nuances will bring more success and fewer headaches for China's foreign policy.
A version of the article was previously published on The Romanian Institute for the Study of the Asia-Pacific (RISAP)'s website.