COVID-19: The Fight Is Far From Over in Cox's Bazar
Bangladesh has so far successfully limited the health impact of COVID-19 in Cox's Bazar, where upwards of 850,000 Rohingyas reside. But the international community must continue to step up and support the response.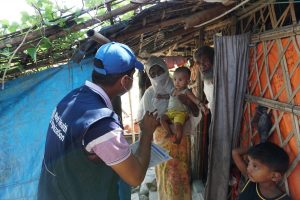 On March 8, 2020 – a year ago today – Bangladesh reported its first case of COVID-19. At the time, more than 105,000 cases of the disease had been reported from 101 countries globally, with most cases outside of China reported in upper-middle and high-income countries. The potential impact of the virus in low- and middle-income countries, including in the World Health Organization (WHO) Southeast Asia Region, was a source of grave concern globally, and the focus of intense resource mobilization and surge capacity planning.
But the reporting of a case in Bangladesh was notable for another reason: The country is host to more than 850,000 Rohingya refugees spread across 34 camps in Cox's Bazar, with a population density of 40,000 people per square kilometer. By March 23, the first case of COVID-19 had been reported from Cox's Bazar District, and by May 14 – almost two months later – the first case was reported from a Rohingya camp itself, bringing in to sharp focus what public health, protection, and development agencies from across the world had been preparing for since the beginning of the crisis: An outbreak of COVID-19 among refugee or displaced populations, which account for around 1 percent of humanity, or upwards of 70 million people.
Concerning as it was, the reporting of the case was also a sign that systems were working. By May 2020, Bangladesh's Ministry of Health and Family Welfare, the WHO, and its Health Sector partners had set up sentinel sites throughout the camps to collect COVID-19 samples, which could then be tested at the district level. Several active surveillance systems were fully operational, including the WHO Early Warning, Alert and Response System, as well as the Go.Data platform – a critical tool for case investigation and contact follow up. The WHO had trained 120 health workers on clinical case management and 300 on infection prevention and control. Two isolation and treatment centers were functional, with capacity to treat even severe patients. Risk communication was being actively deployed.
In the 12 months since Bangladesh reported its first case, and well over a year after WHO declared the novel coronavirus a Public Health Emergency of International Concern, a total of 421 cases and just 10 deaths have been reported from the 34 camps. No increase in all-cause mortality has been observed. The cumulative share of positive tests in the district is 2.1 percent, suggesting robust and sufficient testing. Bangladesh has worked incredibly hard to protect one of the world's most vulnerable populations from what has been, and continues to be, an immense global health crisis.
But as the crisis moves well into its second year, and vaccine roll-outs proceed, the international community must continue to step up and support the response, while also strengthening basic health services and enabling forthcoming vaccination campaigns. Across the camps, critical gaps have been exacerbated over the past year, and continue to exist for reproductive health, including family planning. Referral pathways for obstetric and other emergencies continue to be a challenge in terms of coordination and cost. Less than 50 percent of primary healthcare facilities offer services for gender-based violence. Access to rehabilitation and palliative services is required at all levels of care. Treatment capacity for chronic conditions remains a challenge. Action in each of these areas and more is included in the priorities that WHO and its Health Sector partners have identified to guide their support to the Ministry of Health and Family Welfare over the coming year and beyond.
Crucially, special efforts are required to increase access to and uptake of immunization, not only for COVID-19, but also other vaccine-preventable diseases. An initial 17 percent of the Rohingya population are to be targeted for vaccination in coming months. Vaccines are expected to be provided through the global COVAX Facility; however, operational costs must be fully funded. Vaccination against measles and rubella among children must continue to be well resourced, especially given the need to carry out catch-up campaigns that can rapidly fill immunity gaps. Since the influx in 2017 of hundreds of thousands of Rohingyas, immense progress has been made in expanding vaccination coverage, which we cannot afford to be halted or reversed.
We are in this together. Bangladesh has shown remarkable capacity in its COVID-19 response and continues to demonstrate the leadership required to protect vulnerable populations across the country. Its ongoing efforts to meet the health needs of the Rohingyas and host community are commendable and must be vigorously supported by the international community. Ensuring that no one is left behind is both an operational and moral necessity within the pandemic response, and must define our quest to achieve a healthier, more health-secure and sustainable world moving forward. The fight is far from over, but the fight is ours to win.
Dr. Poonam Khetrapal Singh is the regional director of WHO South-East Asia.