Kyrgyz President Japarov Touches Down in Tashkent
Following recent visits to Russia and Kazakhstan, new Kyrgyz President Sadyr Japarov is in Uzbekistan for a state visit.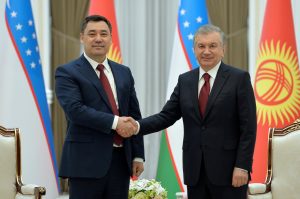 A headline on 24.kg says it all: "Sadyr Japaov flew to Uzbekistan. Took with him almost all the government." Kyrgyzstan and Uzbekistan have lots to discuss, and following the political turmoil in Bishkek that gave rise to Japarov it's important for the Kyrgyz president to establish relations with his neighboring governments. In the last few weeks, the Kyrgyz president has done just that with a bevy of visits.
Japarov first visited Russia, as Kyrgyz presidents tend to do, for a working visit in late February. He then made a state visit to Nur-Sultan in early March and has now touched down in Tashkent.
Accompanying Japarov on his state visit to Uzbekistan from March 11-12 are half a dozen ministers, several regional governors, the military and border security heads, and various other government representatives. Japarov was met at the airport by Uzbek Prime Minister Abdulla Aripov and scheduled to hold bilateral talks with President Shavkat Mirziyoyev, who welcomed him to the Kuksaroy Presidential Palace on March 11.
Japarov is also scheduled to hold talks with Tanzila Narbaeva, the chair of the Uzbek Senate, Nurdinjon Ismoilov, the speaker of the parliament's legislative chamber, as well as Prime Minister Aripov. There will also be a concurrent Kyrgyz-Uzbek business forum. 
Ahead of the visit, Dastan Dyushekeyev, the head of the presidential administration's foreign policy department (who is also in the delegation), outlined the bones of the trip: topical bilateral and multilateral cooperation and prospects for future development and deepening ties.
In a press release following Japarov's meeting with Mirziyoyev, the Kyrgyz side noted that the Uzbek president said that the people of both countries should feel "real results" and see that the heads of state "move from words to deeds." He emphasized agreements reached to increase trade and eliminate trade barriers, boosting the number of joint ventures, and the creation of a Kyrgyz-Uzbek investment fund. 
As with Japarov's visits to Russia and Kazakhstan, the ultimate significance won't really be in any grand agreements but the making of personal connections on which future developments rest. And the thorniest issues between Uzbekistan and Kyrgyzstan are personal.
While following the death of Islam Karimov in 2016, and the relative warming of Uzbekistan's previously chilly relations with its neighbors, Bishkek and Tashkent made progress on settling their undemarcated border areas, there are still around 200 kilometers yet to be demarcated. The Kyrgyz-Uzbek border, as Bruce Pannier noted in an article last month, is 1,378 kilometers long and about 1,100 kilometers have been demarcated. What remains is difficult territory to determine ownership of, much of it around various exclaves dotting southern Kyrgyzstan.
In the press release mentioned above, the Kyrgyz note that Japarov did discuss the border issue with Mirziyoyev. Japarov reportedly "noted with satisfaction" progress made on the border and the need to intensify the negotiation process. Given that governors of Batken, Jala-Abad, and Osh — which border Uzbekistan — are all accompanying Japarov, it's safe to say there will be further discussion of the border. (The governor of Naryn is also in the delegation). 
Another perennial issue likely to be discussed, but not immediately solved, will be the China-Kyrgyzstan-Uzbekistan (CKU) railway. It was not mentioned directly in the press release, but any conversations about trade and transport will likely touch on the railway issue. The Kyrgyz Minister of Transport, Architecture, Construction and Communications Gulmira Abdralieva is among the ministers in the delegation.
As Jalil Saparov and Bakyt Ibraimov explained in an analysis for The Third Pole in January, the railway has been under discussion for more than a quarter century and faces difficulties born of conflicting interests regarding specific routes through Kyrgyzstan, technical challenges, cost issues, and environmental concerns. The route functions, as of last summer, as a combined road-rail journey in which trains bring goods to Kashgar in China's Xinjiang, near the Kyrgyz border. There they are loaded onto trucks that transport them across Kyrgyzstan to the city of Osh, where they are loaded onto trains again for the trip into Uzbekistan. 
Saparov and Ibraimov noted that in his resignation speech in mid-October 2020, Sooronbay Jeenbekov said Kyrgyzstan needed the route "like it needs air and water" and expressed the hope that those who would come to power after him would make it a reality. 
And, indeed, ahead of the visit Kyrgyz Foreign Minister Ruslan Kazakbaev told AKIpress in an interview that Kyrgyzstan attached great importance to the construction of the railway.