Malaysia Under Fire for COVID-19 'Fake News' Ordinance
For Malaysia's media, the new rules are set to make an already restrictive situation worse.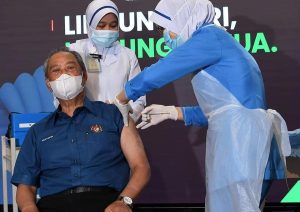 Civil liberties activists and opposition parties in Malaysia have come out strongly against a new "fake news" ordinance introduced by the government of Prime Minister Muhyiddin Yassin last week.
The Emergency (Essential Powers) (No. 2) Ordinance 2021 was issued on March 11 and came into effect the following day. It will make it an offence to publish or reproduce any "wholly or partly false" information related to COVID-19 or the state of emergency announced in January to combat the pandemic
The ordinance imposes sentences of up to three years in prison for the creation, publication, distribution, or dissemination of "fake news" that is "likely to cause fear or alarm to the public." "Fake news" is defined as "news, information, data and reports which is or are wholly or partly false relating to COVID-19 or the proclamation of emergency."
The law also empowers the police to take "necessary measures" to remove any information deemed fake news and allows law enforcement access to data including passwords and encryption codes with fines for those who refuse to cooperate.
The passage of the ordnance has only reinforced the suspicion that Muhyiddin is using the COVID-19 emergency to shore up his position and stifle political challenges to his unelected rule – none of which can now safely be said publicly.
Muhyiddin finagled his way to power on March 1, 2020, after helping precipitate the collapse of the multiethnic Pakatan Harapan (PH) coalition, which won a landmark election victory in 2018.
Ever since, Muhyiddin's patched-together Perikatan Nasional coalition has limped along with a narrow majority, facing whack-a-mole challenges both from the political opposition and from within his own camp.
In this sense, King Sultan Abdullah's declaration of a state of emergency in January, purportedly to curb the rising incidence of COVID-19, could not have come at a better time for Muhyiddin. Indeed, the monarch had rejected an earlier request from Muhyiddin to introduce special emergency powers in October, but acceded given the alarming spread of COVID-19 infections.
The state of emergency, which expires in August, postpones the holding of any elections and, Muhyiddin's government has argued, delayed any sitting of parliament on public health grounds.
The new ordinance bears a close resemblance to the Anti-Fake News Act 2018, which was passed by former Prime Minister Najib Razak's administration to quieten reports of his alleged involvement in the gargantuan 1MDB corruption scandal. The PH coalition that defeated Najib at elections in May 2018 promised to repeal the law, and in October 2019, it was finally scrapped by parliament.
For Malaysia's media, the new rules are likely to make an already bad situation worse. Last month, the pioneering online media portal Malaysiakini was found guilty of contempt of court for several readers' comments that were appended to an article. When the publication's editor-in-chief criticized the ruling, saying it would have "a tremendous chilling impact on discussions of issues of public interest," the police opened an investigation against him for sedition.
In this context, Josef Benedict, a researcher with the civil liberties watchdog CIVICUS Monitor, described the new law as "extremely disturbing" and "another assault on free speech by the Muhyiddin government." Linda Lakhdhir of the rights group Human Rights Watch said it was "mystifying why the Malaysian authorities, roundly criticized around the world for a now repealed 'fake news' law, would resurrect this discredited idea."
As one would expect, Muhyiddin has denied any political motive to the state of emergency, promising to lift it and hold elections as soon as the COVID-19 pandemic eases up. But the current situation need not persist indefinitely for Muhyiddin to benefit greatly. The state of emergency creates an enforced, one-sided truce that will give him the space to horse-trade and organize the political alliances that will give him the best chance of converting his backroom elevation to power an electoral imprimatur.