The Risks Facing Malaysia's 'Second Chance' Government
Prime Minister Ismail Sabri Yaakob's decision to give his predecessor's cabinet a second chance might just work in his favor.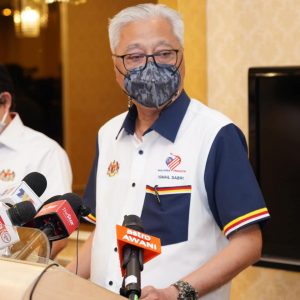 Malaysia finally has a new government two weeks after the resignation of Prime Minister Muhyiddin Yassin and his cabinet, consisting mainly of the same people who staffed the previous short-lived Perikatan Nasional (PN) administration.
Of the 69 ministers and deputies named in Prime Minister Ismail Sabri Yaakob's government, 60 – or about 87 percent – were from Muhyiddin's last cabinet, with only nine new appointments made, mainly from Ismail's United Malays National Organization (UMNO) party. This puts the longtime ruling political party in a more dominant role in terms of its representation in the new cabinet.
Opposition lawmakers have criticized Ismail's second-chance government, calling it a recycling of Muhyiddin's inept administration, which failed to curb the COVID-19 pandemic despite a seven-month state of emergency and a "total lockdown" since June.
Malaysia's COVID-19 infection rate is still the highest per capita in the region as new cases and deaths continue to hit record daily highs despite an accelerated national immunization program. Overall, the nation has more than 1.7 million reported cases, including over 16,000 deaths.
Ismail pledged that his government will be more open and sensitive to current needs in order to restore public confidence in the administration. Each ministry must prove its performance within the first 100 days in office, he said.
However, many are unconvinced. Opposition leader Anwar Ibrahim said the cabinet had nothing to prove given its failures over the last 17 months. Others say the "first 100 days" exercise should only apply to newly elected governments, unlike Ismail, who the king appointed.
In fact, if incompetencies persist, there is no telling if Ismail will even last 100 days as prime minister, given that he is Malaysia's third prime minister in three years. So, why is Ismail taking such a tremendous risk by sticking with the same team?
One could argue that he didn't have much of a choice. As political veteran Shahrir Abdul Samad put it, Ismail simply happened to be "in the right place, at the right time." As UMNO vice president, Ismail is the first premier from UMNO who is not the party's president.
This meant that Ismail, who was promoted as deputy prime minister in July by Muhyiddin in a bid to appease UMNO, didn't have much room to maneuver and had limited ability to conduct a wholesale purge of Muhyiddin's appointees.
While the new lineup sees minimal changes, they are nevertheless crucial and could prove, in the greater scheme of things, to be the only needed changes – at least, at this juncture.
Despite his limited influence, Ismail managed to expand the number of UMNO ministers in his cabinet by reclaiming several critical portfolios, like the rural development ministry and the communications ministry, from Muhyiddin's Parti Pribumi Bersatu Malaysia.
The rural development ministry is seen as key in building grassroots support in the rural Malay heartland through state agencies like Majlis Amanah Rakyat (MARA) and the Federal Land Development Authority (Felda), although it is unclear if the latter will be put under the ministry.
Farmers who work and live on Felda schemes represent a majority vote in 54 constituencies in Peninsular Malaysia, almost a quarter of the country's 222 parliamentary seats. In 2010, it was estimated that Felda settlers make up 1.2 million voters – a valuable Malay vote bank.
Felda settlements have long been a traditional power base for UMNO. However, fiscal scandals involving Felda's listed arm, FGV Holdings Bhd, and Najib Razak's collusion in the 1Malaysia Development Berhad (1MDB) corruption scandal managed to divide Felda's Malay voters at the last general election. Equally significant is the communication ministry, which is useful in shaping political narratives and discourses ahead of the next national polls scheduled in two years.
The appointment of Khairy Jamaluddin, who led Malaysia's vaccination program as science minister, as the person in charge of the health ministry is arguably the most welcome appointment. Khairy is often regarded as the most "high performing" minister in Muhyiddin's cabinet, and his new role has many hoping that the country's COVID-19 situation will improve.
Khairy is perhaps Ismail's best bet for any kind of success story. The former UMNO youth chief's previous achievement with the immunization program and his ability to work with various stakeholders, including opposition MPs, will be essential if Ismail's government is to make promising headway in managing a worsening COVID-19 outbreak.
Working closely with Khairy is another senior UMNO leader, Hishammuddin Hussein, who returns as defense minister, a role he helmed for five years under Najib's Barisan Nasional government.
If Muhyiddin's governance structure is to be strictly followed, the defense minister is also responsible for setting federal restriction guidelines under the National Security Council, the same council Ismail offered opposition MPs to be part of last week.
With Khairy and Hishammuddin seemingly in the right positions, Malaysians are hoping for a more streamlined and effective COVID-19 response, the opposite of Muhyiddin's bungling attempts to contain the virus.
In setting a 100-day performance benchmark, Ismail is indirectly alluding to the prospect of a cabinet reshuffle sometime in December, although the premier's intent on the matter is still unclear as the rubrics of his "high-performance work culture" remain ill-defined.
However, this also means he can have some semblance of stability and unity within his own coalition that would be enough to win a parliamentary vote of confidence, due when the legislature sits next week, and to pass the federal budget, set to be tabled in October.
In hindsight, Ismail's decision to be pragmatic by giving Muhyiddin's cabinet a second chance might just work in his favor. But of course, it's still too early to definitively say that this will be the case. If there's anything that Malaysian politics has taught is that stability is an elusive concept.
If Ismail's cabinet fails, it will be a colossal blunder, just as everyone had anticipated. But if it plays out well, it will pay off when everyone least expects it. And if Ismail's premiership is any indication, we shouldn't be too quick to deny the favorable odds of success.