Manila Locks Down as COVID-19 Cases Surge in the Philippines
Millions of Filipinos will spend their second straight Easter Sunday under lockdown in an effort to stop a record surge of COVID-19 infections.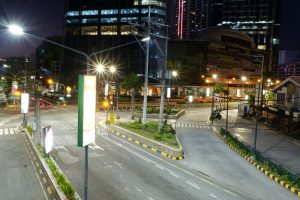 The Philippine government said Saturday it will put Manila and several neighboring provinces under a strict lockdown for one week due to a rise in COVID-19 cases.
The new restrictions come more than a year after the country instituted one of the world's strictest and longest lockdowns in its capital region.
Metro Manila and the provinces of Bulacan, Cavite, Laguna, and Rizal will be subjected to strict movement restrictions, an indoor dining ban and an 11-hour curfew from Monday, March 29 to Sunday, April 4, presidential spokesperson Harry Roque said Saturday.
The lockdown will run as the predominantly Catholic country celebrates Holy Week, culminating in Easter Sunday. For the second straight year, religious gatherings will be banned, along with indoor gatherings with people from outside the immediate household.
Roque said there would be a "heightened presence" of police and military to enforce lockdown restrictions and that the government would go door-to-door to search for people with COVID-19 symptoms, a practice which has raised the ire of human rights groups.
Roque also defended the Philippines' Inter-Agency Task Force (IATF) for combating the coronavirus, which has been criticized for an ineffectual pandemic response and for its heavy reliance on law enforcement officials rather than public health experts.
"For those who keep saying that the IATF should be blamed, I guess we can say that the world's experience of rising cases due to the new variants is the proof that the virus is our enemy," Roque said. "It's not the government, it's not the IATF."
The COVID-19 variants that were first identified in South Africa and the United Kingdom, which spread more rapidly, have both been detected in the Philippines.
The Philippine health ministry on Saturday reported 9,595 new coronavirus cases, the second straight day there was a jump in new infections of over 9,000. The country on Saturday reached 118,122 active COVID-19 cases, the highest number since the pandemic began.
The country has seen more than 712,000 total COVID-19 cases – about two-fifths of which occurred in the capital region – and more than 13,000 total deaths from the virus.
The Philippines received its first batch of COVID-19 vaccine in late February – a shipment donated by China of 600,000 doses of Sinovac vaccine – after numerous struggles to procure inoculations.
The country has faced struggles in vaccinating its population. A recent survey by Pulse Asia, conducted between February 22 and March 3, suggested that six out of 10 Filipinos are unwilling to receive a vaccination, citing safety concerns.
Vaccine line-jumping has also become rampant as people with connections, including President Rodrigo Duterte's top officials, have received shots, even though they are legally only available to health workers.