Pentagon Officials Sketch Hypersonic Strategy
Though the United States has enthusiastically jumped on the hypersonics bandwagon, key questions about the capability remain.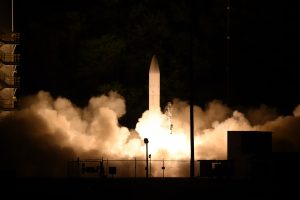 According to a February 27 U.S. Department of Defense (DoD) News article, Pentagon officials have outlined a hypersonics strategy, as the United States military seeks to compete with China and Russia in developing and deploying this capability. According to the article, Mike White, principal director for hypersonics in the office of the undersecretary of defense for research and engineering, outlined a three-pronged strategy for hypersonics involving four implementation phases during the Air Force Association's virtual Aerospace Warfare Symposium last week.
The article quoted White as identifying the three objectives of the strategy as being the development of conventionally armed survivable hypersonic missiles that can target the adversary along coasts and inland and on sea; developing a layered defense against the enemy's own hypersonic capabilities, and development of reusable hypersonic systems for a variety of purposes, including access to space.
According to the article White laid out the following timeline for U.S. military hypersonics capabilities: "We will deliver strike capability to the warfighter in the early-mid 2020s and a layered hypersonic defense capability — first terminal and then glide phase — in the mid-late 2020s. For reusable systems, our goal is to deliver capability in the early to mid-2030s."
While the Trump administration enthusiastically jumped on the hypersonic bandwagon – Donald Trump described a hypersonic glide body that was tested March last year as a "super duper missile" and proposed a $3.2 billion budget allocation for hypersonic weapons research and development last year – skeptics remain who continue to question Pentagon's claims. Experts correctly point out that what makes the hypersonic capabilities currently being touted novel is not speed alone (hypersonics, by definition, move faster than five times the speed of sound) but their maneuverability, which makes early radar detection difficult. (Intercontinental ballistic missiles' reentry vehicles already reenter the atmosphere at hypersonic speeds.)
A peer-reviewed study published in January has called investments in hypersonics into question. Based on computational models and open-source data, the paper, published in Science & Global Security, has argued that claims about speed, maneuverability, and detection of hypersonic missiles have been exaggerated. Union of Concerned Scientists' Cameron Tracy, a co-author of the paper, was quoted by the organization as saying: "Hypersonic missiles are not the revolutionary technology they're claimed to be."
"The United States is spending vast sums of money on these new weapons that will perform worse, in many ways, than the ballistic missiles we already have," Tracy also said.
While the Pentagon has refuted the study, other experts point out that while missile defense against hypersonics over small areas is possible, defending large areas against such threats using Terminal High-Altitude Area Defense and similar "point defense" systems would be extremely expensive (as it would require the deployment of numerous batteries), and impossible using the existing U.S. Ground-Based Midcourse System designed to meet ballistic missile threats.
All this is, of course, is not deterring the Pentagon. The February 27 DoD News piece quoted Air Force Brig. Gen. Heath A. Collins, program executive officer for weapons and director of the armament directorate at the Air Force Life Cycle Management Center in the Air Force Materiel Command, as saying "We're really proud to be in the hypersonics weapon enterprise at this point in this exciting time, and we're just on the cusp of an operational capability."