Philippine Mayor Among 6 Killed in Police Shootout
The killing of Calbayog City Mayor Ronald Aquino is just one of several recent deadly shootouts involving the Philippine National Police.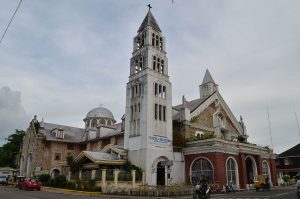 The mayor of a central Philippine city was killed by police officers on Monday afternoon in what police say was an accidental shooting. Allies of Calbayog City Mayor Ronald Aquino, however, are accusing police offers of killing the mayor intentionally.
Two members of Aquino's group, two police officers, and a civilian were also killed.
An Eastern Visayas police chief initially said the police were on patrol when they were fired upon by Aquino's security detail. Police killed two of Aquino's aides — a police escort and his driver — while members of the mayor's group killed two police officers.
"I can only assume that this was a mistaken encounter," Brig. Gen. Ronaldo de Jesus said after the incident. "[Aquino's group] had suspicions and opened fire on our policemen and our forces retaliated."
A political ally of Aquino, however, has insisted the operation was "an ambush."
"So sad to note that the father of the city of Calbayog was slain or murdered by rogue elements of the Philippine National Police," Rep. Edgar Mary Sarmiento told ABS-CBN News on Thursday.
Sarmiento said police were wearing bonnets and driving clandestine vehicles. "Why do you have to bring firearms, high-powered firearms at that, if the intention is just to inspect?" he said.
According to Aquino's son, Mark, a Wednesday autopsy on his father's body revealed the mayor had been shot 21 times on half his body.
Aquino was on his third and final term as mayor. He became mayor after his predecessor, Reynaldo "Ining" Uy, was killed by unknown assailants while attending a fiesta.
Twenty-five local chief executives have been killed since President Rodrigo Duterte was elected in 2016. Many were accused of complicity in drug operations.
Debold Sinas, chief of the Philippine National Police (PNP), on Wednesday denied that Aquino was intentionally ambushed and defended the actions of police, who he said were patrolling the area searching for members of the communist New People's Army (NPA).
"Think of yourself in their position," Sinas told reporters when asked why police fired back at Aquino's security detail. "Their reactions are prompted by the first shot and with that, your initial reaction is to repel the force, overcome it, that is why it happened."
Indeed, de-escalation has not been the PNP's strong suit in recent weeks, as police have found themselves involved in several operations in which officers rapidly used deadly force.
In late February, two police officers were killed when undercover officers shot at each other during a botched drug operation in a Quezon City mall parking lot.
Officers with the Quezon City special operations unit were conducting an undercover buy-bust when they realized they were buying drugs from members of the Philippine Drug Enforcement Agency (PDEA), which may have been conducting its own buy-bust operation.
PDEA director general Wilkins Villanueva said at the time both agencies were engaged in "legitimate" operations, which led to a "misencounter."
On Sunday, March 7, nine activists were killed and six others arrested in a series of police raids in the south of Luzon. Police said the operations were targeting communist rebels and that the victims "fought back" — a usual claim made during deadly state security operations targeting progressive leaders.
The killings came two days after Duterte ordered police and military to kill communist rebels on sight. National Security Adviser Hermogenes Esperon Jr. on Tuesday supported what he called Duterte's "shoot-to-kill" order, saying defeating alleged communists takes precedence over human rights.
Vice President Leni Robredo, who is not a political ally of Duterte, denounced the killings as a "massacre" and slammed the Duterte administration, saying "the Filipino people deserve better than this murderous regime."
The warrants for the operation were identical "copy-paste" search warrants issued by a single judge — similar to those used in operations that killed dozens of farmers in 2019 and others that led to dozens of activist arrests in October that year.
The United Nations said it was "appalled" by the killings and urged a Philippine government probe. Human rights organizations have called on the U.N. to launch its own independent inquiry into Philippine extrajudicial killings, but the U.N. has yet to do so.