Philippines Admits Police Culpability in Deadly Drug War
An international investigation of extrajudicial killings in the Philippine drug war remains unlikely, even after a stunning admission by the justice secretary.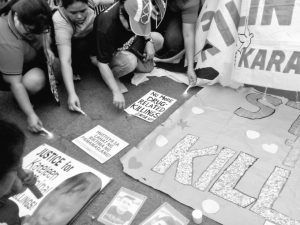 Philippines Justice Secretary Menardo Guevarra admitted to the United Nations last week that police did not properly examine many weapons used in drug war killings, refuting usual police claims that drug suspects are usually killed after fighting back.
The admission sparked an outcry and renewed calls for a U.N. investigation into the deadly anti-drug policies of President Rodrigo Duterte, which will see their fifth anniversary in July.
"In more than half of the records reviewed, the law enforcement agents involved failed to follow standard protocols pertaining to coordination with other agencies and the processing of the crime scene," Guevarra said during a February 24 meeting of the U.N. Human Rights Council.
Guevarra said authorities reviewed more than 5,000 cases of suspects killed due to allegedly resisting arrest.
A June 2020 report by the office of U.N. High Commissioner for Human Rights Michelle Bachelet found that police officers planted guns in cases when suspects allegedly resisted arrest. In multiple cases, guns with the same serial numbers were found at two or more crime scenes, suggesting they were planted by police officers and used multiple times.
The report also indicated the death toll of police and vigilante operations could exceed 25,000 and described "near impunity" for systematic extrajudicial killings.
Bachelet said that the U.N. "should consider options for international accountability measures." Despite this, the U.N. opted not to open a full investigation into Philippine rights violations, instead approving "technical assistance" to the Philippines and encouraging it to address the issues raised by the report.
Guevarra's statements were the first time a Duterte administration official publicly admitted a police role in extrajudicial drug war killings.
They also undermined usual police claims that victims of drug war killings violently resist arrest. Along with the OHCHR report, these claims have been soundly disproven by research by Human Rights Watch, Amnesty International, and others.
Reports also found that police frequently plant evidence, including weapons and drugs, on the bodies of deceased drug suspects.
Rights groups have accused police and military officers of using the same tactics in killings of farmers and Indigenous activists whom authorities falsely label as communist rebels.
John Fisher, Geneva director at Human Rights Watch, called Guevarra's disclosure "astounding" and urged "an independent, international commission of inquiry" into drug war killings.
Guevarra's admission, along with his earlier creation of a drug war review panel, may be an attempt to ward off further probes into the drug war, both from within and outside of the Philippines.
The Philippine Commission on Human Rights, a government body, has accused the Justice Department of refusing to cooperate with its inquiries into drug war killings and of using its review panel to shield itself from larger investigations.
The department's review panel, along with subsequent accountability efforts, have been intended to fend off potential investigations by the International Criminal Court and the U.N., a sentiment echoed by Fisher of Human Rights Watch.
"The justice secretary tried to show that their findings are proof of what he called 'functioning accountability mechanisms,'" Fisher said. "Concerned governments should not be fooled by this unconvincing attempt to head off a Human Rights Council investigation."
The culture of impunity within the Philippine police described by multiple reports – and underscored by Guevarra's admission – has not been met with international accountability.
The United States under President Joe Biden has reaffirmed its openness to arms sales to the Philippine military, which has its own long list of alleged human rights abuses.