Taiwan Prays for Rain as Drought Threatens Chip Production
The country is facing its most severe water shortage in 56 years, but officials say water supplies will likely be sufficient until monsoon rains in late May.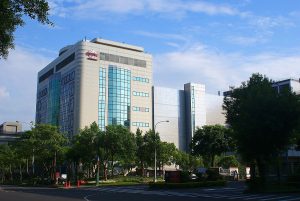 Taiwan is facing the island's most severe water shortage in 56 years and has set up an emergency response center to combat the drought, President Tsai Ing-wen said last weekend.
Tsai noted that Taiwan had no typhoons in 2020 — usually crucial to refill the country's reservoirs and other water reserves. She urged residents to conserve water and prepare for potential shortages in the months to come.
Taiwan's chipmakers have begun stocking up on truckloads of water to prepare for shortages. Ministry of Economic Affairs head Wang Mei-hua said last month the country's chipmakers are producing at 100 percent capacity to meet demand heightened by a global semiconductor shortage, which has had a particularly large effect on the automotive industry.
Global manufacturers have said they cannot get enough chips from Taiwan and automotive production has slowed due to the chip shortage, putting chip behemoths such as Taiwan Semiconductor Manufacturing Company (TSMC) under pressure to ensure an adequate supply of water.
During a severe drought in 2015, Taiwan was forced to implement water restrictions for industrial companies and cut the water supply of residences on certain days.
Wang told reporters on Monday the country's water reserves would be sufficient to support Taiwan's population and industry until late May, when rains are expected to arrive.
The economic affairs ministry has allowed companies in the Hsinchu Science Park, a technology hub, to drill emergency wells and increase their water supply.
This strategy was criticized by former interior minister Lee Hong-yuan, who warned it could cause land subsidence or damage manufacturing equipment in the park. Former economics minister Yiin Chii-ming also doubted the idea, noting that groundwater levels are likely lower than usual due to the drought.
The water levels of six of Taiwan's reservoirs hovered between 10 and 15 percent of capacity at the start of this week despite some rainfall, according to data from Taiwan's Water Resources Agency.
Wang said Taiwan has seen just 20 millimeters of rain this spring, compared to a yearly average of more than 100 mm.
"The reason we still have water now is because we have been prepared," she said, adding that the government has set up pipelines to transport water to Hsinchu, the hub of technology production.
Some government officials took a different approach to drought alleviation. The Irrigation Agency, a subdivision of the Council of Agriculture, joined with a famous temple to pray to Mazu, the sea goddess, for rainfall.
More than 2,000 people signed up for last Sunday's ceremony, according to Taoyuan's Dajia Jenn Lann Temple, which held the event.
The temple has only held four rain prayer ceremonies since it was founded in 1730 during the Qing Dynasty — the first during that dynasty, the second during Japanese colonization, and the third in 1963.