The Blinken Letter: A Renewed Push for Afghan Peace, Proposals Both New and Old
Parts of the brief letter have drawn a strong reaction from Afghan leaders, while talks dangle in Doha.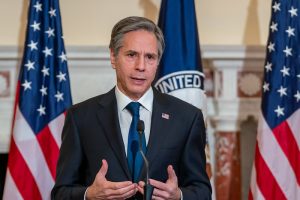 In a recent letter to Afghan leaders, U.S. Secretary of State Antony Blinken urged an acceleration of peace talks, but leaves open the possibility that United States will fully withdraw from Afghanistan by May 1.
In the letter, first published by TOLOnews, Blinken seeks to update the Afghans on "where we stand, the immediate road ahead, and the urgent leadership that President Biden and I ask of you in the coming weeks." Blinken notes that the Biden administration's review of the U.S. strategy in Afghanistan is ongoing, but Washington's "initial conclusion" is that the "best way to advance our shared interests" is to "accelerate peace talks and to bring all parties into compliance with their commitments."
Blinken outlines a "high-level diplomatic effort" to "move matters more fundamentally and quickly toward a settlement and a permanent and comprehensive cease-fire" to include ministerial-level talks between Russia, China, Pakistan, Iran, India, and the United States; dispatching Ambassador Zalmay Khalilzad to share proposals with both the Afghan government and the Taliban aimed at charting a route to a negotiated settlement and a ceasefire; asking Turkey to host a senior-level meeting to finalize a peace agreement; and redoubling efforts to bring down levels of violence in Afghanistan, with Blinken mentioning a proposal for a 90-day reduction-in-violence that Khalilzad will bring to the two sides for consideration.
Blinken closes the letter by stressing that the policy process in Washington is ongoing and no options — including a complete withdrawal by May 1 — have been ruled out. 
Nevertheless, it's clear that Blinken, and the Biden administration, are worried about pursuing a full withdrawal. The letter's penultimate sentence states: "Even with the continuation of financial assistance from the United States to your forces after an American military withdrawal, I am concerned that the security situation will worsen and the the Taliban could make rapid territorial gains."
Blinken's letter has been criticized as blunt and pushy. While on the one hand, parts of the included proposals are recycled ideas of old, others indicate subtle shifts in U.S. positioning, which have triggered a predictable backlash on the part of the Afghan government, 
In the first instance, in various combinations throughout the nearly-20-year-old war, the countries of Russia, China, Pakistan, Iran, India and the United States (not to mention other countries, like Uzbekistan), as well as the United Nations, have tried to sort out a way to translate what Blinken called an "abiding common interest in a stable Afghanistan" into a way forward. That's not a new or surprising effort, but it's still worthwhile for interested and involved countries to reconnect directly regarding Afghanistan.
It's the second point in Blinken's letter, and a leaked proposal, that has drawn a reaction by Afghan government leaders. In noting that Khalilzad would be jetting off to share proposals with the Afghan government and the Taliban, Blinken specifically stated: "In sharing these documents, we do not intend to dictate terms to the parties." Of course, that exactly how it's being read. The documents, Blinken writes are aimed at helping the Afghan government and the Taliban "move urgently" on developing "a) the foundational principles that will guide Afghanistan's future constitutional and governing arrangements; b) a roadmap to a new, inclusive government; and c) the terms of a permanent and comprehensive ceasefire."
While the Afghan government is keen on a ceasefire, suggested tinkering with its constitutional basis is less welcome.
TOLOnews also reportedly viewed a proposed draft plan for Afghan peace, which covered "guiding principles for Afghanistan's future," the structure of a transitional government — the "Peace Government of Afghanistan" — and a roadmap for a "lasting ceasefire."
Here the Afghan government's hackles went up. On Saturday, as reports of the draft proposal swirled, Afghan President Ashraf Ghani stressed that future transitions of power would occur via elections based on Afghanistan's constitution, not plans made by "others." His comments were followed by First Vice President Amrullah Saleh on Monday stating that, "We will never accept a coerced and imposed peace." 
Mohammad Mohaqiq, a senior adviser to Ghani, echoed Saleh's comments: "The weakness in the message of the U.S. State Department is that they have not recognized Afghanistan's structure and it has coercive language and a coerced and tailored peace will not lead anywhere." Mohaqiq stressed that it's the Taliban that must join, not Kabul that must bend. 
"When we say that the Taliban must join it is because we have a system, an army, human rights and Constitution. Why should we join the Taliban? We do not want to fight against any party to join them in mountains."
Arguably, Blinken knew this would be the reaction. His letter includes an entire paragraph that begins with an appeal to "unity and inclusivity" and stresses that disunity in the 1990s was disastrous. 
More frankly put: When the Soviet Union withdrew in 1989 Afghanistan was beset by internal power struggles, many among former partners in the great fight against the USSR's decade-long occupation. The infighting among the mujahideen served to sabotage the country's transition and opened the door to the Taliban. To be more blunt than Blinken: If the Afghan government cannot find a way to become more unified — and that means sharing power rather than concentrating it — we all know where this road leads. 
While Afghan leaders are wary of being pushed, the United States is anxious to chart a path forward and it needs to see movement. The Doha talks, stalled for more than a month (after barely beginning in January 2021 after a hiatus), restarted in February. But it's clear the Taliban is taking its cues from Washington and that fits true to form: The Taliban, even though it had begun to directly engage the Afghan government, has long viewed the powers-that-be in Kabul as foreign puppets. But the United States can't calibrate its own policy until it can gauge what Kabul is willing and able to put up with. Someone has to make a move.