The Myanmar Military is Trying to Divide and Terrorize the People. We Must Resist.
From the perspective of democracy and universal human rights, the common enemy is clear.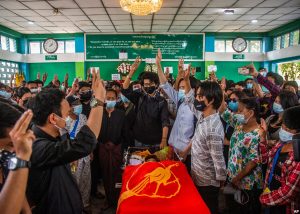 Since seizing power on February 1, Myanmar's military has inflicted terror across the country. As a youth, seeing my country fall under military rule is not only psychologically disturbing, but crushing when I consider the potential impact on my future and that of my generation.
Military and police forces have shot dead more than 200 people as of March 16. Soldiers are firing teargas, water cannon, and slingshots at protesters and beating people up, while some have been tortured. At night, they are arresting people from their homes, so we cannot sleep soundly.
In Yangon, where I live, citizen patrol groups ward off police and soldiers, but state forces have shot one night patrolman dead and arrested others. On March 7, authorities arrested a Yangon administrator at night; the next morning, he was dead at a military hospital. A 17-year-old medical student was shot in my neighborhood on March 16; authorities beat those trying to help him and dragged away his body. Martial law has been declared in several neighborhoods, including Hlaingthayar, where at least 38 people were killed on March 14 alone, amid mass gunfire and the burning of Chinese-financed factories.
The current situation is a replay of a nightmare from the recent conflict in my native Rakhine State, which I began documenting from Yangon in August 2020 as a freelance journalist. From December 2018 until November 2020, my state was locked in a civil war which killed more than 300 people and displaced more than 200,000. The military said it sought to destroy the Arakan Army, an ethnic armed organization, but it used indiscriminate airstrikes and gunfire, among other forms of violence, on civilian populations.
During those two years, soldiers occupied schools and monasteries and arbitrarily arrested people, some of whom disappeared or later turned up dead, leaving locals afraid to engage in farming, fishing, or foraging for their livelihoods. Students were unable to sit for government exams, dashing their hopes of attending university. The government backed the military's actions by imposing the world's longest internet shutdown in much of the state, from June 2019 until February of this year, making it difficult for people to access information for their protection. Youth were arrested for protesting against the internet shutdown and the military's human rights abuses.
The horrors that the military inflicted in my state are now being unleashed across the country. As of March 16, the military junta has detained more than 2,100 people. Most of my friends demonstrate during the day and hide at night, sleeping in different places to evade arrest. Internet shutdowns have occurred nightly since February 15, and sometimes occur during the day, too, leaving us even more isolated and unprotected. Since March 15, the military has ordered telecoms operators to block all mobile data services indefinitely, and since March 18, has blocked public wifi networks as well.
I used to lament Yangon's noisy streets, but the current silence worries me more. Even the dogs aren't barking. When I go to the nearby market, I am always looking over my shoulder in case someone is following me. I used to meet my friends at the neighborhood teashop to catch up on the local news, but now, I don't know who might be listening in so I avoid it.
Trust is rapidly deteriorating as we fear that our own friends and neighbors could be military informers. We feel unsafe to make calls or send text messages in case the military might intercept them, and we avoid talking easily with strangers. Recently, I interviewed a woman in a rural area who told me she was primarily communicating by written notes.
Amid mass worker strikes and demonstrations, shops and businesses are closed, schools, hospitals and transportation services have shut down, and local administrators have resigned. My neighborhood market, once bustling with activity, is now nearly empty; the vendors who remain say they can barely afford the climbing costs of transporting their goods.
The military is also resorting to divide-and-rule tactics that have had deadly consequences in my state. It has long used propaganda and disinformation to sow hatred between the ethnic Rakhine Arakanese – my own people, who are predominantly Buddhist – and the mostly Muslim Rohingya. In 2012, when I was 16 years of age, clashes broke out which displaced approximately 140,000 people, mostly Rohingya, who remain in apartheid conditions today.
In 2017, when the military committed ethnic cleansing against Rohingya people in my state, the military fed us disinformation which contributed to many blaming the Rohingya for what was happening or accusing them of faking their victimhood, while the government blocked independent media access to the area.
During the conflict between the Arakan Army and military, the military and government used some of these same tactics to foster distrust between the majority Bamar people and we Rakhines.
Since the coup, the military has again been spreading disinformation and hate content and has detained at least 39 journalists, of whom 22 have been released, 10 face charges of incitement, and five remain in custody without charge. It has also taken advantage of ethnic people's vulnerabilities to foster divisions and distrust and consolidate its power, such as by offering positions in its administrative council to ethnic political parties, including the largest party in my state.
While the military's preferential treatment of certain groups may offer some short-term benefits, in the long term, military rule will unequivocally harm the whole country, including both ethnic Bamar and non-Bamar ethnic peoples. From the perspective of democracy and universal human rights, the common enemy is clear.
As the military attempts to try to terrorize and divide us, the people across Myanmar have shown creativity and courage in fighting back. During the conflict in my state, Arakanese people banged household items to ward off military violence in our villages; now, the practice has become a nightly occurrence across the country, accompanied by songs of resistance against our oppressors. In Rakhine State, students bravely led protests against military violence and a government-imposed internet shutdown; now, students and youth across the country are on the front lines of the pro-democracy protests.
People are showing incredible generosity as well. In Rakhine, community members would commonly offer a safe place to stay or share meals with those in need. When I joined the protests recently in Yangon and the military threw teargas into the street, a family invited me into their home, offered me water and a place to wash my face, and told me I could stay as long as I needed.
The military has decades of experience killing, torturing, and arresting innocent people. We must not let these tactics break us down or fall to the hatred and distrust they are attempting to foster. To overcome this dark period, we must unite in our quest for democracy and must work tirelessly to establish a new society – one that includes the voices of all people and promotes equal rights and justice without discrimination.
This article was written together with Emily Fishbein, a freelance journalist writing about human rights and social justice issues in Myanmar and for refugees in Malaysia. She especially seeks to amplify underrepresented voices and highlight the experiences of those affected by conflict.