US Defense Secretary Arrives in India as Biden Confronts Free and Open Dilemma
On March 17, a powerful U.S. senator had asked Secretary of Defense Lloyd Austin to raise difficult questions with his Indian hosts.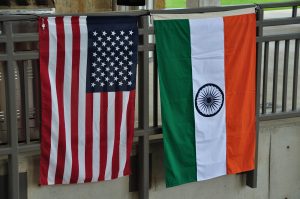 Ahead of U.S. Secretary of Defense Lloyd Austin's arrival in India on March 19 for a two-day trip, a prominent American lawmaker has urged him to raise issues that are likely to make his hosts uncomfortable. According to the Hindu, in a March 17 letter, Senator Bob Menendez, chairman of the powerful Senate Foreign Relations Committee, had urged Austin to raise issues related to India's purchase of the S-400 air defense system from Russia as well as perceived democratic backsliding in his meetings with senior Indian officials.
Austin is scheduled to meet Indian Prime Minister Narendra Modi, Defense Minister Rajnath Singh and other officials during his trip.
"I would like to see the U.S.-India partnership grow, but we must acknowledge that the partnership is strongest when based on shared democratic values and the Indian government has been trending away from those values," Menendez was quoted by the Hindu as saying in his letter.
Equally concerning from New Delhi's point of view is the senator's suggestion that India's acquisition of the S-400 system (with the first batch of the missiles scheduled to arrive in the country later this year or early next year) could set it on the path of U.S. sanctions under the 2017 Countering America's Adversaries Through Sanctions Act (CAATSA).
"I recognize that India is not a U.S. treaty ally and has historical ties with the Soviet and Russian militaries. However, if India chooses to go forward with its purchase of the S-400, that act will clearly constitute a significant, and therefore sanctionable, transaction with the Russian defense sector under Section 231 of CAATSA," Menendez said in his letter.
His letter also included a litany of complaints about India, including the Modi government's handling of the ongoing farmers' protests, treatment of journalists and minorities, as well as "suppression of political dialogue and arrest of political opponents."
While it is unlikely that Austin will seek to rub the Modi government the wrong way in his very first visit – especially as the Biden administration front-and-centers the Quad as part of its Indo-Pacific policy, as was evident in its hosting of the grouping's first ever leaders' summit on March 5 – Menendez's remark vividly demonstrates that all is not quite well when it comes to how India is being increasingly perceived in Western capitals, Washington, D.C. included.
It also brings to fore what could be called Biden's "free and open dilemma": Enthusiastically embrace Indo-Pacific governments that are far from liberal at home in order to push back against China's challenge to the regional order, or demand that Indo-Pacific powers practice at home what they preach abroad and risk alienating them in turn? The first will invariably attract the charge of hypocrisy, the second that of naiveté and activism.
Interestingly, it seems that the Biden administration could indeed consider malicious "internal" practices of regional powers as jeopardizing the regional order – and seek to modulate their domestic behavior as part of the U.S. project to sustain it.
In his opening remarks at the China-U.S. senior officials' meeting in Anchorage, Alaska, on March 19 Secretary of State Antony Blinken noted that China's actions in Xinjiang, Taiwan and Hong Kong threatened "the rules-based order that maintains global stability." "That's why they're not merely internal matters, and why we feel an obligation to raise these issues here today," the Associated Press quoted him as saying.
To be completely clear: India's perceived democratic backsliding and turn toward majoritarianism and China's repression in Xinjiang and Hong Kong can't be objectively compared on the same scale, with the latter orders of magnitude more concerning than the former. That said, as Biden tries to square U.S. values with U.S. interests, it is plausible Washington will gently and quietly nudge close security partners in the region (including, but not only, India) to reduce the gap between domestic actions and international rhetoric.
How said partners – including sovereignty hawks such as India — react to such a nudge, however, remains an open question. Commenting on the Freedom House's downgrading of India to a "partly free" status (along with Swedish group V-Dem's recent classification of India as an "electoral autocracy") on March 13, the Indian External Affairs Minister S. Jaishankar launched a blistering attack on Western critics of India, calling them "self-appointed custodians of the world who find it very difficult to stomach that somebody in India is not looking for their approval, is not willing to play the game they want to play."