What Biden Should Consider When Picking the New US Ambassador to South Korea 
Washington needs to build up the alliance as a partnership involving mutually beneficial and equally important military, economic, social, and cultural aspects.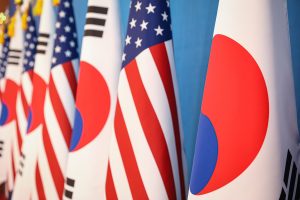 The past four years have tested the resolve of the U.S.-ROK alliance as both Washington and Seoul clashed over traditional points of contention, such as the military cost-sharing of U.S. troops in South Korea, with extraordinary vigor. As the Biden administration concludes its first diplomatic trip to Seoul, it is imperative that President Joe Biden selects a new U.S. ambassador to South Korea who can not only support U.S. national interests abroad, but also improve public trust in the alliance.
The United States' continued hyper-fixation on the military aspect of the alliance will only hinder its ability to access less controversial avenues for the strengthening of trust between the American and South Korean people. The ultimate responsibility of the U.S. ambassador to South Korea is not to show Seoul why U.S. troops should stay on the Korean Peninsula, but rather to show the South Korean government and public alike that the U.S.-ROK alliance is a partnership involving mutually beneficial and equally important military, economic, social, and cultural aspects.
The North Korea and China security threat, although irrefutably dangerous, should not solely determine the validity of the U.S.-ROK alliance. Although both U.S. and South Korean policy toward North Korea and China is most effective when applied bilaterally, the severe polarization of the conservative and progressive parties in South Korea prevents any two politically opposing presidents from continuing previous U.S. or North Korean policies.
While the United States has imposed heavy economic sanctions against North Korea and China under both Democratic and Republican presidents, South Korea's stance on the same two countries varies significantly under conservative and progressive leadership. For example, conservative presidents like Kim Young-sam (1993-1998) and Park Geun-hye (2013-2017) adopt a hardline approach alongside the United States against North Korea's nuclear proliferation and military provocations, while progressive presidents like Kim Dae-jung (1998-2003) and Moon Jae-in (2017-present) prefer hyper-engagement and trust building with Pyongyang, with or without Washington's support. This is not to say that the United States should abstain from pursuing South Korean support on North Korea and China – it is in fact necessary for long-term success – but Washington should refrain from viewing its relationship with Seoul as solely a tool to expand its North Korea and China policy.
The incumbent South Korean ambassador to the United States also agrees with this analysis. In October 2020, Ambassador Lee Soo-hyuck issued a controversial public statement in response to the U.S.-China trade war stating that "Just because Korea chose the United States 70 years ago doesn't mean it has to choose it for the next 70 years, too." Despite South Korean media often referring to Seoul's delicate balancing act between Washington and Beijing as being a "shrimp between two whales," this is the first time that an incumbent South Korean ambassador to the United States has openly suggested that the U.S.-ROK alliance is not a guaranteed partnership. However, Lee also offered a solution to this dilemma by stating that the alliance involves not only military efforts, but a comprehensive mix of economic, social, and cultural aspects as well.
The Biden administration can revitalize the U.S.-ROK alliance by selecting an individual who excels in the latter three aspects. Outside of military and defense agreements, the new ambassador can engage with the South Korean people through unconventional means explored by former U.S. Ambassador to South Korea Mark Lippert. Unlike other ambassadors, who typically restricted their interactions with the general Korean public to national holidays of importance to the United States such as Christmas or the anniversary of the Korean War, Lippert actively pursued opportunities to engage with ordinary Koreans on everyday occasions. For example, he chronicled his diplomatic life in a virtual blog called "Lipperts in Korea" where he announced the birth of his two children in Seoul, both with Korean middle names, making Lippert the first U.S. ambassador with children born on Korean soil. He was also one of the few ambassadors of non-Korean descent who spoke a degree of the Korean language. His avid support for the Doosan Bears baseball team also reaffirmed his affinity for South Korea to the general public.
Moreover, despite suffering a vicious knife attack from an anti-U.S. and pro-North Korea conspirator in 2015, Lippert thanked the Korean people for their immediate outpouring of support, which earned him accolades in the South Korean media. His genuine dedication to learning the language, culture, and history of South Korea allowed him to avoid common political gaffes unwittingly committed by U.S. diplomats and other ambassadors stationed in Seoul, especially regarding Japan's brutal 35-year colonization of the Korean Peninsula.
Beyond repairing the damage of the last four years to U.S.-ROK relations, the massive uptick of racist violence against Asian Americans in the United States, most recently the murder of six Asian women in Georgia, four of whom were of Korean descent, reaffirms the need for the Biden administration to carefully select the next ambassador to South Korea. Biden should consider individuals who possess an equal level of subject matter and cultural or linguistic expertise related specifically to South Korea. In turn, this will demonstrate to Seoul and the general South Korean public that the U.S.-ROK alliance is about more than just curbing North Korea and China; it's about brotherhood.