Why the Chinese Communist Party Sees Tibetan Monks as 'Troublemakers'
The CCP's strategy for consolidating control over Tibet centers on "sinicizing" Tibetan Buddhism.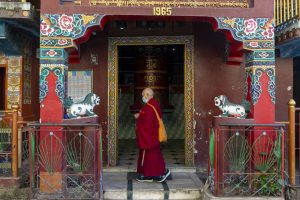 The Tibetan freedom movement is at a critical juncture. The Dalai Lama will turn 90 in five years. In November and December, two poignant photos of His Holiness overlooking the snowclad Dhauladhar mountains, pointing his finger at the mountains in one and using binoculars in the other, were posted on his Instagram account. Looking at these photos metaphorically, His Holiness' yearning to see his homeland is perceptible, like many other Tibetans who left their home behind decades ago. Unfortunately, the path home has not grown any shorter for Tibetans in exile.
The Chinese Communist Party (CCP) is seemingly in no hurry to unknot its "nets in the sky, traps on the ground" approach to control and surveillance over Tibetans. Neither is China amenable to re-negotiations with the Tibetan leadership-in-exile.
During his meeting with the Dalai Lama in 1954 in Beijing, Chairman Mao Zedong whispered that "religion is poison." Almost seven decades later, this notorious message continues to haunt the sleep of the CCP leadership. Religion – more specifically, Tibetan Buddhism – remains an intrinsic part of Tibetan life. Monastic institutions attract more legitimacy than local communist authorities in Tibet and reverence for Buddhist leaders, especially the Dalai Lama, is palpable. For many Tibetans, even those under CCP rule, religion and Tibetan national identity are inextricable.
The CCP's attempt to assimilate Tibetan religious institutions, monks, and nuns into its ideology of "socialism with Chinese characteristics" has reaped no noticeable results. All the major demonstrations against CCP rule in Tibet – including the Tibetan National Uprisings in 1959, 1987-89, 2008, and even the most desperate form of protest, the self-immolations of the last decade – included the participation of a considerable number of monks and nuns.
From this, the CCP and its communist functionaries in Tibet have realized that Tibetan monks play a dual role: as active agents or "troublemakers" in delegitimizing China's rule in Tibet, and as a unifying force for common Tibetans. To counter this threat to their control, the CCP, particularly in the aftermath of the 18th Party Congress, which brought Xi Jinping to power, began to layout more rigorously several propaganda campaigns to "sinicize" Tibetan Buddhism. The campaigns include tightening control over monastic affairs, monitoring activities of the monks and nuns, increasing mandatory indoctrination training sessions in monasteries and nunneries across Tibet. Trainings especially emphasize the CCP's "Measures on the Management of the Reincarnation of Living Buddhas in Tibetan Buddhism," developed in July 2007 and aimed at controlling the appointment of the 14th Dalai Lama's reincarnation as well as the authentication of and approval by the CCP of all other rinpoches and high lamas.
Notwithstanding the irony of a communist party's interference in religious practice, the more unsettling matter at hand for Tibetan Buddhists are the CCP's intensified attempts to neutralize and dissipate the Dalai Lama's influence. A significant security and political challenge facing CCP authorities attempting to enforce Tibetan compliance and what they refer to as "long-term stability" in Tibet is the sincere and ubiquitous devotion to the Dalai Lama by Tibetans. To lessen the Dalai Lama's influence in the religious sphere, and to counter the understanding of reincarnation in the selection of Tibetan lamas, rinpoches, and tulkus, CCP functionaries in Tibet are imposing two significant propaganda drives: the "four standards to become exemplary monks and nuns" and (re)education in the religious institutions on the Management of the Reincarnation of Living Buddhas in Tibetan Buddhism. The four standards are "to be loyal to the party, feel grateful to the party, to work as a bridge between common people and the party in creating unity, and to be a patriotic and law-abiding citizen."
From Lhoka to Lhasa, Nyingtri to Nagchu, Ngari to Shigatse to Chamdo and other parts of Tibet, "educational meetings" or "exchanges" on the "four standards" and Administrative Measures for the Reincarnation of Living Buddhas of Tibetan Buddhism are a frequent and consistent measure carried out by branches of the Tibetan Autonomous Region's United Front Work Department (UFWD) and the Religious and Ethnic Affairs Commission.
Simultaneous campaigns imposed in August last year alone spanned across the Tibet Autonomous Region (TAR). In Ngari for instance, Kelsang Dawa, member of the Ngari prefectural committee and minster of the Ngari UFWD inspected monasteries on August 26 and 27, to oversee "security maintenance and stability measures." He met township officials, monastic management cadres, monks, and nuns, and held one-on-one meetings to discuss the "four standards to become exemplary monks/nuns," in addition to organizing a "special training" to teach on the management of the reincarnation of the "living Buddhas" in Tibetan Buddhism.
On August 25, Nyalam county of Shigatse on the north side of the Himalayas organized an "exchange program" for 20 officials of the county, including directors of Monastic Management Committees, cadres, monks, and nuns with their counterparts in Tashi Lhunpo Monastery, purportedly to exchange knowledge on monastery management rules and regulations. Nagartse county of Lhoka, also in southern Tibet, carried out a similar campaign on August 21 in religious institutions, while Gambu, minister of the UFWD of Nyingtri, and his officials followed suit.
In December 2020, Lhundrub county of Lhasa launched a lecture series on "Reincarnation of Living Buddhas" and on the "four standards to become exemplary monks and nuns," the highlight of which was, as reported in the Tibet Daily, to emphasize that reincarnation of the 14th Dalai Lama must be "domestically searched, drawn from the Golden Urn, and approved by the central government."
References to and critique of the Dalai Lama and the exile Tibetan community as "separatist" among low- to mid-ranking officials are almost a norm in the TAR. Still, of late, high-level communist leaders such as TAR Party Secretary Wu Yingjie, Chairman of the TAR People's Government Qi Zhala aka Chedak, Chairman of the TAR People's Congress Lobsang Gyaltsen, and head of the TAR UFWD Tenkho (or Danke) seem to have become even more vocal in their repeated insistence that Tibetans "draw a clear-cut distinction between the Dalai Lama and Dalai Group." Accordingly, CCP officials have intensified measures against those "participating in separatist and sabotage activities." Recently, for example, a job announcement by the Organization Department of Ngari recruiting college graduates in rural areas stated that any Tibetan applicant "having an ambiguous political stance, including faith in the 14th Dalai Lama, will be disqualified from the first."
Partly to project their recognition of reincarnations in general and Gyaltsen Norbu as the Panchen Lama in particular as "authentic" – and partly to undermine devotion to the Dalai Lama – the CCP is parading the Chinese-appointed Panchen Lama at a higher profile than ever before. Gyaltsen Norbu, a member of the CPPCC Standing Committee, vice president of the Buddhist Association of China, and president of the Tibet Branch of the Buddhist Association of China, had his most prolonged stay in Tibet, mostly in the TAR, from late July to September 2020. During his tour-de-Tibet, he visited Lhoka, Shigatse, Nyingtri, his hometown in Nagchu, and Lhasa. He is also said to have given sermons at Sangphu Monastery in Toelung Dechen district, Ratoe Monastery in Chushul county, and Ruba Monastery in Nyemo county. During his previous visits, he conducted Kalachakras, with the last one being at Mapham Yumtso (also known as Lake Manasarovar). Kalachakras are the Buddhist teachings the Dalai Lama conducts at regular intervals in India; followers flock to these teachings, including from Tibet and China.
Other high-level officials, such as Foreign Minister Wang Yi, Politburo member and Vice Premier Hu Chunhua (who is also leader of the National Poverty Alleviation Census Leadership Group), Politburo Standing Committee member and CPPCC chairman Wang Yang, and Wu Weihua, vice chair of the National People's Congress Standing Committee, also inspected Tibet last year. The purpose of these unprecedented high-level inspections from Beijing could be several, and likely relates to political events. Since the 19th Party Congress, the CCP's policy of stabilizing Tibet's borders began more vigorously, including but not limited to building and/or planning over 628  "xiaokang (moderately prosperous) villages" or border defense villages in border regions of Tibet to "safeguard" the sacred land from India and others' intrusion. Therefore, these officials' visits amid the India-China border conflict last year were (re)assertions of China's sovereign dominance over and strategic importance of Tibet.
Similarly, the U.S. government enacting the Reciprocal Access to Tibet Act and the Tibetan Policy and Support Act into law respectively at the end of 2018 and 2019 became an impetus to China's further tightening of control and surveillance over Tibet and Tibetans. Since then, China's has been ever more vigorously propagating Beijing's version of the reincarnation process, and references to the Tibetan freedom struggle as "secessionism" or "separatism" have become a regular rant of communist officials in Tibet.
Apa Lhamo is a Ph.D. candidate at the School of International Studies, Jawaharlal Nehru University, New Delhi.