Will Japan's Olympics Be Rescued by China's Vaccine?
Japan remains tight-lipped over the IOC's offer to provide Chinese-made vaccines to Olympic athletes.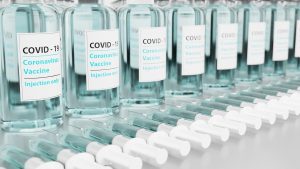 On March 11, Japan was caught by surprise by the International Olympic Committee (IOC)'s sudden decision to provide Chinese-made vaccines to athletes and officials participating in the Tokyo Summer Olympics and next year's Beijing Winter Olympics.
The Tokyo Olympic Organizing Committee could not hide their confusion, particularly after previously announcing that vaccines would not be a prerequisite for the Games. The IOC supported Japan's decision to forgo vaccinations based on the successful delivery of world championships and World Cups in other countries, but has since backtracked on their initial position of "encouraging" vaccines rather than requiring them. On March 12, Tokyo Olympics CEO Muto Toshiro stated, "I have not heard about this ahead of time. The vaccination program is run by the Japanese government and I'm not in a position to comment."
The day before, IOC President Thomas Bach had revealed that the IOC will cover the cost of the vaccines and are "already working with the Chinese Olympic Committee to produce additional vaccines, which will be supplied through international partners." Bach said he is grateful "for the offer of solidarity" and stressed it was "a new milestone in ensuring the safety of the Olympics."
The announcement comes as public anxiety has increased, with more and more Japanese in favor of either postponing or cancelling the Olympics. That's in part due to the current wave of coronavirus cases in Tokyo, which has seen the original six-week state of emergency extended until March 21, adding two weeks.
The Tokyo Summer Olympics is expecting the arrival of some 12,000 athletes from 200 countries. But at this stage Japan is struggling to contain an alarming spike of coronavirus mutations, such as the more contagious U.K. variant and Philippine strain, despite strict immigration controls currently barring entry to all foreign tourists and new visa holders. The latest Mainichi Shimbun poll showed that only 7 percent of respondents want the Games to be held. But a previous Yomiuri Shimbun poll conducted in February found that 70 percent of respondents said a vaccination drive could help resolve their concerns.
Japan has insisted on holding the Olympics as a symbol of global unity and recovery, but it has not confirmed a vaccine timeline for the general population, let alone a separate rule for Olympic athletes. Japan's minister in charge of the vaccine rollout, Kono Taro, stated that under the current schedule "it was virtually impossible to vaccinate athletes by the start of the Olympics."
Due to Japan's lagging vaccine rollout, vaccinations are yet to play a sizable role in the country's pandemic defense. COVID-19 countermeasures at the Tokyo Olympics will focus on frequent PCR testing and behavioral  management. Marukawa said they will "implement comprehensive measures to make sure that athletes who are not vaccinated can participate with confidence."
In Hungary, Lithuania, and Mexico athletes have been given priority access to vaccines. However, the Olympic Committees of the U.S., U.K., and Germany have pointed out the ethical concerns of allowing young and healthy athletes to cut the queue for the highly sought after vaccines.
The safety of the two Chinese developed vaccines has also been called into question by Europe and the United States since China has yet to publicly release data from its clinical trials. In February French President Emmanuel Macron criticized the Chinese-made vaccines as not having any scientific backing.
Olympics Minister Marukawa Tamayo said Japanese athletes were not eligible to receive the Chinese-offered vaccine as the vaccine has not been approved by Japanese health authorities but the shots are available to athletes from countries that have approved China's vaccine.
Meanwhile, China's vaccine diplomacy coincides with international calls to boycott the 2022 Beijing Olympics over criticism of the treatment of the Uyghur ethnic minority. Canada has led calls to remove China as the host of the 2022 Winter Olympic Games.