A Crisis in Timor-Leste Reveals the Hollowness of 'Build Back Better' Rhetoric
Despite invocations to envision a better, more equal world in the wake of COVID-19, global inequalities remain deeply entrenched.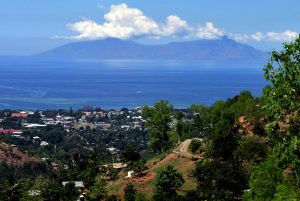 Over the Easter weekend, as the first shipment of COVID-19 vaccines was expected to arrive in Timor-Leste's capital of Dili, Tropical Cyclone Seroja arrived instead. It brought one of the most devastating flash floods in recent memory, sweeping across Timor-Leste and parts of Eastern Indonesia, killing hundreds and displacing thousands. Concerns that Dili's Presidente Nicolau Lobato Airport would be too inundated with water to receive the vaccine shipment spread across social media as the 9,000 people who lost their homes in Dili alone began to crowd into temporary shelters.
The cyclone brought a humanitarian disaster that could not have come at a worse moment for Timor-Leste. The youngest and poorest nation in Southeast Asia, Timor-Leste has been hailed as a success story for keeping the coronavirus at bay through tight border security and systematic contact tracing efforts. Until a few weeks ago, there had been no reported COVID-19 cases in Timor-Leste for months. This week, the virus claimed a life of a 44-year-old woman in Dili, the first recorded death in the country since the pandemic began.
The crisis in Timor-Leste reveals something much deeper about the global inequalities the pandemic has created, raising questions about whether we have truly built back "better" at all. Despite over a year of rhetoric from governments around the world promising that the pandemic would be an opportunity to "do things differently" and kickstart a green revolution, a recent report from the United Nations Environment Program revealed that such visions are falling far short of their ambitions. Out of $14.6 trillion in recovery spending announced by the 50 largest world economies in 2020, only 2.5 percent has been allocated to green activities. Greenhouse gas emissions are higher than they were pre-pandemic, despite a year of rhetoric insisting it will, should, and must be otherwise. Who were we "building back better" for to begin with?
The return of travel and tourism may reveal the answer. As the economies of wealthy nations return to full force no greener or more sustainable than before, so too do their residents begin to plan their return to crowded beaches and airports, hallmarks of a tourism industry that is perhaps no better off despite a year of intense introspection. A recent graphic making its rounds on social media depicted the entire world in three colors: the wealthiest of nations, who would achieve widespread vaccine coverage by the end of this year; slightly less wealthy nations that would reach the target by the end of 2022; and the rest of the world, which would not achieve it until after that, if ever. Inequality, driven by climate change and the pandemic as recent events in Timor-Leste have shown, may only worsen as mass travel begins to return. But tourism may also present a solution.
Timor-Leste remains subject to the whim of wealthier nations, reliant on them curbing their carbon emissions and distributing COVID-19 vaccines. It does not want to be. After centuries of brutal occupation under both Portuguese and Indonesian colonial rule, a hard-won fight for independence, and an interim period in which the U.N. governed the new country and chose its political path, Timor-Leste is eager to assert its independence on the global stage. For several days after flooding began, Timor-Leste Prime Minister ­­­Taur Matan Ruak did not call for humanitarian aid, with government sources speculating this stemmed from a deep sense of pride and a desire to prove Timorese strength in solving the nation's crisis on its own. The government has made every effort to protect natural ecosystems and diversify its economy –both strategies that are reflected in its tourism development.
Preventing future pandemics and solving the climate crisis both have one solution in common: safeguarding biodiversity. Tourism, when it operates at its very best, represents one of the only viable alternatives to continued economic degradation. Timor-Leste has invested significantly in tourism development in the hopes of diversifying its economy beyond the agriculture and oil and gas sectors upon which it is heavily dependent. On Ataúro Island, 25 kilometers from Dili on the mainland, power has been wrested from the hands of elite foreign interests and delivered back to local people through the establishment of the Asosiasaun Turizmu Koleku Mahanak Ataúro (ATKOMA), an organization bringing together local stakeholders to develop, manage, and market Ataúro as a tourist destination on their own terms. Locally managed marine protected areas, based on the customary practice of tara bandu, have been sustained by visitor fees, and in turn have helped to sustain communities when visitors disappear.
Tourism for Timor-Leste represents a way to safeguard this biodiversity – but it cannot be accomplished in a vacuum. Despite its every effort to face these crises on its own, Timor-Leste is largely at the whim of global capitalist systems that have prioritized profits over human and environmental health. Floods and other natural disasters will continue to worsen as climate change causes more erratic weather patterns and increases the risk of natural disasters. Countries like Timor-Leste will be the first to feel these impacts. As with the COVID-19 vaccine, Australia and others may race to deploy aid when disaster strikes, but ignore actions that further drive inequality and exacerbate the problems that helped create those disasters in the first place.
Last week, the world watched on as a dual crisis of inequalities – COVID-19 and climate change – manifested themselves in Timor-Leste's unequal access to vaccines and historic flash floods that, despite its every effort, will continue to drown the nation. Tourism can present a path by which the nation can shake off the legacies of colonialism and create a future that is grounded in putting people and nature above profit. As early research indicates, travelers will be more eager to support destinations like Ataúro that place sustainability at their core. But the return of travel could also be indicative of the consequences of what happens when we allow global inequalities to persist, and do not go beyond the rhetoric to truly build back better than before.
Both COVID-19 and climate change, for the foreseeable future, are here to stay. We must put in the work to ensure that inequality does not stay with it. Tourism may be our looking glass into our two futures: one where we have failed people and the planet, and one where we have succeeded.
If you would like to donate to flood relief efforts in Timor-Leste, please see this list of 22 different ongoing fundraisers that are supporting the country's recovery.