China Backs ASEAN Push for Talks on Myanmar Crisis
The onus is on the Southeast Asian bloc to build a regional consensus for a more active role in resolving the crisis.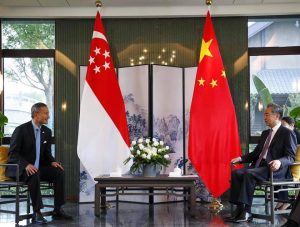 China has expressed its support for efforts by the Association of Southeast Asian Nations (ASEAN) to resolve the political crisis in its member state Myanmar, and prevent the nation from slipping into full-blown civil war.
Chinese Foreign Minister Wang Yi made this comments during a meeting on Wednesday with his Singaporean counterpart Vivian Balakrishnan in the southern province of Fujian.
According to a statement issued by China's Foreign Ministry, Wang described Myanmar as an important member of the "ASEAN family" and said he was pleased to see and support the bloc's efforts to maintain its "non-interference" principle while playing a positive role in promoting Myanmar's stability of the situation in Myanmar through the "ASEAN approach."
Balakrishnan later tweeted that the pair had discussed the "tragic situation in Myanmar," "expressed alarm over the escalation in violence & use of lethal force by Myanmar security forces," and called "for de-escalation, cessation of violence & constructive dialogue among all sides."
Balakrishnan was one of four Southeast Asian envoys set to meet with Wang Yi this week, with his Malaysian counterpart Hishammuddin Hussein expected to arrive in China today and tomorrow, according to the Malaysian Foreign Ministry. Philippines Foreign Secretary Teodoro Locsin Jr. and Indonesian Foreign Minister Retno Marsudi are also expected to visit this week, although their governments have not confirmed the exact dates and times of their arrival.
Singapore, Malaysia, and Indonesia are leading an embryonic ASEAN effort to end the growing crisis in Myanmar, which has seen security forces kill at least 536 people protesting the military's takeover on February 1. With protesters holding firm and continuing to mass across the country, and courting support from the ethnic armed groups that dot Myanmar's periphery, the crisis appears set to harden into a more permanent state of conflict between the Tatmadaw and its many opponents.
In particular, the three Southeast Asian nations are spearheading a push for an emergency ASEAN summit that would open the way to dialogue with the Myanmar military, with the ultimate aim of a political resolution of some kind. Earlier this week, Indonesia's Marsudi also discussed Myanmar with Japanese Foreign Minister Motegi Toshimitsu in Tokyo. The Philippines, meanwhile, is the bloc's current country coordinator for China, a nation that is an important player in the Myanmar crisis, given its significant economic presence in the country, as well as its permanent seat on the United Nations Security Council (UNSC).
As I've noted before, all this action reflects ASEAN's awareness that the Myanmar crisis is testing the bloc's international credibility and claims to "centrality" in Asian diplomacy. Balakrishnan said as much earlier this month, when he noted that failing to take meaningful action in the case of Myanmar "would starkly underscore our lack of unity, and undermine our credibility and relevance as an organization."
Amid the shuttling of envoys, a diplomatic approach to the Myanmar crisis is now slowly beginning to coalesce, one in which ASEAN will take the lead in negotiations, backed by the support of key regional partners and economic pressure from Western nations like the United States and the European Union on the junta.
The meeting between Wang and Balakrishnan came as the United Nations Security Council met for a closed-door session to discussion the crisis in Myanmar. Ambassador Barbara Woodward, the U.K.'s permanent representative at the U.N., told reporters that the council will "continue to discuss next steps," while China's representative Zhang Jun expressed Beijing's hope that "all parties in Myanmar can keep calm, exercise restraint, and take actions with a constructive attitude to deescalate and cool down the situation." Zhang said that China was working with all parties in Myanmar and was "actively engaged in Security Council consensus-building."
These signs are hopeful. Indeed, given China's proximity, its economic presence in the country, and its relations with key armed rebel groups in the borderlands, it is hard to see any diplomatic solution to the crisis that does not involve Beijing's involvement, or at least acquiescence.
However, there is still a long way to go, and the moderate nature of Wang's comments (at least as reported by the Chinese Foreign Ministry) suggests that the Chinese government will remain cautious about intervening more actively to address the situation, partly out of a genuine commitment to the norm of non-interference, and partly out of a desire to keep its options open, should the junta end up consolidating control.
His comments suggest that it is now up to the ASEAN nations to forge an internal consensus around a more active diplomatic role. The challenge for the leading states will be to convince nations like Thailand and Vietnam, both of which have remained virtually silent about the deteriorating situation inside Myanmar, that acting is in the region's best interests – and, ultimately, in their own.