Chinese Militia Vessels Departing Contested South China Sea Reef
Over 200 Chinese ships occupied Whitsun Reef for several weeks. Only a handful remain.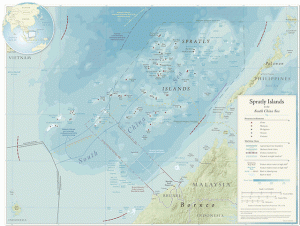 In mid-March, the Philippines discovered that a reef in its exclusive economic zone was being occupied by scores of nearly identical Chinese fishing vessels, later determined to be part of China's shadowy, para-military maritime militia. Their presence sparked fears that China could be making a move to seize effective control over a new feature in the hotly disputed South China Sea.
According to the Philippines' secretary of foreign affairs, only a handful of Chinese militia vessels remained at Whitsun Reef as of April 13.
Called the Julian Felipe Reef by the Philippines and Niu'e Jiao by China, Whitsun Reef is 170 nautical miles west of Palawan in the northern part of the Spratly Islands, where China has built up several large artificial islands on formerly submerged reefs and constructed major military installations.
At one point, the Philippines defense department counted 220 Chinese vessels at the reef. Many or most are believed to have been part of China's maritime militia, lightly armed paramilitary vessels that China uses to harass and coerce other Southeast Asian countries' fishermen in waters China claims as its own. Maritime militia vessels were also responsible for the infamous harassment of a U.S. Navy surveillance ship in 2009.
Asked whether China intended to keep a permanent presence at Whitsun Reef, a spokesman for China's Foreign Ministry said that "China has no such plan." But he also reiterated China's position that the reef was Chinese territory, and that a 2016 United Nations tribunal ruling in the Philippines' favor over contested South China Sea features was "illegal, null and void." The Philippines should "immediately stop wanton hype-up," the spokesman added.
He also insisted that the vessels were fishing boats sheltering from a storm – "It is a customary practice running over a thousand years for Chinese fishing boats to work and shelter in relevant waters" – and that they were not part of China's maritime militia.
Photographs of the flotilla showed little or no evidence of fishing equipment on the vessels, however. Analysts from the U.S. Naval War College were able to prove that several of the vessels were known to be part of the maritime militia, and most others matched a type that was purpose-built for the militia units for Sansha City, which China uses to administer its claimed territory and waters in the South China Sea.
The Philippines' defense secretary demanded that China recall the vessels and the secretary of state filed a diplomatic protest to Beijing. The Philippines sent a naval task force to patrol the area and U.S. warships have been concentrating in the region over the past week, including a carrier strike group and an amphibious group.
The insistence by China's Foreign Ministry that the vessels were taking refuge from "rough sea conditions" in the reef was belied by the succession of photographs taken over the past few weeks showing the boats floating in calm waters.
The Philippines is haunted by the effective loss of its control over the Scarborough Shoal in 2012 when China reneged on a U.S.-brokered deal for both countries to pull back their vessels from a mounting standoff. China continues to fish there and patrol the shoal with both maritime militia and coast guard vessels, denying its use to Filipino fishermen who have trawled its waters for generations. When it appeared that China was preparing to reclaim and build on Scarborough Shoal in the same way it had in the Spratly Islands, the United States reportedly intervened behind the scenes to deter Beijing. China's long-term aims at Whitsun Reef are unclear and may still be undecided by Chinese leadership.
It is not clear why China's militia vessels are vacating the reef now, and whether, or when, they may return. In the worst case, they could return with back up from China's coast guard or the navy. If China moved that aggressively, it could spark a significant crisis. China's island construction to date all occurred on features that China had previously occupied. Seizing control of a new reef and building military facilities on it would be a significant escalation of its efforts to expand control over the South China Sea.