Is North Korea Returning to Diplomacy?
Signs are emerging of a resumption of a diplomatic activity by Kim Jong Un.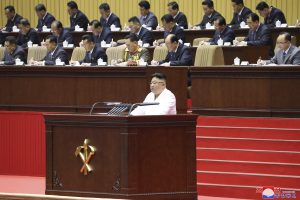 Following the outbreak of the COVID-19 pandemic, North Korea adopted a comprehensive infectious disease control policy and retreated even further into its shell. North Korea's bilateral trade with China has fallen by more than 90 percent on a year-on-year basis, which combined with longstanding sanctions represents a major blow to its economy. Movement across the border is strictly controlled.
The 8th Congress of the Workers' Party of Korea (WPK) held in mid-January made economic recovery a top priority. If Kim Jong Un wishes to achieve economic growth over the medium and long terms, it is essential that he gets the sanctions lifted. This in turn means that negotiations with the U.S. are inevitable. After the U.S.-North Korea Summit in Hanoi two years ago ended abruptly, Kim asserted that the key to U.S.-North Korea relations was for the U.S. to "withdraw its hostile policy," setting forth the "principle of power for power, goodwill for goodwill." This means that North Korea is not willing to make unilateral concessions. Rather, the U.S. and North Korea should act simultaneously.
A lengthy stalemate ensued and, aggravated by the COVID-19 situation, diplomacy as a whole seemed to grind to a halt. Now, however, signs are beginning to emerge that diplomacy might resume.
At the Congress, the party charter was revised and Kim Jong Un's title was changed from Chairman to General Secretary of the Workers' Party of Korea. At the Supreme People's Assembly held shortly after, the constitution was not amended, with Kim retaining his post as Chairman of the State Affairs Commission. Although Kim's grandfather and role model Kim Il Sung was General Secretary and President, Kim Jong Un did not revive the president system when he became General Secretary.
On February 2, however, Kim Jong Un's title on the English webpage of the Ministry of Foreign Affairs of North Korea was suddenly changed from Chairman to President. The party's official newspaper, Rodong Sinmun, followed suit. North Korea has not disclosed the reason for the change, but it is believed to be a move on the part of Kim Jong Un to prepare for a diplomatic shift. Otherwise, there would be no need to change his official English title only.
There have also been some personnel changes. While at the Congress in January there was a marked decline in changes of senior personnel involved in diplomacy, at the Second plenary meeting of the 8th Central Committee of the Workers' Party of Korea in February, Foreign Minister Ri Son Gwon was elected to the Politburo, while Kim Song Nam, director of the International Department, was elected as an alternate member.
On March 16, Kim Jong Un's sister Kim Yo Jong released a statement criticizing the Moon administration in South Korea. This was a reaction to the joint military exercises by the U.S. and South Korea, but the tone is more restrained than the threat in June last year to "blow up" the Inter-Korean Joint Liaison Office. Kim Yo Jong did not even mention Moon Jae-in by name.
The United States was also mentioned. This was the first official message to the Biden administration, although it was abstract in nature and milder than the message to South Korea. Moreover, the remark was released a week after the exercises began, suggesting that North Korea is trying to carefully assess the Biden administration's policy toward North Korea.
There are also signs of a resumption of trade with China. The "Law on Disinfection of Imports" was adopted at the Standing Committee of the Supreme People's Assembly on March 3. The law legislates a system and order for disinfecting imported goods as well as penalties for acts that violate the disinfection procedure.
Since the Congress in January, Kim Jong Un has frequently presided over meetings in North Korea, calling for the rehabilitation of the economy and greater discipline through "self-reliance." For the time being, North Korea is focusing on stabilizing its position, which puts the Kim administration at something of an impasse.
To move forward, Kim needs a resumption of trade between North Korea and China, negotiations with the U.S. aimed at easing economic sanctions, and logistical support from South Korea's progressive government. North Korea seems to be considering long and hard where to begin.
The problem with North Korea's diplomacy lies in its rigidity. Kim has indicated repeatedly that the principles decided by the Central Committee should be followed without exception. If this thinking is applied to foreign policy, then Pyongyang inevitably loses diplomatic flexibility. Concessions are essential in diplomacy between nations with conflicting interests.
This rigid diplomacy is also apparent in North Korea's Southeast Asia policy. On March 19, North Korea decided to sever diplomatic ties with Malaysia. This was in retaliation for Malaysia's decision to extradite North Koreans to the United States to face charges related to money laundering. Malaysia has long allowed North Koreans to enter without a visa, and at one time Air Koryo had a flight from Pyongyang, making it a convenient base of operations for North Korea. However, relations with Malaysia had been cooling rapidly since North Korea took advantage of this access to assassinate Kim Jong Nam in 2017. North Korea's termination of diplomatic ties may have been intended as a rebuff to Malaysia, but it will also be a turning point in a worsening of the perception of North Korea in ASEAN countries.