Can the Biden Administration Tempt North Korea Back to the Table?  
Even though Washington has reached out to Pyongyang with detailed messages through multiple channels, North Korea has not responded.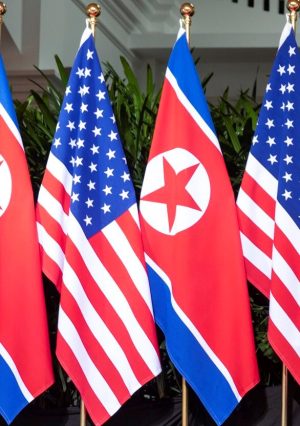 The clock is ticking on South Korean President Moon Jae-in's administration, as his single five-year term will end in May 2022. Moon had tried to create a last bit of momentum to restart inter-Korean cooperation and denuclearization negotiations by urging a declaration to the end of the Korean War in his speech at the United Nations last month, but Washington has not followed his lead with concrete steps.
Pyongyang once responded positively to Moon's proposal, during the height of summit diplomacy in 2018 and 2019. But since the failed North Korea-U.S. summit in Hanoi, Pyongyang has consistently demanded that the U.S. and South Korea remove their so-called "hostile policy" as a precondition for any negotiations. According to statements from Kim Yo Jong, the powerful sister of North Korean leader Kim Jong Un and a leading voice on inter-Korean relations, the "hostile policy" refers to the joint South Korea-U.S. military drills and the presence of U.S. troops on the South's soil.
Washington and Seoul have emphasized the importance of their alliance and reaffirmed their common goals in the region, including a peaceful Korean Peninsula with no nuclear missiles. However, since the Biden administration has not made North Korea a diplomatic priority, Seoul has no choice but to find its own way to deal with North Korea. The result: an arms race has kicked off on the Korean Peninsula.
On Monday, North Korea celebrated the 76th anniversary of its ruling Workers' Party foundation in an unusual way: by holding a defense development exhibition. State media reported on the event, which included displays of the North's long-range intercontinental ballistic missiles and advanced missile systems.
In his address at the exhibition, Kim justified his moves toward boosting military capabilities while deeming the U.S. outreach renew dialogues with his country as unreliable.
"Recently, the United States has frequently sent signals that it is not hostile to our state, but its behaviors provide us with no reason why we should believe in them," Kim said.
Kim fully showed his distrust over the Biden administration's remarks that it has "no hostile" intent toward North Korea in his address, implying that he has not yet overcome the wound from the Hanoi Summit. Kim met then-U.S. President Donald Trump in the Vietnamese capital, but Trump walked out of the summit meeting with no deal.
Kim also criticized South Korea's recent moves in strengthening its military capabilities but delivered an eye-catching message: "our arch-enemy is the war itself, not South Korea, the United States or any other specific state or forces."
Getting to the Table
Experts and analysts view this message as a signal from Kim toward Washington to provide some detailed incentives or motivations he could use to justify coming back to the negotiating table. Kim would need to have a clear reason to come back to the table after he failed to remove any of the crippling economic sanctions against his country two years ago. Experts and analysts believe that North Korea could respond to detailed proposals from Washington in the lead-up to the Beijing Winter Olympics.
However, Washington cannot offer incentives that would perfectly match Pyongyang's demands.
"North Korea has called 'hostile policy' as the main agenda to be removed but it could be seen that its de facto demand is a partial removal of economic sanctions," Park Won-gon, a professor of North Korean Studies at Ewha Womans University in Seoul, told The Diplomat. Park added that the Biden administration's firm stance is that lifting economic sanctions cannot happen unless the North returns to the table.
Additionally, Washington cannot permanently halt joint military drills or withdraw the U.S. troops from South Korea, which North Korea has defined as the main elements of the "hostile policy." However, the United States can offer a "declaration of the end to the Korean War" as an alternative card to Pyongyang, as Moon proposed, in a bid to rebuild the relationship between the two countries, Park said.
Denuclearization
Getting back to negotiations is challenging enough – actually achieving something in talks is the next obstacle.
The biggest reason for the U.S. and South Korea to try to talk with North Korea is the North's growing nuclear and military capabilities. This is the most important topic to be addressed if the U.S. and North Korea restart negotiations at some point in the future. It has been disclosed that Kim offered to dismantle some of his nuclear arsenals, including the Yongbyon nuclear complex, in the Hanoi Summit but Trump rejected the offer.
Clearly, dismantling the Yongbyon nuclear complex is not enough for Washington to remove the U.N.-led economic sanctions, as they believe the North has other options to replace the nuclear activities at Yongbyon. That said, it's unlikely that the Biden administration would demand that North Korea completely dismantle every nuclear complex in a short period under the international community or International Atomic Energy Agency's inspection, Park said. Instead, Washington would ask Pyongyang to follow a long-term denuclearization process on the basis of the Joint Comprehensive Plan of Action, also known as the Iran nuclear deal.
Kim had demanded the United States recognize his country as a nuclear state, considering his country's growing nuclear capabilities and successful nuclear test in 2006. However, the U.S. would never give a formal recognition of North Korea as a nuclear power, due to the impact on both U.S. extended deterrence on the Korean Peninsula and the global nuclear nonproliferation regime.
"When the United States recognizes North Korea as a nuclear-owned state, the Nuclear Non-Proliferation Treaty (NPT) would immediately break down," Park said, adding that the U.S. would never accept this deal. It could create a domino effect around the world, incentivizing other countries to develop nuclear weapons simultaneously. For that reason, China – North Korea's sole ally – would not let it happen either.
At this moment, it is believed that the Biden administration has not yet specified what specific incentives it is willing to provide to North Korea. No one knows what offers are on the table, as the Biden administration has never made it clear in public. The administration has emphasized that its "calibrated and practical" approach is clearly different from Trump's "top-down" and Obama's "strategic patience" approaches, however. With that in mind, experts say Washington is waiting to see how North Korea reacts to its approach and will convey the specifics of what it can provide to North when the right time comes.