Japan as an Agenda Setter for the Quad's Vaccine Diplomacy
Japan has been pushing for Quad efforts to match its own vaccine diplomacy: more inclusive, less strategic.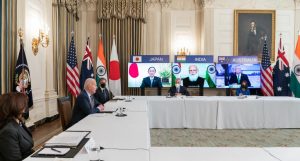 On March 12, the leaders of the Quadrilateral Security Dialogue, or the Quad – the newly reinvigorated forum among Australia, India, Japan, and the United States – announced their new initiative to jointly supply vaccines to the Indo-Pacific region. This is an issue area that is urgently important for the partners but so far has been totally dominated by their competitor. While China has donated and/or sold billions of doses to middle- and low-income countries across the globe, the United States has only "loaned" a few millions to Canada and Mexico, and Japan has no record of exporting COVID-19 vaccines. No significant Australian support was available prior to the Quad's announcement either. India was the lone exception, having supplied over 66 million doses to countries around the world – before a deadly second wave forced New Delhi to focus its efforts at home.
The partnership is especially vital for Japan, which has been no match for China in vaccine diplomacy so far. Japan possesses no domestically developed vaccines. Only just over 1 percent of its population has been fully inoculated with Pfizer, the only authorized vaccine in Japan. The government is occupied with importing as many doses as fast as possible for its elderly citizens, while looking enviously at its giant neighbor massively exporting indigenous vaccines to the world. With the Quad's scheme, late-comer Japan joins a team of vaccine powerhouses to gear up its diplomatic efforts.
This scheme was made possible by pulling India, the world's largest vaccine-manufacturing nation, into the team. With the Quad members' huge financial backing, India is expected to expand its domestic manufacturing and pump up the supply of made-in-India vaccines to compete with the surge of made-in-China in the Indo-Pacific region. By assisting the production at Biological E. in India, the United States can assure the increased supply of U.S. brands to the world, including Johnson & Johnson's, and deflect criticism against its America First vaccine nationalism. Australia supports last-mile delivery to Southeast Asia and Pacific Island countries, where its corps would deliver vaccine packages with "Australian Aid" stickers, as they did in Papua New Guinea.
Japan, on the other hand, will only provide cold-chain equipment such as cold-storage facilities and transportation vehicles, besides some grant aid and loans. Its diplomatic reward is less obvious.
Japan's Expansive Vaccine Support
Indeed, this appears to be a hallmark of Japan's vaccine diplomacy: less obvious, less strategic, but more inclusive and globally oriented. Even before the current pandemic started, Japan had been engaged in similar logistical support for developing nations for decades. Working with the United Nations Children's Fund, the World Health Organization (WHO), and other international health organizations, Japanese aid agencies have assisted in building the medical supply networks crucial for administering vaccines for measles, rubella, tetanus, and other diseases in every corner of countries lacking those infrastructures. Their efforts include supplying pharmaceutical refrigerators, cold box vaccine carriers, and other equipment, as well as personnel training.
For COVID-19 vaccines also, based on these experiences, since last year Japan has revealed a series of plans to support vulnerable countries both financially and logistically. The recipients are scattered around the world: from Southeast Asia to the Caribbean islands, South America, the African continent, and the Middle East. The geographic reach is vastly beyond that of the other members of the Quad. It is hard to find in Japan's vaccine diplomacy any explicit strategies to counter the Belt and Road Initiative of China or to secure the Free and Open Indo-Pacific cherished by the Quad. Tokyo emphasizes, rather idealistically, that its goal is to support the international norms of human security and universal health coverage.
Such a move is a part of Japan's diplomatic record of playing a pivotal role in shaping frameworks conducive to an inclusive and stable international order that underscores universal values such as human rights, freedom, and the rule of law. The country put together the Comprehensive and Progressive Agreement for Trans-Pacific Partnership negotiations after the U.S. withdrawal, has expanded infrastructure investment that stresses transparency and accountability, and has pushed for international cooperation to ensure the rule of law. Japan has not used these frameworks or opportunities as naked power politics, and is often seen as an actor incapable of playing sharp bargaining games. However, this is precisely why Japan's contribution has been beneficial as an international public good. Some analysts even consider that Japan has become a leader for the liberal international order in Asia.
An Agenda-Setter for Equitable Vaccine Support
The approach taken by Japan has evidently colored the Quad's vaccine diplomacy. When reports of Quad members discussing the possibility of vaccine diplomacy began to appear in early March, most presented the move as a measure to counter China's influence. This seemed logical for several reasons. For one thing, the Quad reunited in 2017 at the time of China's rise in the Indo-Pacific. Second, the Biden administration, while turning to multilateral cooperation, has initiated foreign policies that are not necessarily conciliatory with China. Third, India is pursuing strategic vaccine diplomacy to counter Chinese influence. In fact, Quad member countries have reportedly discussed the role of Quad support for vaccines in reducing developing countries' reliance on China.
Unlike prior expectations, however, the content of the Quad's vaccine support announced on March 12 was not colored by geopolitical strategy against China. Rather, it was positioned as an attempt to accelerate the supply of vaccines worldwide (even while the main focus is on Asia), in coordination and alignment with multilateral organizations such as the WHO and COVAX.
This was a sign that the Quad has moved into step with Japan's ongoing vaccine support. True, the lack of a domestic vaccine is an inhibiter for Japan to pursue a strategic approach. That being said, however, there has been a consistent and clear intention in Japan to not allow its vaccine support to become a blatant tool for political influence. During the discussion leading up to the Quad's announcement of its vaccine support, high-ranking officials in the Japanese Ministry of Foreign Affairs reiterate that the vaccine cannot be distributed equally among countries if it is given only to countries that get on well with us, and Japan aims for fair distribution.
To Maintain the Quad as an International Public Good
It is not easy to ensure this inclusive and non-strategic approach. China's assertive moves in a wide variety of areas including territorial disputes with neighboring countries (with the most concerning being the Taiwan Strait), expansive influence operations around the world, and domestic repression of human rights, particularly in Hong Kong and Xinjiang, require countermeasures. But politics should not be brought to the global health governance front.
This is all the more important because of China's political reaction to the Quad's vaccine plan. In response to the Quad's announcement of its support for vaccines, China has not only criticized the move, but has also been employing divisive discourse with Quad members. The state-owned Global Times has published a series of articles warning India, Japan, and Australia that excessive trust in and dependence on the United States is dangerous. Further, CCP media threatens that the three countries should not cooperate with the U.S. unless they want to lose access to the Chinese market. Similar articles have been published in the Japanese language as well, in an attempt to drive a wedge into cooperation with Washington. China's use of threats to influence Quad members is more likely to increase anti-China sentiment in the four countries than to make them back off, and could feed determination to utilize vaccines to counter China.
In order to avoid a standoff with China and contribute to global health, it is necessary for the Quad to maintain firm cooperation with COVAX to keep its support comprehensive and non-strategic. The media should also reconsider its approach to the issue. Media has positioned the Quad too much as an anti-China alliance in recent years, which does not accurately reflect the reality. In addition, while strategic diplomacy is catchy, and it is tempting for the media to view the Quad's vaccine support through such a lens, such misperceptions are not beneficial for global health governance.
Japan also must address its own vaccine-related turmoil if it is to continue to play a role in defining Quad policies. The Japanese government should not only continue its efforts to secure vaccines from overseas, but also increase its support for the weak domestic biomedical industry and speed up clinical trials of domestically produced vaccines.
More than 3 million lives have been lost to COVID as of today. Japan's leadership is being tested in keeping the Quad's vaccine supply truly beneficial for global health.