Miss Grand Myanmar to Speak for Her Country From Thailand
Han Lay wins international plaudits and highlights the plight of her people.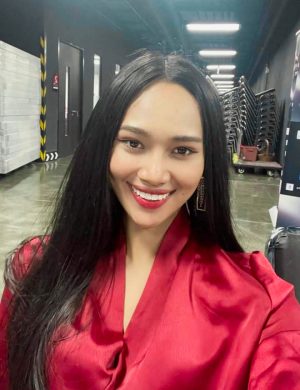 Han Lay, Myanmar's representative in the Miss Grand International beauty pageant, will remain in Thailand for security reasons after winning widespread applause for using the event to speak up for the atrocities being committed by the military in her home country.
As she was crowned Miss Grand Myanmar 2020 at Saturday's final in Bangkok, a tearful Han Lay drew thunderous applause as she sang "Heal the World" and pleaded for help, ignoring the pageant's mantra that contestants remain apolitical.
"While I am standing here on this stage, more than 100 people have died. I am saddened for the loss of the lives of these people," the 22-year-old economic student from the University of Yangon said.
"The people in Myanmar have taken to the streets to fight for democracy. I too want to see democracy in the country. Please help Myanmar. We need your urgent international help right now."
A former basketball player at university level and fluent in English, Chinese, and Shan, Han Lay's stance stood in contrast to the attitude of some contestants from other authoritarian countries who advocated that women should not talk about politics.
She later told Thai media that she feared for her safety if she returned to Myanmar after the military issued warrants for the arrests of high profile actors, entertainers, and models who backed protestors and now face up to three years in prison.
Nawat Itsaragrisil, the president of Miss Grand International Thailand, also backed Han Lay. "The coup has only caused affliction, suffering and hardship to the people. I'd like to express my support towards her and will help her in every way possible," he wrote on social media.
The Thai Public Broadcast Service and sources said she would "remain in Thailand for her safety" while Thaiger, an online news portal, said Miss Grand International management will apply for a work permit for Han Lay so she can continue to speak out from Thailand.
She could then potentially seek refugee status with the pageant supporting her costs.
Han Lay is not alone. Several Myanmar diplomats abroad have said they will remain loyal to an alternative underground self-proclaimed government set up by lawmakers who were elected last November but then ousted by the coup.
They include Kyaw Moe Tun, Myanmar's representative at the United Nations, who flashed the three-finger salute of the protest movement while declaring his loyalties at an official session of the world body.
Their plight also raises questions for Western governments who have been justifiably quick in imposing sanctions on the military in response to the February 1 coup and the subsequent bloody protests which has resulted in at least 536 deaths.
Myanmar is rapidly disintegrating into civil war.
The many insurgency groups, including the Arakan Army, are ignoring past truces and regrouping as the military continues its arbitrary crackdown and is conducting airstrikes and bombing ethnic Karens fleeing across the Thai border.
Political asylum must be offered to those in need and potential refugee flows will also need to be addressed by Western nations since the United Nations has been effectively shut down on this issue by the Chinese and Russians who seem to think the generals in Myanmar are okay.
ASEAN has also proven ineffectual, again. That means any humanitarian response will fall into the laps of Australia, Britain, New Zealand, Canada, the United States, and European nations, again. 
And the plight of Han Lay will be followed closely after turning a stage – normally reserved for swimsuits, pretty faces, and banal personalities – into a political forum for Southeast Asia's next humanitarian tragedy.
Luke Hunt can be followed on Twitter @lukeanthonyhunt