Money Laundering! What Money Laundering? Case Against Matraimov Closed
Kyrgyz authorities said they were unable to find evidence of Matraimov's alleged money laundering, despite thousands of words written by investigative journalists outlining it in detail.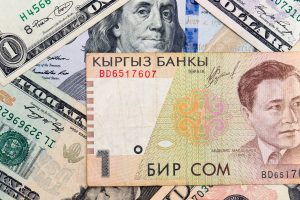 Raimbek Matraimov, the infamous former deputy customs head of Kyrgyzstan, has been released by Kyrgyz authorities who say they could find no evidence of his alleged money laundering. It's not a surprising turn in the ongoing saga of corruption in Kyrgyzstan, an issue that ranks highly in repeated surveys of what Kyrgyz citizens believe are their country's biggest problems. Corruption in Kyrgyzstan is a matter that successive generations of Kyrgyz leaders have decried as a critical problem, necessary to root out. They then proceed to not dig too deeply into the muck. 
In October 2020, the infamous former deputy customs head of Kyrgyzstan was detained and then rapidly released, corruption charges pending. A few months later, in December, the United States designated Matraimov for sanctions under the Global Magnitsky Act.
But in February 2021 his trial began and swiftly ended with a plea deal: Matraimov admitted guilt to the charge of corruption, testified against two other customs officials, and paid a small fine of 260,000 Kyrgyz soms ($3,087), on top of 2 billion som (1.4 billion som in cash and 600 million som in real estate) he'd already paid the Kyrgyz state, ostensibly part of President Sadyr Japarov's economic amnesty scheme.
Those following the case closely howled at how easily Matraimov got off. For a man alleged to have aided a smuggling empire that funneled $700 million out of Kyrgyzstan, and to own a lavish apartment in Dubai, the fines were laughably small.
A few days after pleading guilty to corruption, Matraimov was surprisingly rearrested on new charges: money laundering. 
Money laundering forms the core of the expansive portfolio of investigative reports released by the Organized Crime and Corruption Reporting Project (OCCRP), RFE/RL, and Kloop, beginning in November 2019, mere weeks after the project's primary source, Aierken Saimaiti, was killed in Istanbul. Saimaiti was a confessed money launderer who alleged he worked for Matraimov in squirreling millions out of Kyrgyzstan.
Instead of being released to house arrest, Matraimov was kept in pretrial detention. But the chain of events seemed political from the start. Japarov, like all of his predecessors, has made strong statements against corruption. Rearresting Matraimov appeared as a demonstration of resolve ahead of yet another key election in Kyrgyzstan: a referendum on Japarov's preferred super-presidential constitution. Proponents of the new constitution have argued that a strong hand, a strongman, is necessary to tackle the serious economic and governance issues that have led so many Kyrgyz to deep dissatisfaction with past governments. 
On April 11, the referendum passed. On April 15, Matraimov was cleared and set free.
According to RFE/RL, the Kyrgyz State Committee for National Security (SCNS) said it was stopping its investigation. The SCNS cited the the above mentioned investigative reports as the grounds for Matraimov's arrest, but claimed that its inquiries to the relevant authorities in the various countries Matraimov is alleged to have property turned up nothing.
In simplified form: Bishkek called Dubai and asked if Matraimov's name was on any leases. Dubai said "nope!" and Bishkek brushed the dirt off its hands and shrugged.